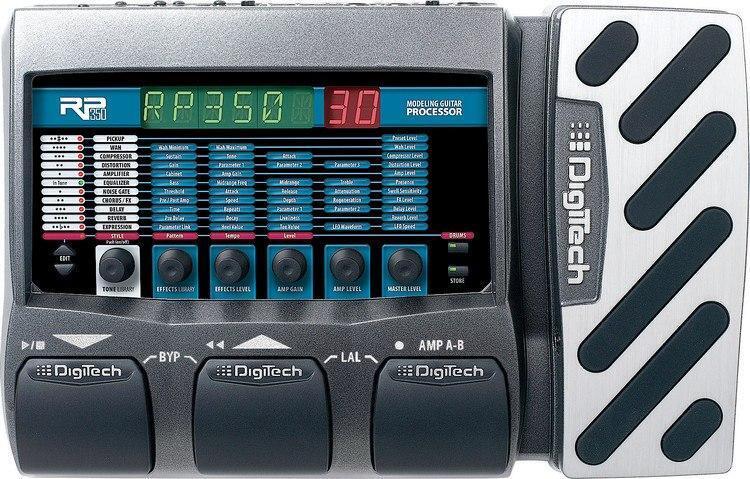 I received the DigiTech RP350 about a year ago as a gift and have found it to be a great add to my pedal collection. As a guitar player, the amount of effects that one could put in their chain is astounding. It can be overwhelming in fact! The RP350 condenses many of the more famous pedals into one multi-effects pedal. On top of the multi-effects, DigiTech included an amp modeler to produce the tones from many classic amps.
For my use, I really appreciated being able to take the RP350 to jam sessions and being able to capture my favorite tones without having to bring an entire pedal board. In fact, most of my favorite tones were already built into the easy-to-scan presets that you can access with the foot pedals. With 70 presets incorporating all sorts of pedal changes, it's easy to find something close to what you want and hone it in with the editing buttons. After finding your desired pedal chain, you can choose A/B amp selects. You can decide between a model of Vox's AC30, a Fender Bassman, and a classic Marshall. All are extremely accurate and sound close to their originals. The AudioDNA2 processor chip that the RP350 uses helps create very convincing effects and amp models.
On top of the great modeling, DigiTech was smart enough to install four outputs: stereo 1/4″ and Stereo XLR. Being able to input both into an amp and a mixer at the same time directly from the pedal is really a nice feature. Also with the USB interface, it's great to be able to record on top of a previous take without canceling out the other outputs.
Overall, I find that the size and functionality of the RP350 work great for my needs when I'm looking for a lot of variety but don't want to be taking a lot of gear with me.