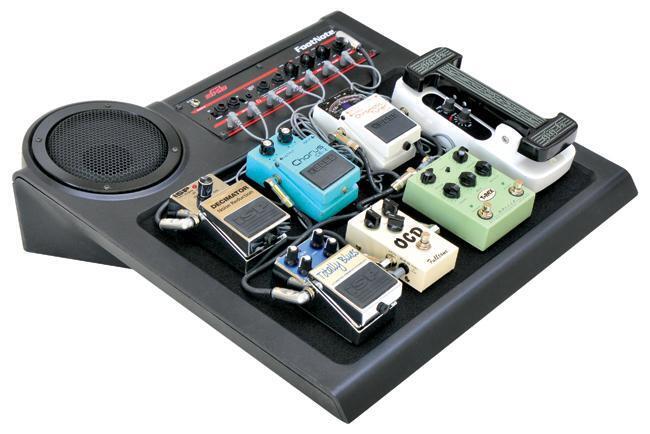 The SKB FootNote pedalboard/combo amp has to be one of the best-thought-out tools ever for guitarists. Whether you're a pro player looking for a portable rig you can take anywhere or simply someone who's on the go, the SKB FootNote is just what you need! It accommodates a half dozen stompboxes and provides power for up to eight pedals. And when AC power isn't an option, you can easily switch the FootNote over to battery power.
But the FootNote defies conventional pedalboard logic with its built-in 6-watt amp with a 6″ Eminence speaker, perfect for solo practice. An 1/8″ stereo input lets you hook up your MP3 player and rock out to backing tracks. And when the sound of even a 6-watt amp is too much, you can operate in stealth mode by plugging in your headphones.
Onstage, you'll find the onboard combo amp indispensable for dialing in your effects before the show. It's like having a pedalboard monitor — how cool is that? The FootNote also gives you a built-in cable tester, which can be a real lifesaver. And for the more intimate shows, you can run the FootNote's line-out straight into the PA and use it as a monitor. You can also use the speaker output to plug into an external cabinet. Talk about flexibility!
SKB obviously had their thinking cap on for this one. The FootNote's design makes it clear that they're listening to guitarists and understand what they need. Call your Sales Engineer today to get your hands (and feet) on this new guitar super-tool!