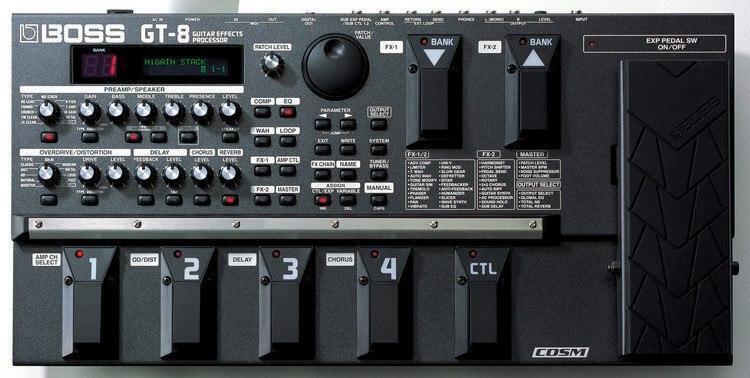 Any tool that inspires you and makes you want to make music is invaluable to any artist, and the BOSS GT-8 is exactly that.
As a guitarist and longtime fan of BOSS gear, I was very excited to get my hands on the BOSS GT-8 guitar multi-effects processor. What I was expecting was a great range of amp models, killer BOSS effects, and a complete control with the footswitches and expression pedal. What I got, however, was so much more. While all of these things are abundant on the GT-8, BOSS has gone above and beyond to give you, the artist, complete control over every aspect of your tone.
Setup was a breeze; I just plugged in, connected the line outs to the inputs of my audio interface, and immediately began to browse the presets. I was impressed by the amount of patches (85 banks of four patches each!) but what really impressed me was the variety. With a guitarist's ego, I was initially biased against presets, but what is awesome is that the GT-8 presets really showcase every possibility that this box has to offer. While I certainly made many tweaks to the sound once I settled on a patch, just going through all the presets really opened my eyes to what was possible with the GT-8. From clean tones with juicy phasing to rip-your-head-off distortion with hours of sustain, I was able to come up with any tone I could imagine.
As I began to build my own patches from scratch, I was very relieved by the GT-8's ease of use. The layout of controls flows very nicely, and the LCD screen shows you exactly what you're changing. With just a little help from the manual I was able to select preamps and speaker types, add effects AND configure where they are placed in the signal path, I could even select from different mic types and choose how they are placed in front of my virtual amp! And believe me, this is just a fraction of the level of control you have over your tone.
Now you might be saying, "That's great Mark, sure it sounds good plugged directly into your interface, but I already have a guitar amp!" The GT-8 is more than equipped to get along with any amp setup you have. You can use it in your existing effects loop, you can switch between amp channels directly from the GT-8, you can even use two different amps and send a different patch to each one! Believe me, the GT-8 can earn its place in any guitarist's rig.
Simply put, any tool that inspires you and makes you want to make music is invaluable to any artist, and the BOSS GT-8 is exactly that.