Many audio interfaces, A/D and D/A converters as well as other devices use the DB25 type connector to carry 8 channels of AES/EBU.  Typically these cables "break out" into XLR connectors (4 male, 4 female) to accommodate individual stereo AES/EBU connections.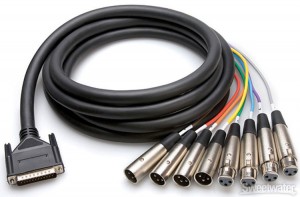 (AES/EBU DB25 port on Lynx Aurora16)       (Hosa AES/EBU breakout cable)
The tricky part is making sure you have the right kinda of DB25 connector.  There are two standard pin arrangements for DB25 AES/EBU connectors.  One is commonly known as the Tascam pinout, the other nicknamed the Yamaha pinout.   While they use the exact same DB25 connectors, the 25 pins are used for completely separate channels.  If you connect two devices, one using the Tascam pinout the other using Yamaha, they simply won't work together.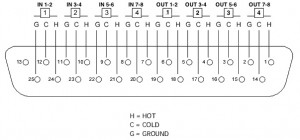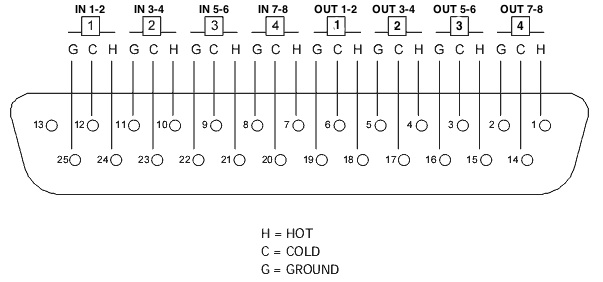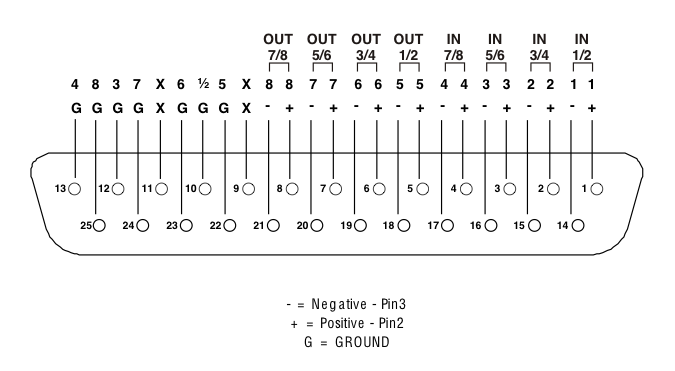 (Tascam AES/EBU pinout)                                                    (Yamaha AES/EBU pinout)
If you're not sure what pinout your device uses for AES/EBU DB25, check the manual for a pinout diagram and compare to the diagrams above.  Here's a list of some manufacturers and the AES/EBU DB25 pinouts they use.
Note: This does not apply to analog DB25 connections, only digital AES/EBU DB25 connections.
Tascam
Avid/Digidesign
Universal Audio
RME
Yamaha
Apogee
Mackie
Lynx
SSL
---
Helpful Links
Which DB25 pinout do the RME interfaces use?
Digidesign DB25 to DB25 AES/EBU snake specifications.
What type of screw threads does Pro Control's DB-25 connectors use?
Which pinout standard is used on 192 I/O's AES/EBU pinouts?
Where can I find a pinout diagram for the HRM cables used with the HDS-16 and HRM-16?