Comprehensive Control for Software Instruments
With the Alesis VX49 USB/MIDI controller keyboard, you can load up your favorite software synthesizers, samplers, and drum machines as if you were working on a standalone keyboard workstation. The included VIP software scans your instrument plug-ins, indexes all of their presets, maps out the controls, and allows you to switch sounds and tweak parameters on the fly — without ever touching your mouse. With 49 velocity-sensitive keys (with aftertouch), eight pressure-sensitive pads, eight rotary encoders, and a built-in arpeggiator, the Alesis VX49 could be your ideal controller for production and performance.
Instant Control Mapping
Take command with VIP software and hands-on controls
With the Alesis VX49 and VIP software, you can control your software instruments just like a dedicated keyboard workstation. You'll be able to select sounds faster and capture ideas without leaving your creative zone. From production to performance, the VX49 is an outstanding controller for software instruments.
Automatically maps controls to your selected software instrument
Lots of hands-on controls for parameter tweaking
Tempo and transport controls for your DAW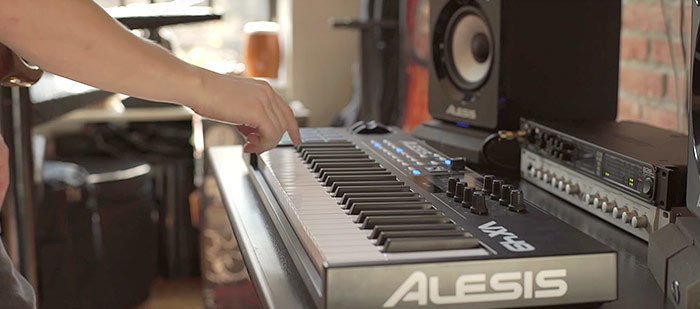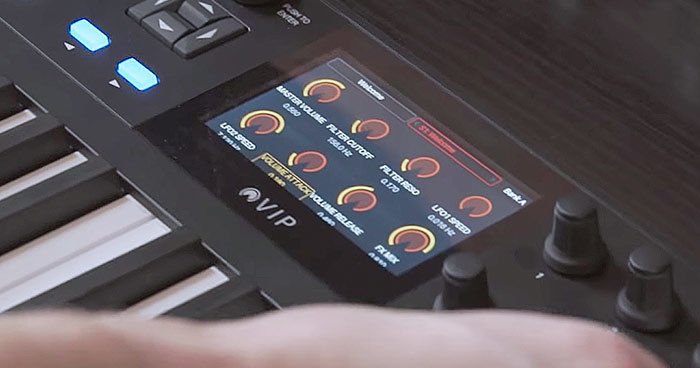 Use Your Plug-ins Like Hardware
Turn your software into a keyboard workstation
Let's face it — mapping control surfaces to your software can be a hassle, and navigating menus and preset lists can quickly take you out of your creative zone. The VIP software included with the Alesis VX49 does all that for you, allowing you to get hands-on with your sounds while you're still inspired to make music. When you first load up the VIP software, it will scan your plug-ins folder and associated presets and will automatically map the physical controls accordingly. You'll be able to explore presets, tweak parameters, and even switch to a different plug-in instrument entirely, without ever having to touch your mouse or computer keyboard.
Switch sounds and instruments without touching your mouse
Tweak parameters without wasting time mapping controls
Use VIP software in your DAW or standalone
Ample Control for Performance
Keys, pads, encoders, and more
With a 49-key playing surface and transposition keys to cover a 10-octave range, the Alesis VX49 strikes the ideal balance between being playable and compact. Eight velocity and pressure-sensitive pads are arranged in four banks, giving you access to 32 individual MIDI events. Eight encoders are right where you need them to sweep filters and bring in effects. Pitch-bend and mod wheels are on hand, as are assignable switches to send MIDI commands to your software or hardware devices. Use the Roll button to create drum builds and glitch effects on the fly, and use the built-in arpeggiator to create looped phrases. Especially if you perform live with your software instruments, you'll be well served with the ample control set on the Alesis VX49.
49 keys, eight performance pads, and eight rotary encoders
Assignable switches for sending MIDI commands
Built-in arpeggiator with tempo sync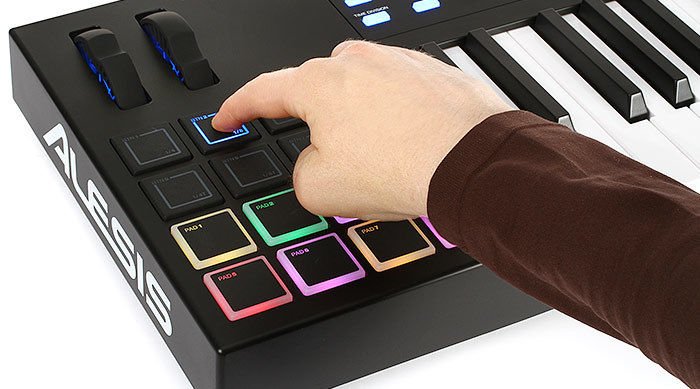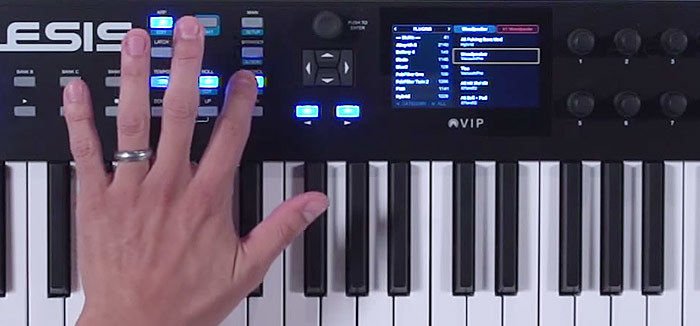 DAW Transport and Tempo Control
Free yourself from your computer's mouse and keyboard
On top of being a comprehensive controller for your software instruments, the Alesis VX49 is equipped with a transport section for your DAW. Record-enable tracks, loop sections, pause playback, and even adjust tempo. In fact, any MIDI-controllable function within your DAW can be controlled by the VX49. You'll be able to capture song ideas faster, without having to juggle your MIDI controller, keyboard, and mouse simultaneously.
Run your DAW with dedicated transport controls
Tap tempo button for tempo changes on the fly
Assignable switches can be mapped to DAW commands