Celebrating 25 Years of Passion and Warfare
Twenty-five years ago, the original release of the Steve Vai signature Ibanez Universe 7-string electric guitar coincided with the unveiling of Vai's ground-breaking album, Passion and Warfare. Before that album, electric guitar had never sounded so powerful or versatile. To commemorate and pay homage to this ground-breaking era in instrumental guitar music, Ibanez and Vai have released this limited-edition UV77 7-string. It boasts a signature set of DiMarzio pickups, the famed Universe neck profile, and even Vai's signature disappearing pyramid fretboard inlays. The UV77 may be the most collectible Universe yet, so grab yours while you still can.

The Universe of Passion and Warfare
The sound of extended-range electric guitars is common in today's musical landscape. But it all started about 25 years ago with the release of Passion and Warfare. Vai was composing music that demanded more than what was possible on his signature 6-string JEMs. So Ibanez created the Universe 7-string. On songs such as "The Animal" and "The Riddle," Vai expertly deployed the use of this instrument's low B string, forever changing the definition of "heavy." For over 25 years, Ibanez and Vai have been a great guitar-crafting team, and this limited-edition UV77 honors that partnership.
Iconic appearance
Steve Vai has always been one to make a visual statement, and that definitely applies to his instruments. Throughout his career, his swirled-paint guitars may be some of his most recognizable and lauded. This UV77 7-string solidbody electric guitar proudly wears this unique and updated finish. You'll also find Vai's popular, disappearing pyramid inlays adorning the fretboard. This is one instrument we are very proud to display at Sweetwater.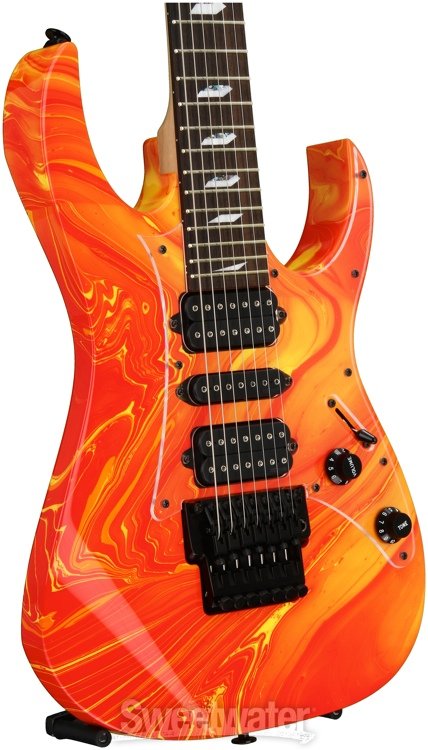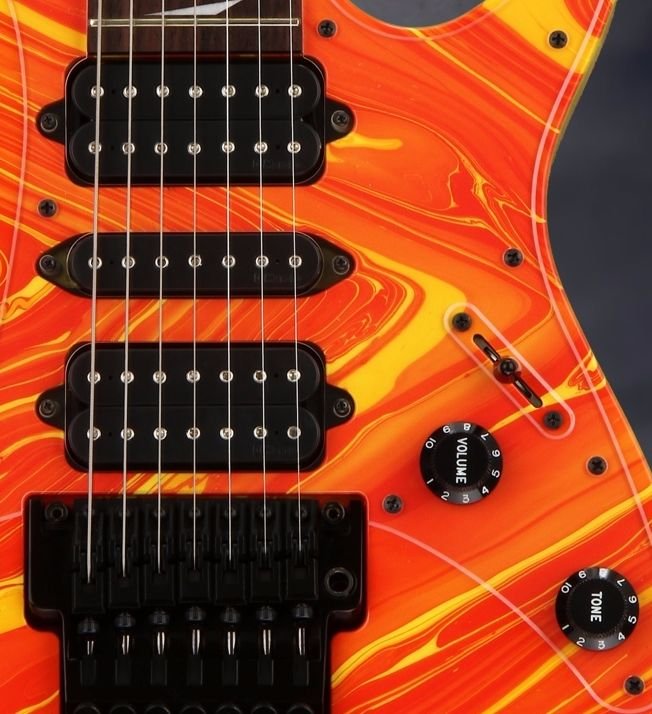 Electronics tuned to Vai's specifications
Like all Steve Vai Universe and JEM-model solidbody electric guitars, the UV77 is outfitted with a set of DiMarzio Vai signature humbucking and single-coil pickups. Vai helped voice the UV77's Blaze humbuckers to present a slightly scooped tonality. By removing certain midrange frequencies, the Blaze humbuckers retain a tight low end and clear top. The neck humbucker is wound for less output to ensure you'll enjoy a balanced signal across all five humbucking and single-coil pickup selector positions.
Only 77 available worldwide
Ibanez Steve Vai signature guitars are some of the most collectible and sought-after instruments in the company's history. And the Steve Vai signature Ibanez UV77 7-string celebrates one of the most monumental albums in rock 'n' roll. This guitar is sure to be an extremely in-demand instrument for years to come. And it even comes with a hand-signed certificate of authenticity. Ibanez will only handcraft 77 of this particular model for worldwide distribution. So if you want be part of the Universe and Passion and Warfare story, act now.
Ibanez Limited-edition Steve Vai Signature Passion and Warfare UV77 Features:
Special-edition Ibanez Universe to commemorate 25 years of Passion and Warfare
1 of the first and longest-lasting 7-string designs
Balanced-sounding basswood body
Loaded with a trio of DiMarzio Blaze humbucking and single-coil pickups
Incredibly fast UV neck profile
Legendary disappearing pyramid fretboard inlays
Stable and comfortable Ibanez Lo-Pro Edge 7 double-locking tremolo
Beautiful swirl finish
Certificate of authenticity included