Pro Mix Power with a Simple Workflow
You don't need a large, complicated mixer to achieve pro-quality live sound, and you don't need to compromise on power for a simple design that's easy enough for anyone to use. With the QSC TouchMix series of digital live sound mixers, you've got serious connectivity, routing, and effects processing in an intuitive design. QSC's TouchMix is versatile enough to manage a wide range of medium- and small-format mixing tasks, while its touchscreen interface and built-in user help make it incredibly simple to operate. If your goal is to have outstanding sound quality and extensive mix capabilities in the smallest form factor possible, you'll be impressed with the QSC TouchMix series.
QSC TouchMix Digital Mixer at a Glance:
Powerful mixers with generous I/O for their compact size
Easy access to all mixing features and processors via the large touchscreen display
Effortless setup thanks to the built-in Wizards, info, and preset libraries
Powered aux sends can drive in-ear monitors directly
Mix anywhere in the room, thanks to remote control via mobile devices (Wi-Fi interface included)
Smart and Simple for Anyone to Use
While the QSC TouchMix series packs the connectivity and processing capabilities of much more complicated mixers, its simple interface and built-in help make it easy to use, even for novices. Whether or not you're experienced with setting up a mixing board, the TouchMix series is designed to help you get great sound fast. In Simple Mode, your TouchMix mixer will optimize channel and effects settings for the best results in a variety of settings, similar to the "Auto" function on a DSLR camera. An index of presets helps you find the best sound possible for vocals, guitars, drums, or any other sound source. And if you ever need some extra help navigating the TouchMix interface, there's a handy "Info" button that will explain any feature or parameter for you right on the touchscreen display.
Power and Sound Quality Any Pro Will Appreciate
Even though the TouchMix series is designed to be easy to use, it has everything any experienced professional needs. While beginners may use the Simple Mode, Effects Wizard, and Gain Wizard to get a great sound, there's nothing keeping you from tweaking everything yourself in the Advanced Mode to fine-tune the sound of your production. All input channels have a 4-band parametric EQ, as a well as a gate and compressor. All aux outputs, DCAs, mute groups, and main outputs have a 1/3 octave graphic EQ, notch filters, limiters, and delay. You have all the tools you need to mix any show with confidence.
Hover over features below for a detailed description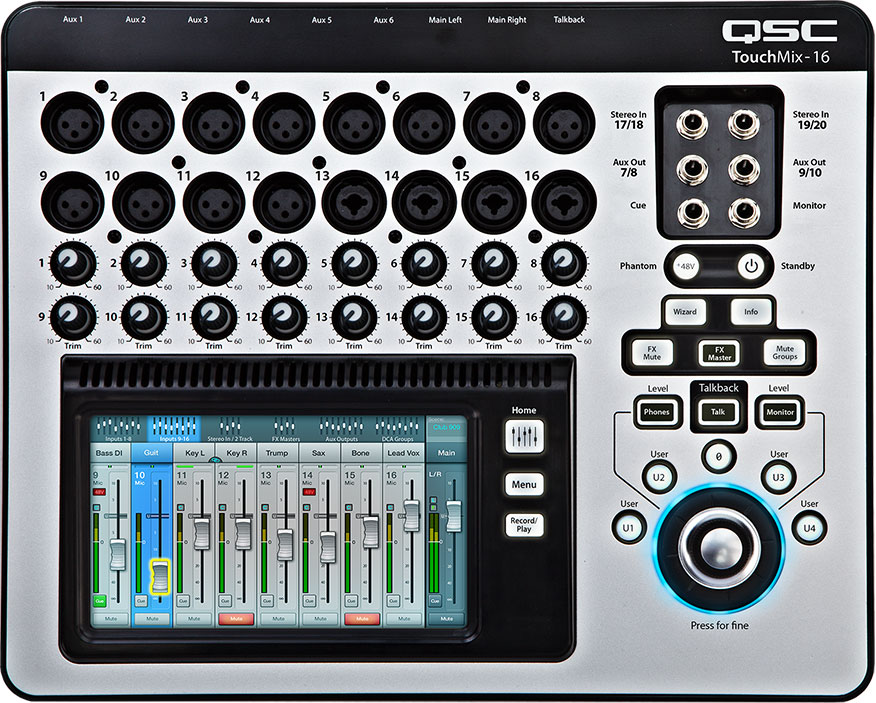 High-quality mic preamps and instrument inputs for great sound right from the start
Dedicated trim controls help you optimize input levels quickly
Large color touchscreen gives you intuitive control and fast access to all mixer functions
Access your main mix instantly, regardless of what page you're currently looking at
Easy access to all mixer functions
Easily record or play back audio from an external USB hard drive
Smooth data wheel and user-assignable buttons give you precise, customized control
Easily switch between your main mix and your monitor mixes
Effects Wizard helps you dial in great-sounding effects; Gain Wizard continuously monitors and displays input clipping
Instantly mute all FX processors
Learn more about almost any mixer function with this built-in user help
Create mute groups for easier mixing of multi-mic setups such as drums and backup vocalists
Phantom power for all inputs, switchable per channel
Recessed power button helps avoid accidents in a live setting
Additional stereo inputs for music players or other line-level sources
Powered aux sends can drive headphones or in-ear monitors
TRS outputs for Monitor and Cue mixes
Fast access to built-in FX processors
Easy access to your headphone mix
Talkback with dedicated XLR mic input on the back panel

Connect a USB hard drive for recording or audio playback
XLR connectors for all Aux and Main outputs
Monitor Any Way You Like with Versatile Aux Sends
Unlike many compact mixers in this class, the QSC TouchMix-16 gives you six aux sends for comprehensive monitoring options (four aux sends on the TouchMix-8). And while you can set up individual monitor mixes and send them to typical stage monitors, the TouchMix's aux sends also let you drive in-ear monitors or headphones directly. So if the TouchMix is on-stage with the performers, you can connect IEMs without having to connect a separate headphone amplifier/distributor.
Record and Play Back Tracks from a Hard Drive
Recording your live shows is easy with the QSC TouchMix series - you don't even need a computer or separate recorder. Just connect an external USB hard drive to your TouchMix mixer and you're good to go. You'll be able to record all inputs, as well as a combined stereo mix, in 32-bit Broadcast Wave format. You can play back recorded tracks through the mixer as backing tracks or import them into your DAW software later for mixing.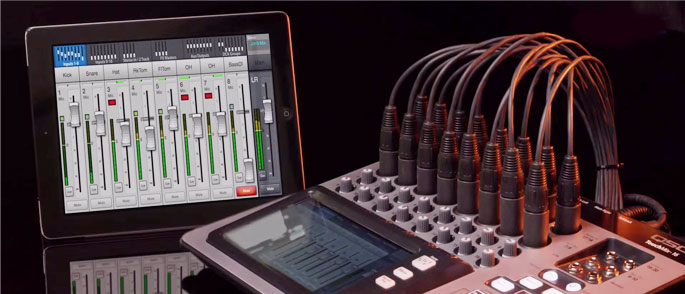 Manage Your Mix Anywhere in the Room via Built-in Wi-Fi
With your tablet or smartphone, you can adjust virtually every parameter on the TouchMix mixer from anywhere in the room. The free remote control app controls all mixer parameters, making it easy to walk the room or tweak monitor mixes from the stage. Best of all, you don't need any additional hardware to connect wirelessly! Your TouchMix series mixer comes with a Wi-Fi adapter that creates the network connection between your mixer and your device.
| | | |
| --- | --- | --- |
| | | |
| Inputs | TouchMix-8 | TouchMix-16 |
| Mic | 4 | 12 |
| Mic/Line (XLR/TRS Combo) | 4 | 4 |
| Stereo Line (TRS) | 2 | 2 |
| Talkback (XLR) | 0 | 1 |
| Outputs | TouchMix-8 | TouchMix-16 |
| Aux (XLR) | 4 | 6 |
| Stereo (TRS) | 1 | 2 |
| Main R/L (XLR) | 1 | 1 |
| Cue (TRS) | 0 | 1 |
| Monitor (TRS) | 0 | 1 |
| Cue/Monitor (TRS) | 1 | 0 |
Call your Sweetwater Sales Engineer to learn more!
(800) 222-4700