Analog-style Synth for the
Digital Music Age!
When Roland released the original System-100 modular synthesizer back in 1975, the world was on the cusp of an electronic music revolution. Throughout the years, as the System series, and eventually the SH line evolved, so did the music scene around them. A new era of electronic music is dawning, and once more, Roland is on the scene with their AIRA System-1, an old-school, analog-style synthesizer that's build for total integration in your live or studio rig. Sporting Roland's Analog Circuit Behavior technology, this synth delivers sound that's so tweakable and realistic, you won't believe it's digital. But with capabilities such as Plug-out technology, which lets you load up a library of classic Roland synth engines, the System-1 goes far beyond its analog ancestry.
System-1 Plug-out Synthesizer Keyboard Features:
A continuation of Roland's legendary System series modular and semi-modular synthesizers
Roland's most compact 25-key synth to date, but it's still extremely comfortable to play
Analog Circuit Behavior component-to-component modeling technology provides killer realism
Innovative Plug-out technology lets you load up additional synth engines and take them with you
Control every parameter with real physical knobs and playable sliders with LED indicators
Multimode filter provides -12dB to -24dB/octave lowpass and independent highpass controls
Thicken up your sound with easy-to-manipulate onboard delay and reverb effects
Dial in an extra dose of aggressive distortion with the Crusher knob
A simple tone knob lets you adjust the overall sound of your synth on the fly
Tempo sync functions allow you to lock your LFO and delay effect to the beat
Advanced arpeggiator with Scatter mode lets you easily create cool moving patterns
Use 10 Scatter modes with 10 levels of depth to inject the perfect amount of chaos into your sound
USB connection provides audio and MIDI communication to your computer
Solid MIDI clock sync provides tight timing with external gear, such as the rest of the AIRA series
Analog Circuit Behavior Delivers Killer Sound and Feel
Part of the attraction of a modular-style synthesizer keyboard is that you can sit down, grab a knob, and tweak your sound with instant results. No digging through menus, no sorting though parameters, just good old-fashioned hands-on control. And that's exactly what you get with the Roland AIRA System-1. This is actually a result of two very cool things Roland did. First, using their Analog Circuit Behavior technology, they modeled each component of the System-1 to sound and feel right. That variable -12dB to -24dB/octave filter? It's based on the kind of analog technology that would normally price the System-1 out of reach for most people. But the sound and behavior is as authentic as it gets. And the same can be said about the envelopes, amplifier, and other instruments. Add to that hands-on controls for... well, everything, and you're good to go.
Analog Circuit Behavior technology provides spot-on modeling of all analog synth components
Variable filter, envelopes, LFO, and more all respond exactly like the analog gear they're modeled on
Hands-on controls for every parameter let you tweak your sound, without ever looking through a menu
"Not once did I care that it's digital, that's what is amazing about this synth."
- Carson McClain, Sweetwater Sales Engineer
You Haven't Lived Till You've
Tried This Arpeggiator

Everyone loves a great arpeggiator, right? Well, with the Aria System-1 synthesizer, you get one of the most intelligent and flexible arpeggiators you could ask for. Six arpeggio styles let you chose the right kind of motion for your groove, and you can lock the pattern to one of six beat divisions for perfect sync. But that's just the tip of the iceberg. When you really want to go nuts, put the System-1 into scatter mode, using the same compound job wheel that controls pitch bend. It's hard to describe just exactly what Scatter does — it's a kind of randomizer that you can dial in and fire off to create cool effects and sound variations. A total of 10 Scatter types with 10 levels of intensity let you produce anything from a subtle glitch to total circuit-melting freakout effects.
6-mode arpeggiator with 6 time divisions lets you create moving patterns that lock to the tempo
Ten Scatter modes allows you to inject your sound with the perfect dose of randomness with the spin of a dial
Each Scatter mode includes 10 depth levels for a range from subtle variation to glitched-out effects
All Essential Synth Effects
Processors Onboard
When you're performing with a tabletop full of synthesizers, drum machines, and various other gadgets, it's amazing how quickly going out to a show turns into an exercise of baggage handling. One of the little things that has impressed the electronic musicians here at Sweetwater is the collection of built-in effects available on the AIRA System-1. Onboard, you'll find both a lush reverb and a classic delay effect (that you can easily lock to MIDI clock), giving you two easy ways to beef up your sounds. That's not all — crank up the Crusher knob and you get rewarded with gritty, ultra-modern distortion that can make event the meekest sound snarl. And while it's not exactly an effect, the single-button tone control can let you dramatically alter the timbre of your synth with the twist of a knob.
Add dimension to your sounds with the onboard reverb, delay, and crusher effects
Simple hands-on controls let you grab hold and play your effects in real time
One-knob master tone control allows you to seriously alter the sound of your synth
Meet the Roland AIRA Family!
Flexible, affordable, and built for today's electronic musician, Roland's AIRA series delivers old-school simplicity and hands-on playability to a range of instruments designed to integrate in your high-tech live or studio rig. The AIRA series kicks off with four amazing instruments: the System-1 Plug-out synthesizer keyboard, the VT-3 Voice Transformer effects processor, the TB-3 Touch Bassline synth, and the TR-8 Rhythm Performer drum machine.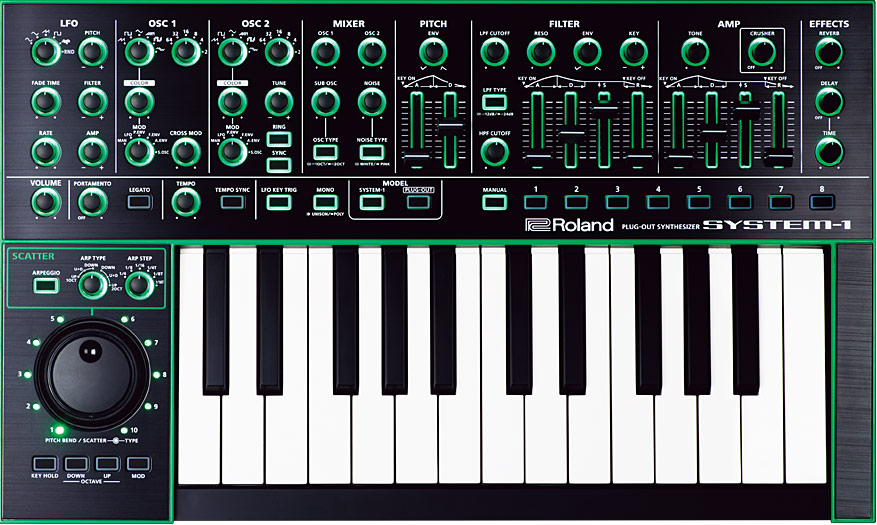 Plug-out Technology Lets You
Load More Synth Sounds
We've all heard of plug-ins, but Roland's Plug-out technology takes software integration to a whole new level. Although the System-1 appears in every way to be an analog synth, it's really a sophisticated standalone computer masquerading as an analog synth — becomes incredibly cool. You see, you can completely reprogram the entire sound engine of the System-1 by uploading new Plug-out software synths to it. These will include a host of classic Roland keyboards, many of which will take full advantage of the System-1's extensive hands-on controls. Best of all, once you've uploaded a new synth to the System-1 from your computer, you can pick it up and take it with you — no computer needed. And you'll still have the default System-1 sound there as well, so you can switch between synths with the push of a button.
Plug-out technology lets you load up classic Roland keyboard sound engines in addition to the default engine
New sounds stay loaded in firmware, so you can take them with you, without relying on your computer
Many Plug-out synthesizers take advantage of the System-1's full set of hands-on controls for easy tweaking
Total Integration with Your Live
Rig and Studio System
Whether you're on the road or in your studio, you'll find your Roland Aria System-1 synth extremely easy to integrate into your rig. High-quality 1/4" jacks provide stereo output, and there's a convenient headphone jack for when you're just playing by yourself. With a single USB cable, you can pass MIDI to and from your computer and audio to your DAW. And Roland didn't forget about those of us who like to cut our computers out of the equation, so they also outfitted the System-1 with traditional 5-pin MIDI I/O as well. Top it off with rock-solid MIDI clock sync, and the System-1 fits in perfectly with the rest of your AIRA instruments and MIDI instruments.
USB provides both audio and MIDI communication to your computer-based system
Traditional 5-pin MIDI I/O lets you connect to your other hardware synths and keyboards
Rock-solid MIDI sync keeps your groove locked in time with the rest of your gear


Analog Circuit Behavior technology provides component-to-component modeling for realistic sound and feel.


Roland's AIRA instruments bring back the sound of four classic electronic-music tools... and a whole lot more!