LR Baggs Quality from Input to Output
The highest-quality pickups and preamps are vital to acoustic instrument signal quality, but can the output signal quality be made to match that of the input? After four years, LR Baggs has the answer: the Synapse Personal PA System. With 500-watt Class D amplification and a compression woofer and tweeter with matched sound propagation for seamless high- and low-frequency integration, the Synapse sounds great, and its all-horn speaker design projects a 180-degree waveform at all frequencies, so audience members anywhere in the room will enjoy the same high-quality sound. The Synapse gives you two channels of all-discrete preamps with a 3-band EQ on each, and its walnut veneer cabinet, structural foam housing, and custom handle are visually appealing and comfortable to transport.
Class D amp and top-shelf preamps do your songs justice
LR Baggs auditioned more than a dozen amplifier modules before they found one they loved, but they didn't stop there. Working with the amp manufacturer, they customized the amp further to perfect it for use with the Synapse. The amplifier is compact and lightweight, making the Synapse easier to carry from gig to gig. Baggs also carefully selected high-quality studio-grade preamps to make sure your signal is faithfully translated to your audience.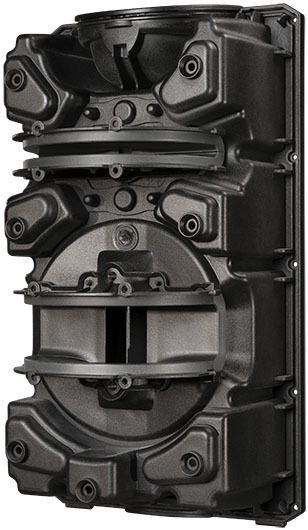 All-horn, compressed woofer/tweeter produce natural sound
You may or may not love big band brass, but the truth is that horns — as a physical form — produce waveforms that sound natural to our ears. Our mouths are horns, projecting the soft sounds produced by our vocal chords — and our ears are "reverse" horns, gathering waves and channeling them to our eardrums. So it's not surprising that the all-horn compression woofer and tweeter in the Synapse, producing a full 180-degree waveform at all frequencies, just sound great to the human ear.
Two channels with EQ and custom reverb
Sweetwater's many singer/songwriters often use 2-channel personal PAs with built-in effects. But with the Synapse, there's something completely new on the scene. LR Baggs put in the time and effort to produce a proprietary reverb with custom voicing that really sounds great with vocals or guitar signal. Along with the 3-band EQ on each channel, the Synapse's reverb gives you the ability to dial in a unique, natural sound that your audience will love.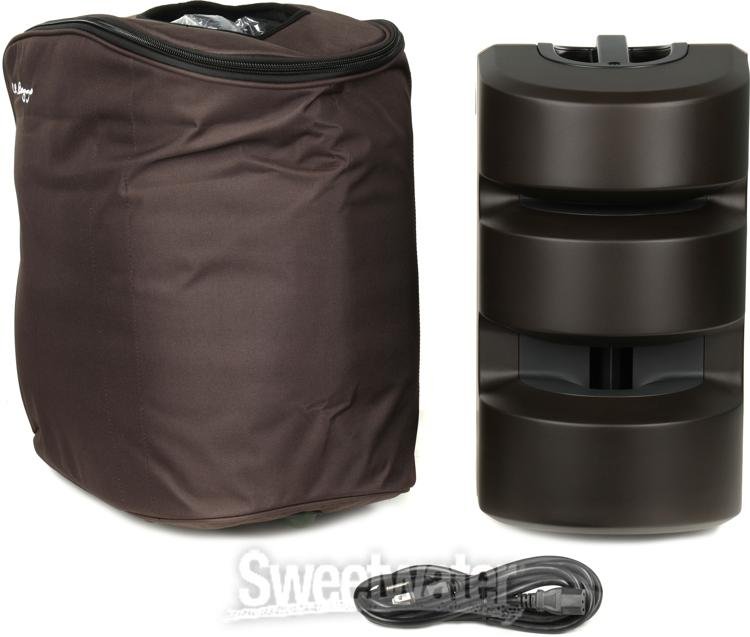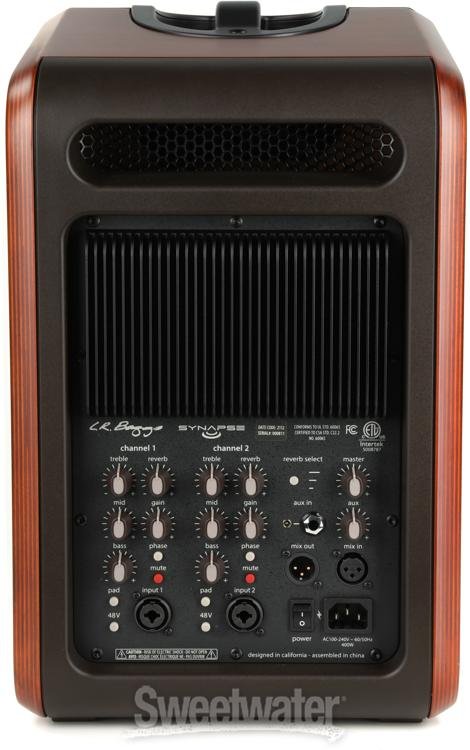 Leaning through the finish line
Many engineers can deliver a solid-performing piece of gear, but as we've all seen, they sometimes fall short when it comes to the visual appeal of the finished product. LR Baggs made sure to lean through the tape with the Synapse, delivering a great technical design that is also attractive. The cabinet is made of high-quality 11-ply laminated wood with beautiful walnut veneer, and the curve of the structural foam housing complements the cabinet shape. LR Baggs also engineered their own handle for the Synapse, placing it in line with the unit for an ergonomically efficient and comfortable hand position while carrying the Synapse.
LR Baggs Synapse Features:
Lightweight custom 500-watt Class D amplifier delivers great sound for a crowd of up to 100

High-quality discrete preamps for transparent transmission of your music

All-horn design with compression woofer and tweeter produces natural-sounding waveforms

2 channels with combo jacks, 3-band EQ, and reverb offer great sonic versatility

Beautiful, functional cabinet and housing design look as good as they sound