Analog Simplicity, Digital Flexibility
Innovative digital mixing with uncompromising audio quality
The Soundcraft Si Impact digital mixer not only gives you a simplicity and ease of use that rivals an analog console, but you also get the excellent sound quality that Soundcraft has become known for over the past 40-plus years. You'll love the Si Impact's unique FaderGlow system, which provides you with at-a-glance status information, as well as its ample DSP power, great-sounding 32-in/32-out USB audio interface, and generous I/O options. Complete with a 5" touchscreen display for instant access to your parameters, the Si Impact is an ideal digital mixer for broadcasting, houses of worship, music venues, and theaters.
32 mic preamps
Eight XLR/1/4" combi jacks
40 DSP input channels
31 output buses
4-band parametric EQ on each channel
Eight VCAs and eight mute groups
26 motorized faders
Built-in stagebox connectivity
5" touchscreen display
Multicolor LCD displays on each fader
Onboard DSP
20 aux buses
Four matrix buses
Built-in 32 x 32 USB audio interface
Hover over features below for a detailed description
MADI-USB card provides 32-in/32-out MADI and 32-in/32-out USB or 64-in/64-out MADI only
32 x 32 ViSi Connect expansion slot
Boot loader switch for booting in software update mode
HiQnet Ethernet port for HiQnet system integration and ViSi Remote System
24 recallable mic preamps with locking connectors and phantom power indicators
8 XLR/1/4" combi jacks for mics, line inputs, and instruments
The Assignable Channel Strip section lets you control whatever channel is selected in the control channel's Sel button
48-volt phantom power switch
Gate open, hold, and close status LED indicators
Dedicated encoders for attack, release, depth, threshold, and sidechain filters
8-segment LED input meter
Dedicated encoders for attack, release, gain, threshold, and ratio
5-segment LED gain reduction indicator
4-band fully parametric EQ with independent Q control and bell or shelving options on HF and LF bands
Channel delay encoder for time alignment on input and output bus
LR switch for assigning/un-assigning channels and buses to the left/right output
Mono switch for routing to mono output
5" color touchscreen for patching, routing, and showing setup and security settings
Lexicon effects section with dedicated tap tempo switches
8-segment LED monitor output meter
USB flash drive ports for saving/loading shows and snapshots
8-segment LED output meters (left/right and mono)
4-segment LED input meters/3-segment LED gain reduction meters and gate closed indicators
On switches turn the selected channel on and off
Sel switches assign the selected channel to the Assignable Channel Strip section
Solo switches for soloing individual channels
24 motorized input faders with FaderGlow indicators
Alt switch is a modifier for enhanced functions
Clear switches clear active solo and other parameter settings
Console cue list and snapshot access switches
8 VCA groups/8 mute group controls
Fader switch group selects from 4 layers of control channels, GEQ controls, and 4 DMX layers
Motorized left/right and mono output faders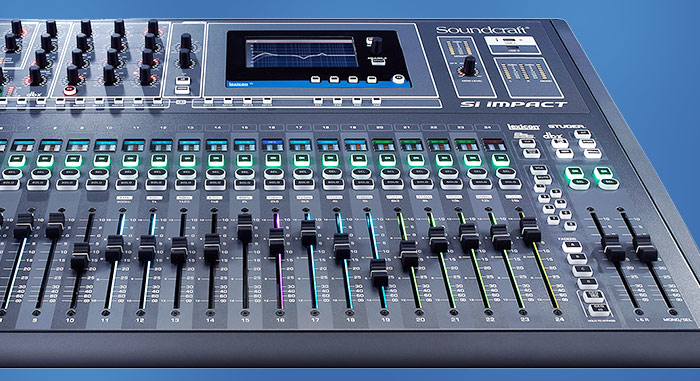 Going Beyond
Analog Control
Delivers analog workflow with
digital flexibility
One of the Soundcraft Si Impact's strengths is that it provides you with a simple analog workflow while also offering you the flexibility that you can only obtain with a digital mixer. One-knob-one-function control means you won't have to jump around the board to change parameters, while the FaderGlow system ensures that you know exactly which functions are being controlled by which faders simply by looking at them. Each fader channel also provides you with a clear multicolor LCD display, giving you quick at-a-glance information on your levels and a fully customizable "scribble strip" to name your channels.
Streamlined analog workflow with digital flexibility
One-knob-one-function control
FaderGlow system
Clear multicolor LCD displays
Legendary British Sound
Graham Blyth-designed mic preamps and "British" equalizer
Like all Soundcraft mixers, the Si Impact is positively packed with that highly sought-after "British" sound. Thanks to its stellar-sounding mic preamps (designed by Soundcraft founder Graham Blyth) and 4-band, fully parametric "British" equalizers, the Si Impact provides you with a sound that will imbue your mixes with plenty of classic distinctive character.
Sought-after "British" sound
Graham Blyth-designed mic preamps
4-band parametric EQs on each channel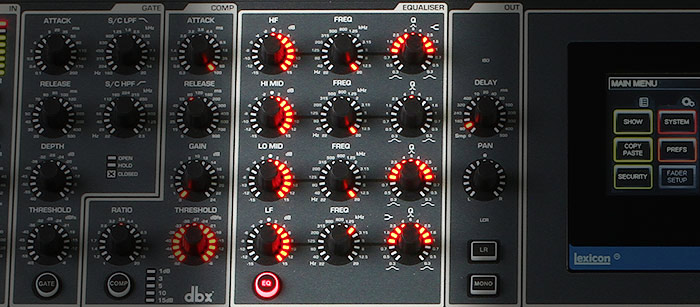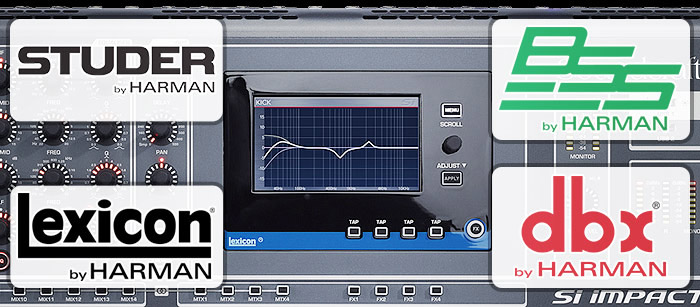 World-class Effects
DSP processing from Lexicon, dbx,
and BSS Audio
Featuring studio-grade reverb and effects from Lexicon, legendary dbx dynamics, and industry-standard BSS graphic EQs, the Soundcraft Si Impact's onboard DSP carries quite a pedigree. Thanks to these world-class effects, you'll be able to create polished, pro-sounding mixes without a rack full of outboard gear.
Lexicon reverb and effects
dbx dynamics processing
BSS graphic EQs on each bus
Put Your I/O Wherever
You Need It
Built-in connectivity and a complete range of I/O expansion cards
With built-in connectivity for their optional stagebox, Soundcraft's Si Impact lets you put your I/O wherever you need it. You can set up the stagebox by the band and route your sound to front of house, or you can position it in the live room for studio recording — all through a single Cat 5 cable. You can also use the Si Impact's 32 x 32 expansion card slot to integrate it with existing systems and hardware that use any of multiple I/O formats, including MADI, CobraNet, Aviom A-Net, AES/EBU, BLU link, RockNet, and Dante.
Built-in stagebox connectivity
32 x 32 expansion card slot
Compatible with MADI, Rocknet, CobraNet, Dante,

and more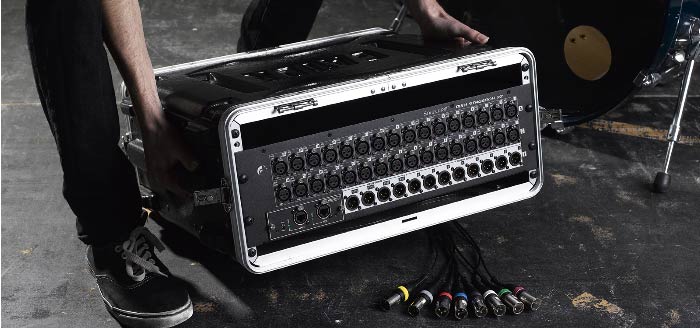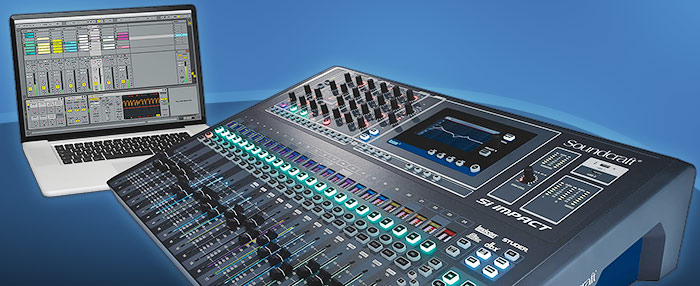 Make Multitrack Recordings
Pipe phenomenal-sounding audio
directly into your DAW
Making multitrack recordings with the Soundcraft Si Impact is a snap, thanks to its built-in 32-in/32-out USB audio interface. A single connection to your Mac or PC is all it takes — you'll be ready to record straight to your favorite digital audio workstation.
32-in/32-out USB audio interface
Make multitrack recordings with a single connection
Compatible with all major DAWs
Remote Mixing with
Your iPad
Hands-on control from anywhere
If you have an iPad, you can access the mix power of the Soundcraft Si Impact from anywhere. Simply download the iPad app, and you'll be able to mix front of house from the audience location, set mic gains and phantom power from onstage, adjust monitor levels while standing next to the musicians, or allow performers to create their own monitor mixes.
Mix from anywhere in the venue
Set mic gain and 48-volt phantom power from the stage
Adjust monitor levels while standing next to the artist
Extend the fader count of an existing control surface
Allow multiple users to control their monitor mixes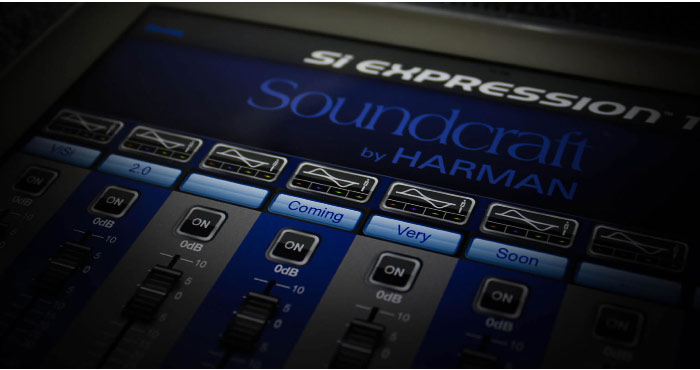 A Phenomenal Digital Mixer
Streamlined workflow, flexible performance, and
excellent sound quality
With its streamlined analog workflow and digital flexibility, you just can't beat the Soundcraft Si Impact digital mixer for ease of use and stellar sound quality. Whether you're in a broadcasting studio, house of worship, music venue, theater, or anywhere else, the Soundcraft Si Impact is a phenomenal digital mixer!