Create Unforgettable Drum Tracks with SSD4
From mix auteur and software mastermind Steven Slate comes the easy way to build larger-than-life drum tracks in the box — without a great room, a quality drum kit, or even a competent drummer. Steven Slate Drums 4.0 Platinum includes 100 kits from Slate's personal collection, full of the hardest-hitting metal and hard rock drums to the smoothest vintage kits and fattest electronic sounds around. All kits are processed using boutique analog gear for a radio-ready sound. Need inspiration? SSD4 Platinum's Signature Kits by Metallica, Steely Dan, and Red Hot Chili Peppers (to name a few) are a sure way to generate instant gravitas. Build kits from the ground up with the SSD Player, compose in real time using your electronic or triggered kit, or cop licks from Slate Drums 4.0 Platinum's built-in grooves and edit to taste. Then mix drums natively in SSD4's powerful mix window.
100 kits — from metal to jazz and all shades in between
100 kits mean that whatever you need, your drum sounds are covered. New in Steven Slate Drums 4.0 Platinum are dozens of new deluxe series kits that were recorded with extreme precision, resulting in a remarkably natural playability. In SSD4 Platinum, you'll find Rock, Metal, Vintage, Indie, Funk, and even Jazz/Brushes Deluxe Kits.
Five new Urban/Dance/House/Electro kits
Also new in Steven Slate Drums 4.0 Platinum are five kits in the Urban/Dance/House/Electro genre designed by producer Griffin Boice. These kits are processed with boutique analog gear to provide the fat radio-ready sound you'll want for your pop, urban, and dance mixes.
Signature Kits modeled after famous records
One of Sweetwater's favorite features in Steven Slate Drums 4.0 Platinum is its reintroduction of the classic Mix Ready kits, which are reprogrammed for better sound, response, and realism. Included among these are the Signature Kits, modeled after some of the most imitated drum sounds from top artists: Steely Dan, Metallica, Dream Theater, Led Zeppelin, Green Day, Nirvana, Pantera, Deftones, AC/DC, Red Hot Chili Peppers, and Motley Crue.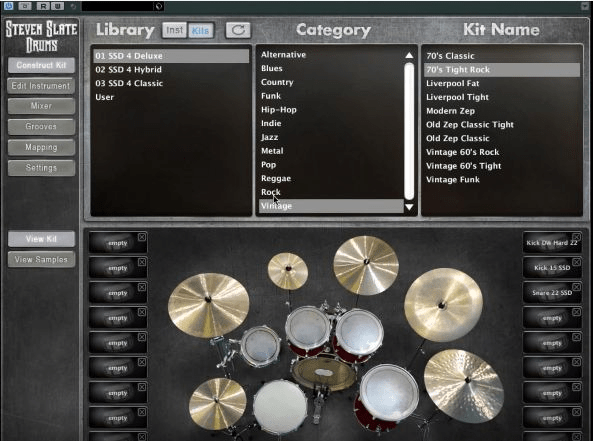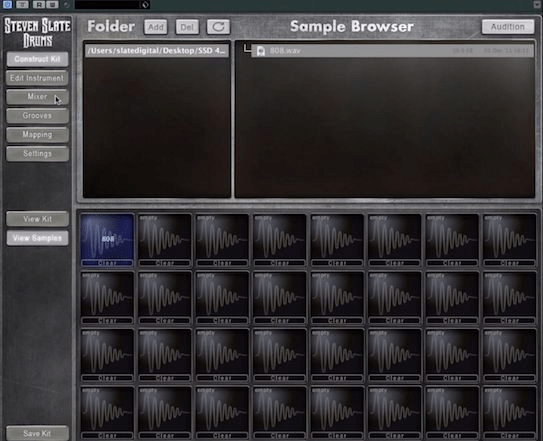 Powerful, intuitive drum sampler
At the heart of Steven Slate Drums 4.0 is the SSD Player, a state-of-the-art Mac/PC (AAX, VST, RTAS, AU) drum sampler built from the ground up by the award-winning development team behind Slate's Trigger drum replacement processor. The SSD Player is extremely easy and intuitive to use. Loading kits, customizing kits, mixing kits, loading and auditioning MIDI grooves, customizing MIDI maps, and routing discretely to your workstation are all a breeze with the SSD Player. It even lets you load your own drum samples to mix in with the Slate drum kits.
Powered by Soultone Turkish cymbals
Steven Slate Drums 4.0 Platinum brings a brand new cymbal pack from Soultone Cymbals. These custom Turkish cymbals are some of the best sounding in the world! From the dark Vintage series to the bright and shimmery Extreme series, these cymbals give the drum kits the ultimate brass accompaniment!