Advanced Tone-shaping Capabilities
RockCrusher attenuation plus cabinet emulation
Rivera's RockCrusher Recording power attenuator and load box could be your gateway to epic tube-amp tonal bliss. Building on the already popular RockCrusher power attenuator, RockCrusher Recording adds a built-in cabinet emulator with an 11-band EQ, so you can dial in your tone perfectly — at any volume.
You can dial in your tone perfectly — at any volume.
If you're not cranking up your tube amp, you're not really hearing its full tone! Unfortunately, whether you're at home, onstage, or in the studio, it's not always possible (or comfortable!) to turn up your tube amp to its tonal sweet spot. The solution? Rivera's RockCrusher Recording.
Hover over features below for a detailed description
True bypass with no signal loss
Switch between 8 or 16 ohms to match your cabinet's impedance
Restores top-end response
Restores low-end response
Stepped knob is easily recallable and gives you consistency in volume reduction
Fine volume control of the quietest attenuation setting
Controls level sent through line outputs
Super-bright LED level meters toggle between input power and line output level
Pad switch helps reign in super-hot signals
Bypass switch for graphic EQ
Choose between balanced and unbalanced line outs (front panel level control)
Send your attenuated signal to one or two speaker cabinets
From amp output, switchable between 8- and 16-ohm impedance
Oversized rubber feet help with convection cooling action and stacking on top of your amp
Oversized rubber feet help with convection cooling action and stacking on top of your amp
Oversized rubber feet help with convection cooling action and stacking on top of your amp
Oversized rubber feet help with convection cooling action and stacking on top of your amp
Nail the Sound You're After
RockCrusher Recording gives you total tonal control with cabinet emulation
The RockCrusher Recording gives you all the features that made its forerunner an essential tool for tone-savvy guitarists worldwide while adding even greater versatility with all-analog cabinet emulation. An active, 11-band graphic EQ section reflects the typical frequency response range where guitar cabinet speakers live. This allows you to quickly zero-in on virtually any sound you're going after — at any volume! And unlike digital modeling amps and software, the RockCrusher Recording doesn't use DSP to emulate speaker cabinets — it's all analog, so there's no loss of the tonal warmth you love in your tube amp tone. How do they do it, you ask? Rivera graphs the frequency response of popular classic guitar speakers using real-world microphones and translates that information into a custom graphic EQ curve for your RockCrusher Recording. These graph shape suggestions are intended to give you the tonal nuances of some of your favorite speakers, or they can serve as starting points for nailing a custom tone that's all your own.
All-analog cabinet emulation
Change up speaker sounds without the hassle of changing cabinets
Custom Rivera EQ curves for popular speakers are already done for you
Custom Curves from Rivera Exclusively for the RockCrusher Recording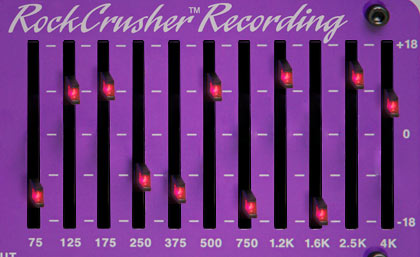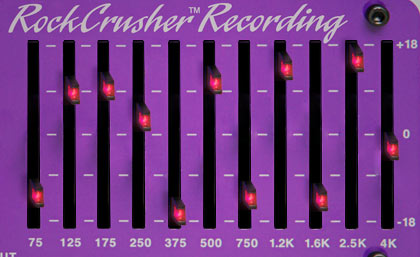 Great Tube Tone for Every Occasion
Perfect for stages and studios of any size
Tube amps interact with the impedance load that a speaker cabinet puts on the amp's output — if you plug your amp's direct output into a recording device, you won't get the tone you expect. By hooking up the RockCrusher Recording to your amp's speaker outputs, it interacts with all of the tubes in your amp — not just the preamp tubes you hear from your amp's direct output. Doing this provides the true articulate and responsive tone you're looking for.
"...you're getting all that saturated tube tone, but you're not killing yourself" — Ace Bergman, guitar tech for Slash
What does this mean for you? You can harness every tiny bit of tone your tubes have been designed to put out, and you get the sound of your amp and pedals, all without worrying about volume. Onstage, the decreased stage volume allows for better monitoring situations and lets your front-of-house engineer mix your signal without fighting your stage levels. In the studio, this means you get to lay down no-compromise guitar tone without bleeding sound into other mics. You paid for every last tube in your amp, so use them!
Built like a Tank
Rugged inside and out for years of use
The RockCrusher Recording is constructed of 16-gauge welded steel that's perforated on the top and bottom of the unit, allowing for convection-type cooling to dissipate heat. Large, heavy-duty knobs and switches are easy to use and super durable. Inside, Rivera uses industrial-grade components that stand up to the heat as well as the rigors of the road, making it as capable on a world tour as it is in your studio. Imagine your guitar rig transport whittled down to your favorite amp head and a RockCrusher Recording — not only do you get to play the tone you want, but the speaker emulation means you can also leave the speaker cabinet at home!
Rivera RockCrusher Recording Features:
Power attenuator helps keep your volume down without killing tone
Built-in active 11-band EQ gives you an analog speaker emulator
8-ohm and 16-ohm modes let you use the RockCrusher with almost any amp/speaker combination
Lets you hear your tube amp's tone as you've never heard it before
Tonally transparent so that you hear your amp, not the RockCrusher
Bombproof construction lets you take it to even the wildest gigs
Balanced XLR and unbalanced 1/4" outputs let you easily interface with your recording gear