Ultimate Delay with 23 Unique Delay Models
The D16 Group Repeater delay plug-in injects your recordings with space, depth, and excitement. Choose from 23 unique delay models, ranging from classic tape delays to studio-favorite digital units. Achieve captivating echo effects with two independent delay lines, each with its own adjustable parameters. Synchronize to your DAW, or adjust your tempo manually with the handy tap function. Enjoy effortless operation, thanks to the Repeater's easy-to-navigate tag-based browser. Featuring a ping-pong mode, analog-style feedback, MIDI-learn functionality, and a two-stage stereo spread, the D16 Group Repeater is a seriously robust delay plug-in.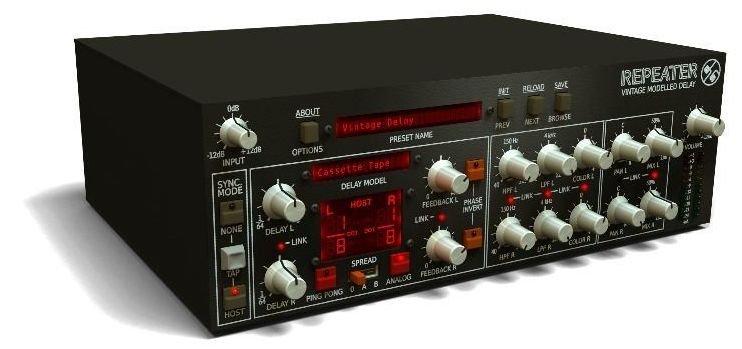 23 unique delay models provide unlimited sonic flexibility
D16 Group partnered with Slate Digital to craft the best delay models possible. The Repeater is packed with 23 incredibly accurate re-creations of the industry's most famous delays, from tape to modern digital circuits. We've had a blast with the Repeater here at Sweetwater.
Achieve captivating echo effects with two independent delay lines
Load up the D16 Group Repeater and craft a plethora of interesting echo effects using two independent delay lines, each with its own adjustable phase inversion, audio clipping, highpass and lowpass filters, dry/wet mixing, and channel re-panning.
Delay models include:
Cassette Tape An early '80s Japanese cassette tape deck.
Coopy Cube An early '70s delay originally made from a garden hose. Ideal for short delays. Use the Spread control to increase its depth.
Digital 42 One of the most famous modern digital delays with a grainy, scooped early digital tone. Great for guitars and vocals.
Digital 42 x 2 The double option on the Digital 42, it halves the sample rate, providing a unique lo-fi tone that sounds excellent on vocals, guitars, and drums.
Digital Delay A hi-resolution digital delay. This one is highly responsive to the highpass and lowpass filters, and the Color control. It's a lot of fun to tweak!
DM-2 An early bucket brigade analog delay with a warm and rich tone. Try it on guitars and synths. You won't be disappointed!
Mellow Delay A smooth delay that's based on several vintage analog topologies.
Memory Guy A lush analog-style delay with fat vintage tone.
Mirky Delay Based on early bucket brigade analog delays, this one sounds thick and dark. Use it as a special effect or thicken things up with the Spread control.
New Radio Delivers a delay tone with an FM radio-style scooped hi-fi tone. It sounds cool on vocals.
Old Radio If you're looking for an AM radio-style delay tone, this is the one you want. It's brimming with lo-fi goodness.
Pitchy Delays (3 models) Delays with slight pitch modulations to create spatial effects. Set both delay lines to the same time, and prepare yourself for a cool chorusing mono effect. Employ tight delays and use the Spread control for widening and thickening effects.
Plexy Echo Based on a celebrated tape delay unit from the '70s. Its fat tone rocks on vocals, guitars, and drums.
Space Delay Achieve the warm and gritty tone produced by what's probably the most famous magnetic tape delay of all time. Use it on guitars to re-create classic U2 sounds.
Tape Delay Ancient An extremely old '40s-style tape delay.
Tape Delay Classic An early '60s-style tape delay.
Tape Delay Modern A warm, lush hi-fi tape delay.
Tape Delay Vintage A '70s-style tape delay. Adds grit and warmth to your track.
Telephone 1 Create lo-fi effects. It sounds killer on a vocal insert.
Telephone 2 Similar to Telephone 1, but with slightly different frequency and distortion tone.
TelRay This classic analog delay was originally made from a tuna can. It produces a rich, lo-fi effect that breathes life into guitar tracks.
Slate Digital Repeater Delay Features:
23 unique delay models provide you with unlimited sonic options

Achieve captivating echo effects with 2 independent delay lines, each with its own adjustable parameters

Synchronize to your DAW, or adjust your tempo manually with the tap function

Easy-to-navigate tag-based browser

Ping-pong mode for creating interesting stereo effects

Craft authentic vintage-style effects with analog-style feedback

MIDI-learn functionality for automation and integration with control surfaces

2-stage stereo spread adds depth to your tracks

iLok2 or higher required (not included)