Focusrite Red Evolution Pres with DigiLink Connectivity
Focusrite is proud of their Red 4Pre interface, and they have reason to be. Packing four pristine, software-controlled Red Evolution mic preamps fitted with Focusrite's renowned Air circuit and high-resolution 24-bit/192kHz converters with parallel path summing, which increases signal-to-noise, the Red 4Pre delivers stunning audio quality. It's incredibly versatile, too, offering dual Thunderbolt 2 ports with vanishingly low round-trip latency, Pro Tools|HD, and Dante network connectivity, and a total of 58 inputs and 64 outputs. The Red 4Pre is housed in a svelte 1U chassis that will look quite fetching in your studio rack. At Sweetwater, we're impressed with the Focusrite Red 4Pre. We think you will be, too.
Pristine Red Evolution preamps
The Red 4Pre's software-controlled Red Evolution mic preamps deliver 63dB of gain, so it will work perfectly with your favorite mics, even those low-output ribbon mics. Also onboard is Focusrite's famous Air effect, which emulates the sound of the company's acclaimed transformer-based ISA preamps. If you're looking to bring out the breathiness of a vocal or enhance the presence on an acoustic guitar, the Red 4Pre will delight you.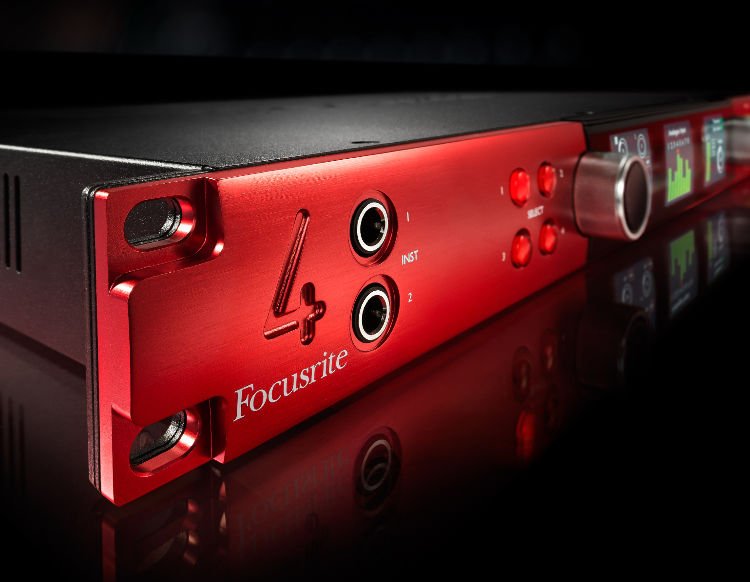 High-end converters with parallel path summing
Focusrite spec'd the Red 4Pre's with their new high-end conversion system that features parallel path summing, in which two matched converters run in parallel to optimize the S/N ratio. The converters operate at up to 24-bit/192kHz sampling and boast a dynamic range of 118dB (A/D), and 121dB (D/A). Noise and distortion? Not here! With a ruler-flat frequency response of 20Hz to 35kHz (+/-0.25dB), the Red 4Pre delivers a miniscule 0.0009% THD+noise.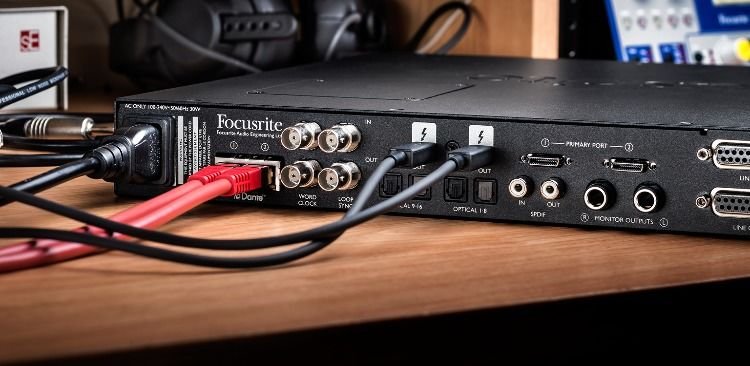 Thunderbolt, DigiLink, and Dante: Connectivity you need
The Red 4Pre is designed for the modern studio - yours. Dual DigiLink connectors give you a direct connection to Pro Tools|HD systems and Avid interfaces. Dual Thunderbolt 2 ports with incredibly low round-trip latency let you daisy-chain your displays or hard drives. Got Dante? The Red 4Pre has you future-proofed for Ethernet-based audio networking, too. And if you need to expand your rig, you're covered for up to 64 additional channels with any combination of Dante interface (such as Focusrite's RedNet series).
Valuable software included
Your Focusrite Red 4Pre ships with a great software bundle that includes Focusrite Control, which gives you fast, intuitive control over your mic preamps and monitor/mix setups. Also included is the Red plug-in suite, which models Focusrite's coveted Red 2 and 3 EQ and compression, as well as the Softube Time and Tone plug-in pack, which gives you four of Softube's pro-grade plug-ins - TSAR-1R Reverb, Drawmer S73 Intelligent Master Processor, Saturation Knob, and Tube Delay. Plus, when you register your Red 4Pre, Focusrite will send you a free Avid Pro Tools | HD DigiLink I/O license.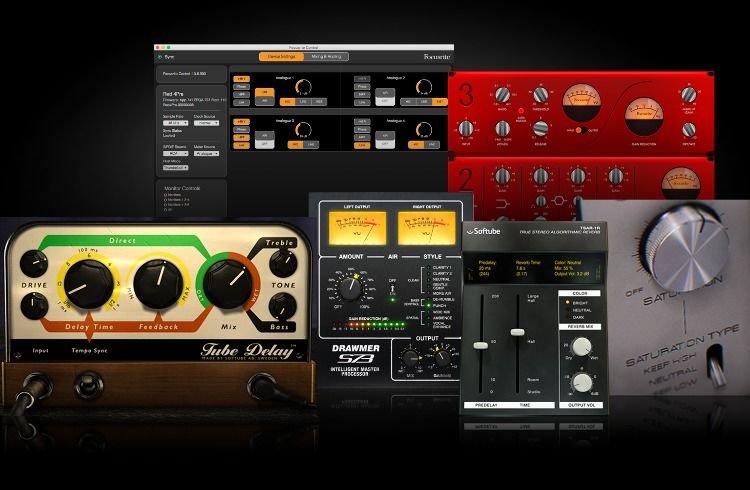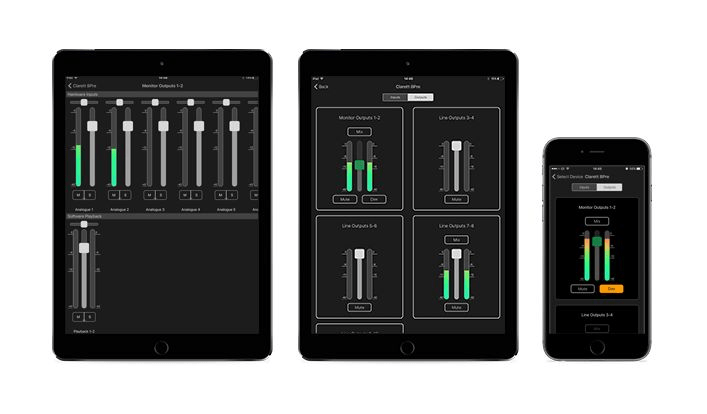 Remote control from your iPhone or iPad
With the free Focusrite iOS Control app, you can adjust the mixes you made with Focusrite Control on the desktop app from your iPad, iPhone, or iPod touch.
Focusrite Red 4Pre Features:
4 Focusrite Red Evolution Mic Preamps
High-resolution 24-bit/192kHz converters with parallel path summing
Dual Thunderbolt 2 ports enable easy daisy-chaining
Dual DigiLink connectivity to Pro Tools | HD systems and Avid interfaces
Dual Ethernet ports for Dante audio-over-IP networking
Vanishingly low round-trip latency
Ethernet expansion up to 64 additional channels
Free Avid Pro Tools | HD DigiLink I/O license
Focusrite Control software
Focusrite Red plug-in suite
Softube Time and Tone plug-in pack