A 10-space 500 Series Rack by Rupert Neve
Rupert Neve Designs R10 500 Series chassis is a 10-space, steel rack enclosure that sports XLR and 1/4" TRS I/O for compatibility with any studio setup. To ensure your modules are properly powered, the R10 has 200% of the required current, so you'll never be underpowered. It also has a built-in LED display to show current consumption, and a double-shielded internal power supply that won't add any interference or unwanted noise to your signal. Rupert Neve is an audio legend. So you know when he designs a 500 Series chassis, it's top-shelf, all the way. Give your 500 Series modules the pampering they deserve with the Rupert Neve Designs R10 500 Series rack.
Genius in the details
With the Rupert Neve Designs RND R10, there's genius in the details. The R10's double-shielded internal power supply was meticulously designed to avoid magnetic induction in any of its module slots. The power supply is a switching-mode type, and great care was taken to ensure that the frequencies are considerably outside the audible band. There's an internal jumper configuration that makes it easy to link slots in pairs. It's even fitted with variable-position screw holes that slide to accommodate modules that are slightly out-of-spec, which makes the insertion of modules quick and easy. Trust Sweetwater: when it comes to 500 Series racks, the RND R10 is as good as it gets.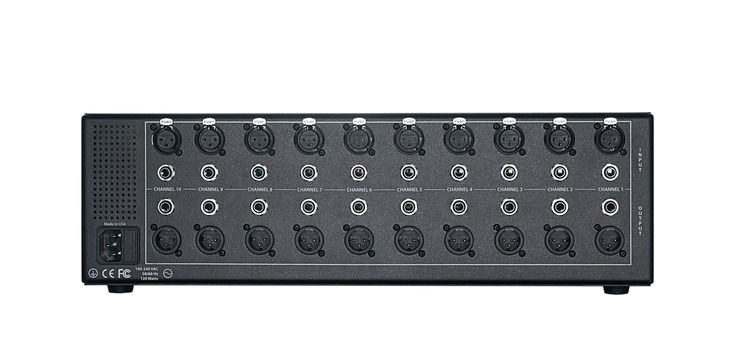 Rupert Neve Designs R10 500 Series Rack Features:
Supplies more than 2,400mA internal power (200% of VPI-spec required current) to handle any module
Double-shielded internal power supply designed to avoid magnetic induction in module slots
LED current consumption meter monitors what your modules are using
Variable-position screw holes make for quick and easy module insertion
Switching-mode PSU with frequencies considerably outside audible band
Onboard linking for stereo operation using two modules such as compressors
XLR and 1/4" TRS I/O for custom channel strip flexibility