Dave Smith Does It Again
Dave Smith Instruments ups the ante (again) with the Prophet Rev2, a 16-voice, 61-key analog synthesizer that takes over where the legendary Prophet '08 left off. The Rev2 is an absolute beast that boasts dual DCOs, a sub-oscillator, and a 2/4-pole resonant lowpass Curtis filter per voice. Other features include bi-timbral operation, waveshape modulation, a beefy onboard FX engine, an advanced polyphonic step sequencer, a crisp OLED display, and USB. The premium 5-octave, semi-weighted keyboard with velocity and channel aftertouch feels just right. Synth geeks here at Sweetwater are excited about Dave Smith Instruments' Prophet Rev2. Dave has delivered another killer synth — and it's an amazing value.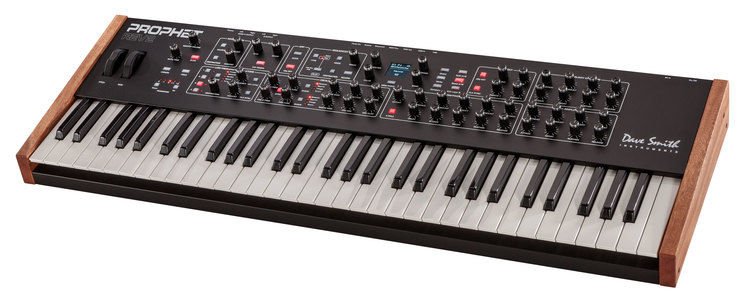 A Prophet '08 — on steroids
The starting point was Dave Smith's modern classic, the Prophet '08. Says Dave: "The Rev2 is the realization of our effort to enhance and improve everything we could about the original design — all at a more accessible price." You can even download existing Prophet '08 libraries; not only will they sound spot-on, but you can enhance them with the new Rev2 features. The Prophet '08 was, of course, an 8-voice synth. The Prophet Rev2 not only doubles the polyphony, but also lets you allocate voices as you wish: deploy monster two-hand chords; stack two 8-voice patches for massive, intricate textures; split the keyboard into two independent 8-voice instruments; and play duets with yourself — the sky's the limit.
Curtis filters: classic design, incredible sound
The synth largely owes its audacious, authoritative sonics to its per-voice 2/4-pole, resonant lowpass filters, based on the chip design pioneered by the late Doug Curtis. These are the same filters used in many classic synthesizers of the 1970s and '80s — and also in the Prophet '08. The filter section includes a separate Audio Mod control that lets you dial in motion and harmonic complexity.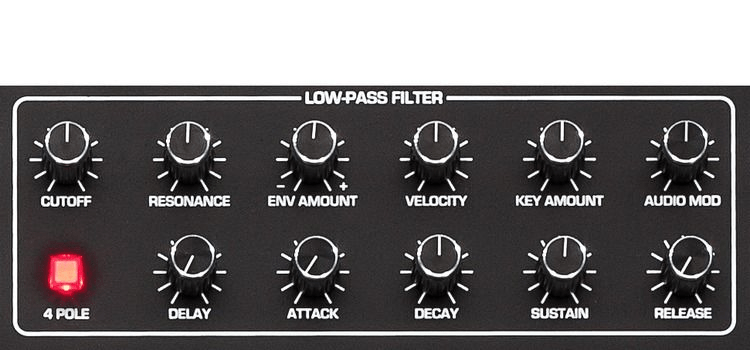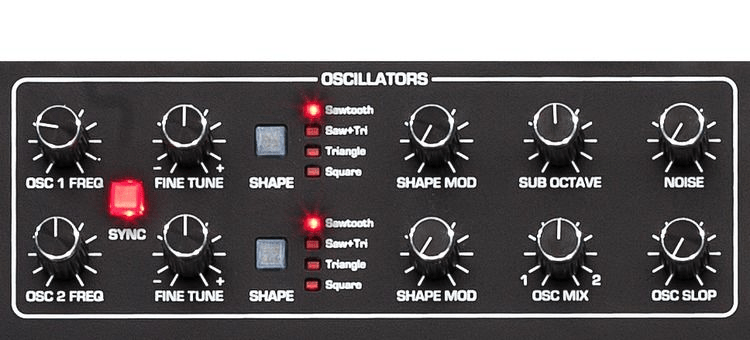 Shape Mod gives you tremendous sonic flexibility
The Prophet Rev2's two per-voice digitally controlled analog oscillators each feature four selectable waveforms: sawtooth, sawtooth+triangle, triangle, and square. The waveshape modulation feature lets you continuously vary the pulse width of any of the waveforms, infinitely multiplying your sonic possibilities. And the Shape Mod control allows you to manually dial in a specific waveshape width or use an LFO or other modulation source to continuously shift timbre. Even single-oscillator patches take on new depth and dimension.
Powerful FX engine and Mod Matrix
The beefy effects engine onboard the Rev2 serves up tasty reverbs, standard and vintage-style BBD (Bucket Brigade Device) delays, phase shift, chorus, ring mod, and distortion. With the REV2 set up in split-voice or stacked mode, you can apply a unique effect to every layer. You can even modulate effects parameters using the Rev2's Mod Matrix — a popular feature from the Prophet '08. On the Prophet Rev2, the Mod Matrix is double the size, with eight individual slots and expanded sources and destinations. It's a sound designer's dream.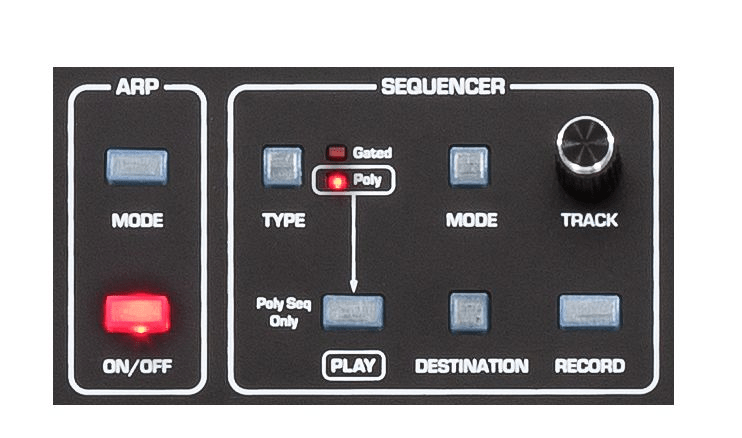 Polyphonic step sequencer
Dave Smith Instruments equipped the Prophet Rev2 with a powerful polyphonic step sequencer that accommodates up to 64 steps with 6 notes per step. A compelling tool for performance or composition, the poly step sequencer lets you craft a unique sequence for each layer in split-voice or stacked mode. You can also use the sequencer as a modulation source in gated mode, where you can achieve complex modulation with up to four different 16-step sequences. Sequences permit ties and rests and can sync to external MIDI clock. The separate arpeggiator, which supports note repeats and re-latching, can also sync to external MIDI clock.
Programmability, tweakability, playability, reliability
The REV2's knob-per-function top panel gives you per-knob programmability and instant access to all functions, including 512 killer factory patches and 512 rewritable user programs. Grab a knob and tweak away, for real-time control over any parameter. The premium 5-octave, semi-weighted velocity- and aftertouch-enabled keybed on the Rev2 feels silky and superb. Like all DSI synths, the Prophet Rev2 is built tour-tough to shrug off road abuse. With its integrated power supply, USB support, and crisp, bright OLED display, the Rev2 is the perfect polysynth for stage and studio.


Dave Smith Instruments Prophet Rev2 Features:
16-voice polyphony lets you allocate voices as you wish

5-octave, semi-weighted keyboard with velocity and channel aftertouch

Dual DCOs, sub-oscillator, and 2/4-pole resonant lowpass Curtis filter per voice

Waveshape modulation, Modulation Matrix, bi-timbral operation

Onboard FX engine with reverb, delays, chorus, phase shift, ring mod, and distortion

Polyphonic step sequencer, advanced arpeggiator

Per-knob programmability and real-time tweakability

Crisp OLED display is easy to see on darkened stages

Integrated power supply, USB support