Bucket Brigade for Tone Tweakers
Who doesn't love a true bucket brigade analog delay pedal? The JHS Panther Cub V1.5 packs real bucket brigade delay circuitry into a pedalboard-friendly package while offering the limitless tone-shaping abilities of many digital pedals. Along with the perfectly dark repeats you'll enjoy tap-tempo time settings of up to an unheard of 1,000ms, four rhythm value time divisions, assignable expression pedal control, and a whole lot more. With the JHS Panther Cub V1.5 delay pedal, you command the great sound of analog delay with plenty of on-the-fly control.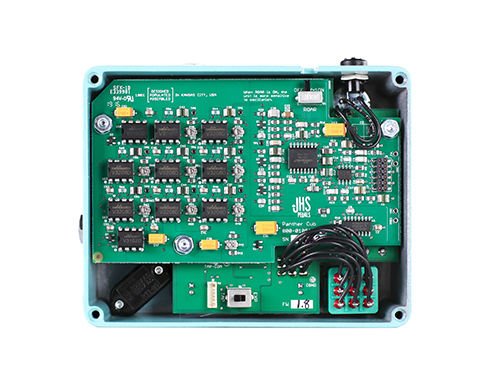 Purely analog delay
The JHS Panther Cub V1.5 delay effects pedal proudly exudes all of the rich, dark, and spacious sound that has made its bucket brigade circuitry legendary among guitarists. The character of its repeats allows you to dial in a generous amount effect for washes of ambiance that never obscure your original note. When you consider all of the additional features the Panther Cub V1.5 boasts over other analog delay pedals, it's no wonder that this delay can be found on the boards of many guitarists throughout Sweetwater.
Tap tempo with ratio control
The Panther Cub V1.5 analog delay pedal sounds fantastic. But it really sets itself apart from other analog delay pedals with the amount of on-the-fly control that if offers. It's 1,000ms of delay time is enough for even the most sonically adventurous and astounding for an analog design. And it can be dialed in either from the Time control or via the independent tap-tempo footswitch. A twist of the Ratio knob selects between quarter, eighth, dotted-eighth, and triplet note divisions. An analog pedal with this control is really something special.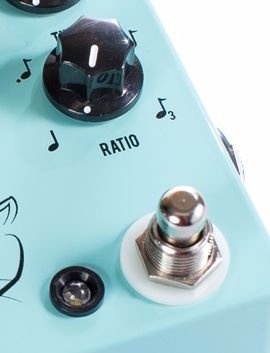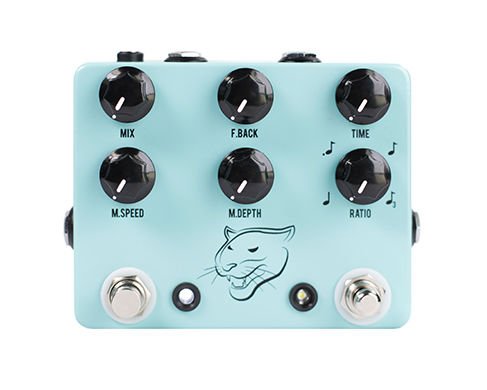 Added power to expand your ambiance
The great sound of the repeats and its tap-tempo is just the beginning with the Panther Cub V1.5. Adding in the onboard modulation adds shimmer to the repeats, while utilizing the pedal's effects loop allows you to add any effect you want to the Panther Cub's repeats for unlimited tonal options. As if that weren't enough, JHS even included an expression pedal input that can be assigned to control many of the pedal's voicing options. An internal Roar switch ups the pedal's oscillations. And a the 1/4" output accepts a TRS splitter for stereo performance.
JHS Panther Cub V1.5 Analog Delay Pedal Features:
A super-flexible, bucket-brigade-based, analog delay pedal
Up to an amazing 1,000ms of smoothly decaying delay
Dial in time manually or use the soft-touch tap tempo switch
4-position ratio control includes 1/4 note, 1/8 note, dotted 1/8 note, and triplet settings
Onboard modulation with Speed and Depth controls adds shimmer
Internal Roar switch provides 2 modes of oscillation sensitivity
EFX Loop (via TRS splitter) that lets you add external effects to the repeats
Dry Out (via TRS splitter) lets you split your signal to the rest of your rig
Assignable (via internal switch) expression pedal control
Tap Input/Output allows external tap controller or tap slaving
True bypass switch preserves your tone when the effect is disabled