A Mixer That's Meant to Be Played
Roland created the AIRA line to expand your performance beyond anything you've experienced before, and the new MX-1 Mix Performer performance mixer follows that same philosophy to the letter. You'll have unheard-of control of your synths, drum machines, computer-based audio tracks — virtually anything you use to make music — in a single unit specifically designed as an instrument to enhance your performance experience. Like all AIRA gear, all of the controls live on the MX-1's surface, with absolutely no need to dive through confusing menus or deal with layered controls to access functions or effects.
Analog and Digital Input Flexibility
The MX-1's input section alone is noteworthy, providing you the flexibility you need to make music any way you like. By combining six analog channels with digital I/O and a MIDI interface that are all mixed and managed via the MX-1's intuitive workflow, this powerful instrument helps you attain the next level of your music-making potential. Since you can use elements from your analog synth collection alongside your DAW and other computer-based instruments, adding the MX-1 to your rig means your creative possibilities are truly limitless. Even if you keep it all digital and use only your DAW and other virtual instruments to make your music, the MX-1's unique combination of interface, performance tool, and mixer makes it an essential for any gigging electronic musician.
1/4" inputs for connecting synths, drum machines, and more
1/8" stereo input for audio from iPad, phones, or computer
Digital inputs include USB and digital coaxial
MIDI in and out for using gear with 5-pin MIDI connections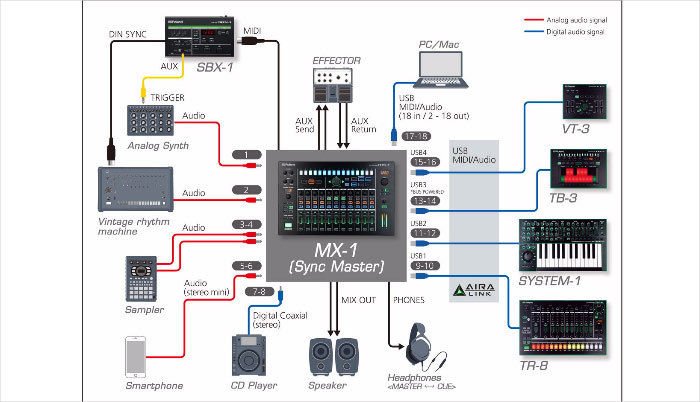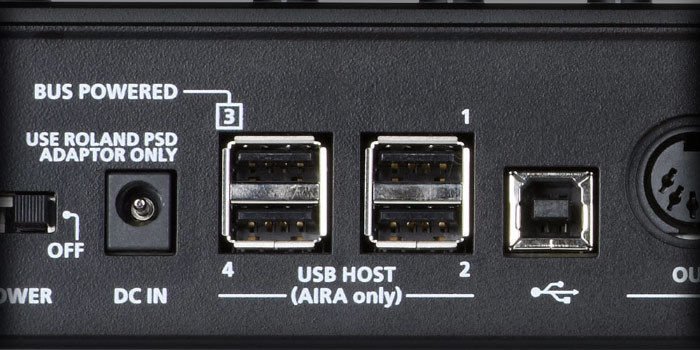 Dedicated AIRA Link USB Ports
If you have already discovered how much adding the element of AIRA means to your music, the MX-1 is about to become your best friend. Roland added four dedicated AIRA Link USB ports to the input section, giving you automatically enabled 2-way control of any AIRA instrument. With a single USB cable, you can control audio, MIDI, and sync coming from and going to your TB-3 bass synth, TR-8 rhythm machine, System-1 synth, and VT-3 voice transformer, all from the MX-1. And port 3 can even supply bus power for one of your AIRA synths, leaving you with one less cable to worry about. When you aren't using them for your AIRA gear, the ports support audio, MIDI, and sync to other USB-enabled devices.
AIRA Link USB ports give you automatic 2-way control
Port 3 supplies convenient bus power to AIRA gear
Ports also support any combination of USB-enabled gear
The Mixer You Need
Most electronic musicians have to settle for the creative limitations of a standard DJ mixer. Others have to use interfaces alongside analog mixers, foot pedals, and other gear, just to get the basic functions of the MX-1. But with such a diverse I/O section, the MX-1 puts the music-making power of all your analog and digital sources into one incredible instrument. At its core, the MX-1 is a mixer — each input is routed to its own clearly labeled channel strip complete with function buttons and a fader. Each channel also features a choice of six definable volume curves, conveniently placed channel mute buttons, and a tone/filter knob.
Super-bright LEDs light your way even in the darkest of clubs, letting you visually monitor everything from master output level to channel status. Thanks to DJ-style cue monitoring, you can audition individual channels before mixing them into your song, putting the power to create the perfect mix right at your fingertips. The MX-1 gives you capabilities so far beyond what any other mixer on the market can offer. If you are an electronic musician, this is the mixer you need.
Standard mixer-like workflow
Bright easy-to-see LEDs
Compact design is superbly transportable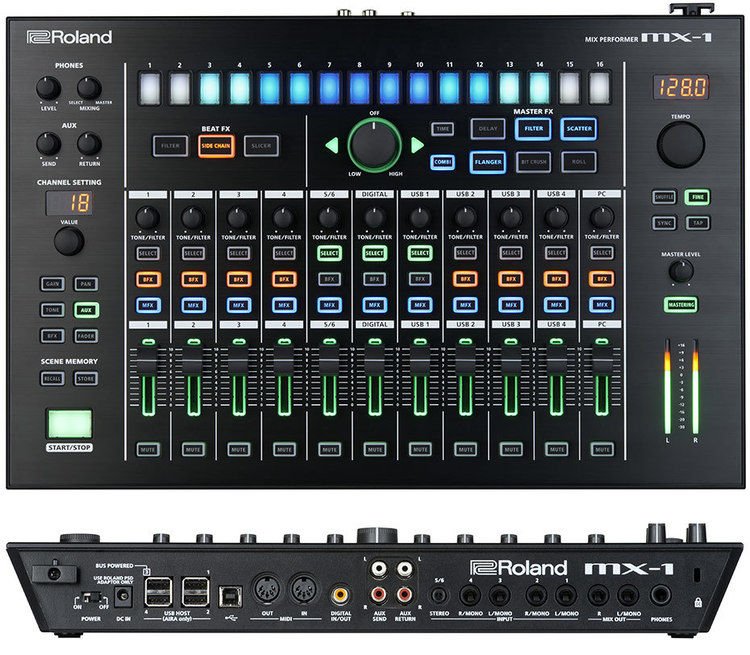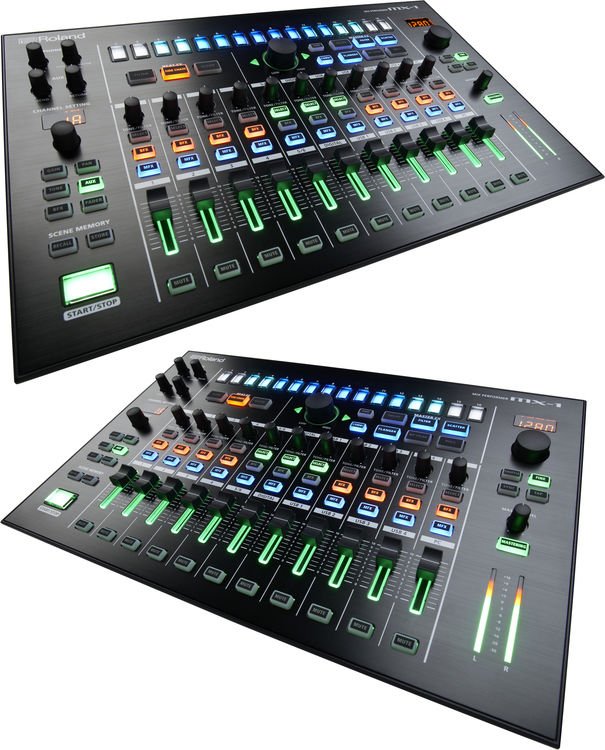 MX-1 as an Instrument
It's obvious that the MX-1's mixing capabilities make it a great and powerful addition to any electronic music rig, but don't forget — the MX-1 is a mixer that's meant to be played, so Roland didn't stop at just mixing. It becomes an instrument in and of itself by offering you creative control over your sound with newly designed beat and master effects that are easy to manipulate on the fly. Each channel has its own Beat FX that include variable filters, sidechain, and slicer. Simply select the channel's Beat FX button and use the step sequencer for adding rhythmic drama to your music.
The Master FX function applies six different kinds of effects and their variations to any or all of your channels. Using the step sequencer, time, and combi functions, and the large performance knob to adjust the parameters of your selected effects, you have tons of flexibility to get just the sound you want.
The MX-1 does something no other mixer can by controlling the tempo of all your sources from one piece of gear. Set it up by hand using the master tempo knob, match the beat of the band using the tap tempo button, or let the MX-1 do the work for you by automatically sensing the tempo being played from one of your sources. Best of all, your effects, your sequences, your tempo — even your whole mix — can be saved to a scene for instant recall any time you need it.
Set up your show at home for an easy gig, or bring a stellar performance home with you for recording later. With all this sound-shaping power onboard, you may wonder what to do with the gear you've already made a part of your music. Don't worry; your favorite outboard effects won't be gathering dust — Roland included an aux send and return, so you can incorporate your old familiars into your new workflow.
Step sequencer with TR-style buttons for easy playability
Master tempo control keeps everything in time
Save your effects settings and more for easy instant recall
Roland MX-1 Mix Performer Features:
18-channel performance mixer with step-sequenced channel and master effects
Per-channel Beat FX including filter, sidechain, and slicer
6 channel-assignable Master FX with large performance control knob
Multiple variations on each beat and master effect give you tons of tonal options
16 miniaturized TR-style buttons create a step sequencer that's familiar and playable
Tempo with fine, shuffle, and tap-tempo functions controls all of your synced gear
Master FX Combi mode alternates effects in tempo using the step sequencer
AIRA Link support for automatic 2-way control with one cable
Port 3 supplies bus power when you plug in a piece of AIRA gear
All USB ports support audio, MIDI, and sync functions for all enabled devices
6 variable fader curves on each channel give you precise control of your mix
Mix mode provides standalone mixer control and effects for all inputs and outputs
External mode gives you plenty to mix with up to 18 channels of DAW audio
Acts as a MIDI control surface with transport controls to navigate your DAW easily
Mixer conveniences you're familiar with including DJ-style cue monitoring, easy-to-access mute buttons, and smooth faders
Tone/Filter knob on each channel with 10 kinds of EQs, filters, and isolators for detailed sound shaping
Scene Memory gives you instant save and recall power for entire mixes including tempo and effects
Designed for live performance with super-bright LEDs and easy, familiar workflow