Shure MOTIV Power for Any Mic
With a Shure MVi MOTIV series USB audio interface in your rig, you'll be ready to record what you want, wherever you want, and with whatever microphone you want to use. At home, a standard USB connection connects the MVi's XLR combo microphone/instrument input straight to your favorite recording software. The Class A preamp includes phantom power for your condenser mics, and you can access five DSP presets from the front-panel controls. But Shure developed the MVi as a powerful iOS recording interface, and when you connect it to your iPad or iPhone via the included lightning cable, you get full access to the onboard DSP. Dial in EQ and dynamics settings and record in full 24-bit/48kHz — all from the ShurePlus MOTIV app!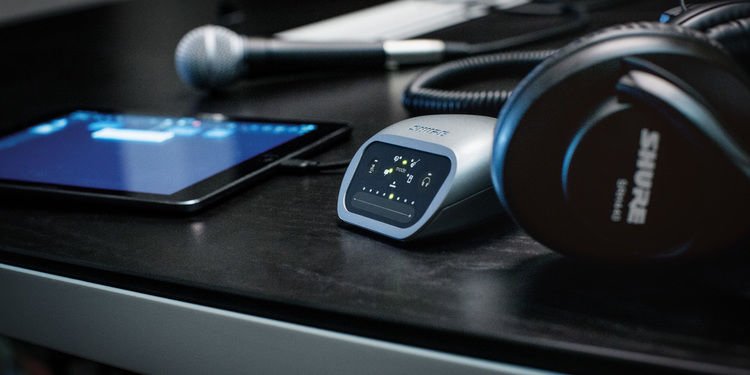 All the power of MOTIV in a portable interface
With Shure's MOTIV MVi single-channel USB interface and your favorite mic or instrument, anywhere you go can be your recording studio. For podcasting and voice-over work, where you only need to record a single track at a time, the MVi is an ideal option. Its plug-and-play simplicity is refreshing, but it's the sound quality it delivers that makes it extraordinary. This becomes all the more apparent if you use your MVi with your iOS device running the ShurePlus MOTIV app, which lets you record at 24-bit/48kHz. You could hardly ask for a better interface for mobile podcasting.
iOS app lets you tap into powerful DSP
One of the coolest things about Shure's MOTIV series hardware is the flexible DSP onboard. While some devices, such as the MVi, let you recall multiple presets from their control panels, the ShurePlus MOTIV iOS app lets you access the entire MOTIV DSP engine. From the ShurePlus MOTIV app, you can dial in your MVi's gain structure, add compression and limiting, and fully adjust the frequency response via a graphic EQ. The ShurePlus MOTIV app also makes recording in iOS easy. The interface is simple yet effective, editing is remarkably fast and intuitive, you get full 24-bit/48kHz digital resolution, and compatibility with Dropbox and other export options streamline the rest of your creative process.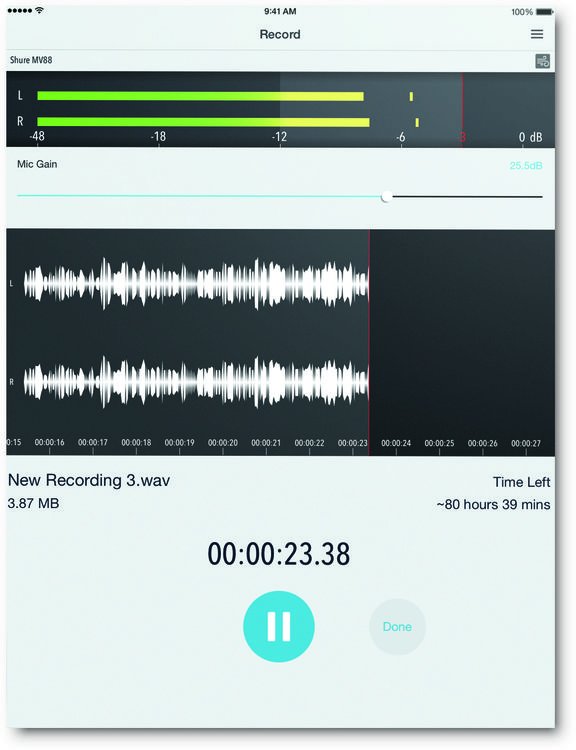 The sound you need for any application
Whether you're creating music, gathering news, podcasting, vlogging, conducting interviews, or applying your mobile device to any other recording task, your Shure MVi delivers the top-quality sound you need. When you need the highest resolution audio you can get, turn to the dedicated ShurePlus MOTIV iOS app, where you'll get access to full 24-bit/48kHz. Sweetwater iOS recording experts love that you can program your MVi's DSP from the app and then take those settings into any other app, including your favorite video apps or iOS DAW. Lay down layers of music tracks in Cubasis, capture pristine audio for video in Pinnacle Pro, put together world-class podcasts in bossjock — it's all at your fingertips with the Shure MOTIV MVi.
Shure MVi Digital Recording Microphone Features:
A flexible 24-bit/48kHz digital microphone for your computer or mobile device recording rig

Onboard DSP preset modes accommodate podcasting, voice-over, and vocal or instrument tracking

1" microphone capsule delivers clear sound on a wide range of sources

Handy kickstand makes tabletop use easy and converts into a mic stand adapter for studio use

Integrated headphone output provides real-time, low-latency monitoring

Includes micro-USB to USB cable for use with Mac, Windows PC, and Android devices

Includes micro-USB to Lightning cable for use with iOS devices