One-stop Shop for All Your Modulation Needs
The Keeley Electronics Super Mod Workstation multi-effects pedal is a powerful and convenient way to load your pedalboard with top-quality warbles, swirls, repeats, and more. The Super Mod Workstation boasts two individually selectable channels with 12 voices and a vast amount of control over each. Additions such as an onboard tap tempo switch, an expression pedal input, and stereo outputs ensure the pedal will integrate easily into your setup. And the Super Mod Workstation is engineered with the same quality and attention to detail that have made Keeley a popular name in the industry.
12 types of modulation
On each of the Super Mod Workstation's two footswitchable channels are eight lush-sounding modulation, reverb, and delay types. With the simple turn of a knob, you'll conjure sounds such as thick chorus, pristine digital delay, a rotary emulation, and many more. Both channels feature four controls for level, rate, depth, and morph that tailor the tones to your preferences. And the timing of the effects can be easily controlled in real time with the onboard tap temp switch.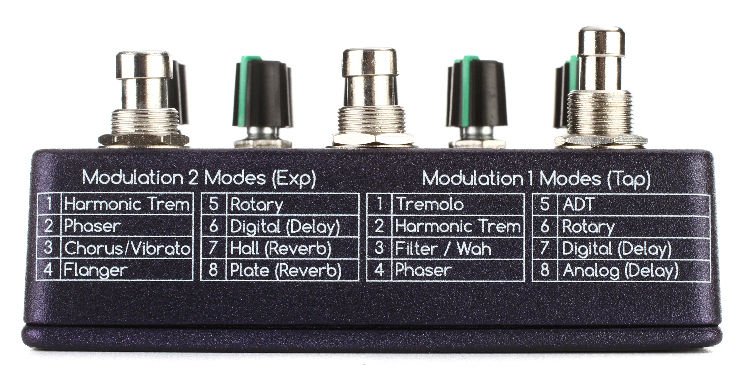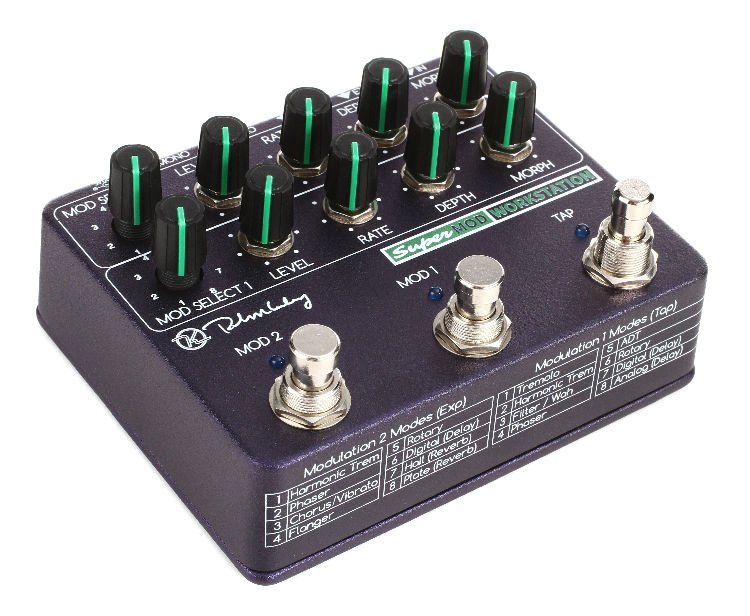 Two individually selectable channels
The Super Mod Workstation's layout offers two separate modulation effects ready to be activated with the tap of your toe. Each channel boasts its own switch, which makes stacking the effects, running each individually, or bypassing them effortless. The two channels also share some effects types, allowing you to change between two rotary speeds, flanging depths, or reverb times quickly. Keeley packed a whole lot of features, ease of use, and an intuitive signal flow into a pedal that is much more compact than you would expect.
Fine-tuned controls
Even though the Keeley Super Mod Workstation multi-effects pedal is hardly larger than many other single pedals, it packs an unbelievable amount of tone-tailoring control into just the right number of knobs. In addition to each channel's footswitches, you'll find stereo outputs that spread your signal for a sound and feel that needs to be experienced. And the expression pedal input delivers real-time control of various parameters right to your pedalboard. Sweetwater pedal geeks can't believe how many sounds are packed into this device.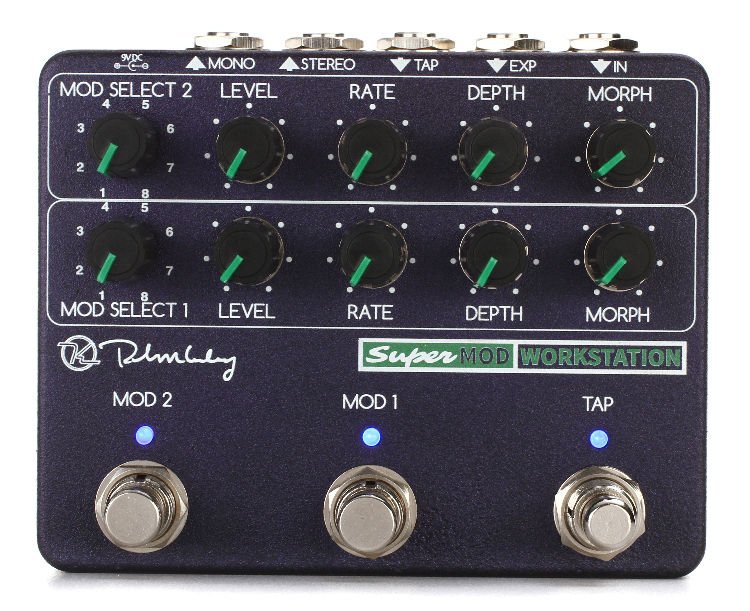 Keeley Super Mod Workstation Multi-effects Pedal Features:
Compact multi-effects unit for modulations, delays, and reverbs

8 lush modulation types onboard

2 delay types at the turn of a knob

2 variants of high-quality reverbs

Onboard tap tempo offers supreme control

Individually selectable effects

Stereo outputs are great for larger guitar rigs

Expression pedal input allows control over various parameters

Lots of deep-editing control