5-string Built for the Darker Side of Rock
With the ESP LTD F-155DX 5-string electric bass in your hands, you're primed for aggressive playing and a massive low-end rumble. With its 35"-scale thin neck contour, active electronics, and wicked visuals, this bass is custom-designed for metal. The F-155DX's ESP-designed SB-5 pickups give you everything from punchy, growling lows to clear and cutting highs. And the active EQ lets you sculpt your sound to perfection. If intense looks, fast playability, and bold tone are on your list, Sweetwater's got your bass: ESP's LTD F-155DX.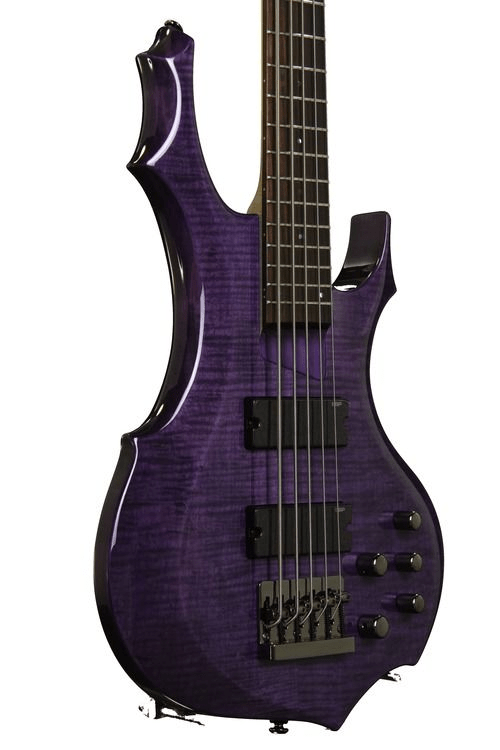 Show-stealing visuals
If you're into extreme body styles, you'll dig ESP's F Series basses. Arguably one of the wickedest shapes ever to grace a stringed instrument, F Series instruments look like they could easily double as weapons if things get rough after a gig. And given ESP's typically superb build quality, your F Series axe will still play and sound great after hours of onstage punishment. One thing's for sure, when you take the stage with your ESP F-155DX, all eyes will be on you.
Powerful active electronics
When you're responsible for supplying the stage-rumbling power for metal and hard rock, you need a bass that delivers with plenty of power to spare. The ESP LTD F-155DX 5-string electric bass guitar utilizes a dominant complement of ESP-designed SB-5 humbucking pickups and an active preamp with a 3-band EQ for wide-ranging tonal aggression. Whether you need huge lows or a cutting top end, the ESP LTD F-155DX will deliver.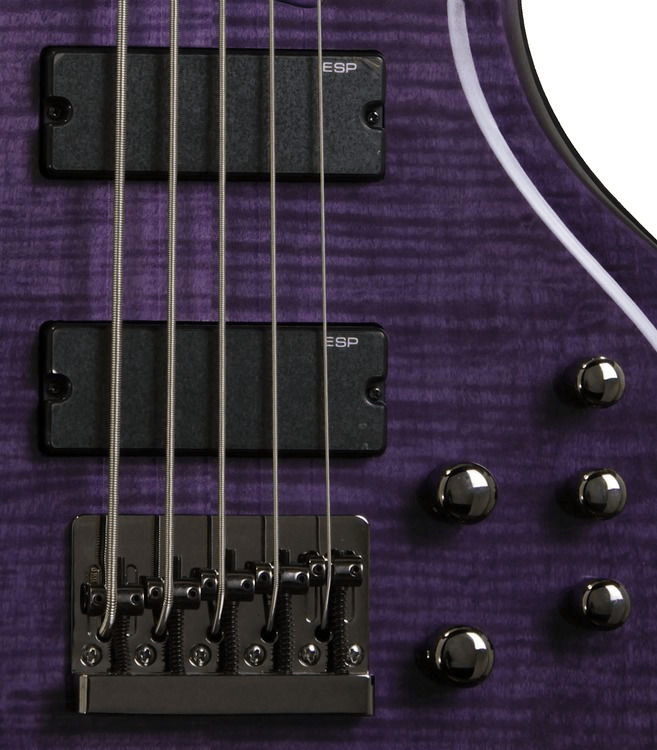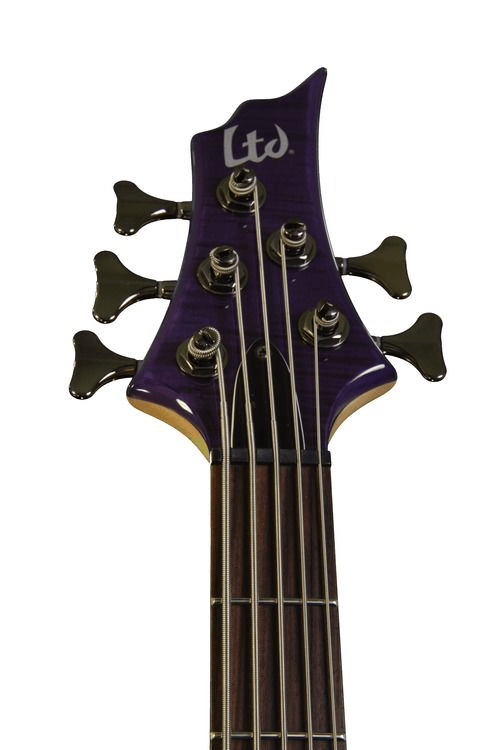 ESP basses: built to rock hard
ESP started as a manufacturer of after-market guitar parts in Japan in the late 1970s. By the mid-'80s, ESP was making custom guitars and basses for some of the biggest names in rock. An exacting eye toward playability and craftsmanship has made ESP Guitars one of the most visible and prevalent guitar brands in rock and metal. Their commitment to quality is second to none, and their impressive roster of endorsers proves it. From Tom Araya to Frank Bello to Gabe Crisp, Danny Kenny, and Tommy Stinson, ESP makes the instruments that today's bass heroes use.
ESP LTD F-155DX 5-string Solidbody Electric Bass Features:
5-string bass guitar with active electronics and aggressive styling
Bolt-on construction — 35" scale
Comfortable contoured basswood body with flamed maple top
Maple neck with rosewood fingerboard; 24 XJ frets
1.693" standard nut; thin "U" neck contour
Black nickel hardware; ESP tuners; LTD DB-5 bridge
2 ESP-designed SB-5 humbuckers; ABQ-3 3-band active EQ
Master volume, bass boost/cut, mid boost/cut, treble boost/cut, balance