An All-in-one Guitar Amp/Bluetooth
Speaker System
The days of needing multiple pieces of gear to jam out with are gone. No longer do you need a separate stereo and amp to play along with your favorite songs. The Line 6 AMPLIFi 150 is your one-stop solution. An innovative 5-speaker design delivers big guitar tones and high-quality Bluetooth audio playback. On top of that, they also created an iOS app that lets you control every aspect of the amp with a swipe of your finger. Just plug in your guitar and start rocking out!
Line 6 AMPLIFi 150 at a Glance:
A Multifunction Guitar Amp Unlike Any Other
5-speaker Design Delivers Killer Sound
Play Your Music Library via Bluetooth
Take In-depth Control of AMPLIFi with Your Mobile Device
Massive Collection of Amps, Effects, and Pedals
The AMPLIFi 150 is a "living room approved" amplifier.
The sleek, modern-looking design is perfect for any room in your house!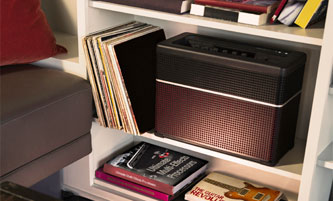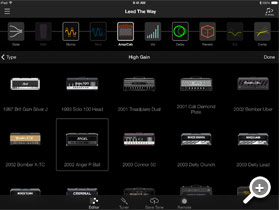 A Multifunction Guitar Amp Unlike Any Other
Line 6 has always been known as an innovator in the guitar world, and the AMPLIFi 150 is no exception. Inside the stylish cabinet lies a beast of a guitar amplifier. You can manipulate over 200 amps and effects to create the amp sounds of your dreams, and you can do it all from your iOS or Android device. Simply download the free AMPLIFi Remote app and start tweaking away. Creating killer guitar amp tones has never been easier. The AMPLIFi 150 is also a full-featured Bluetooth speaker system that's perfect for jamming along with or just listening to. Just fire up your MP3 player, sync up, and enjoy your favorite tunes in true stereo goodness.
5-speaker Design Delivers Killer Sound
This killer combo sets the bar for state of the art meets amazing guitar tones. Line 6 loaded the AMPLIFi 150 with a 12" Celestion speaker, as well as two midrange and two high-frequency drivers. Yep, five speakers total. You'll love the massive, full-range, stereo sound you get from the AMPLIFi 150. When you're listening to music, via Bluetooth, the 12" speaker turns into a subwoofer, and the midrange and tweeters deliver crystal-clear audio. When you're playing guitar, the 12" speaker is your main guitar sound, and the stereo speakers give you a wide field of lush, full-sounding stereo wet/dry effects.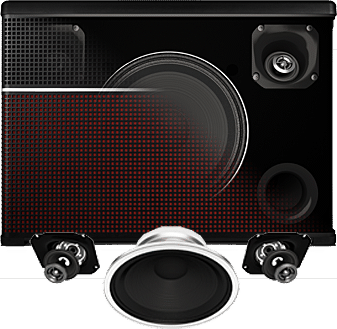 Play Your Music Library via Bluetooth
In this day and age, we keep all our music on mobile devices. What could be better than having all of your favorite music with you all the time? Recently, Bluetooth speakers have become all the rage because of their ease of use. No cables. No hassle. But many of them leave something to be desired when you listen to them. The AMPLIFi 150's innovative speaker design delivers great sounding playback that you'll love. It has the power to fill the room and the clarity and quality you want when listening to your music. It's also great to jam along with. Just hit play on your favorite track and play along — it's that easy.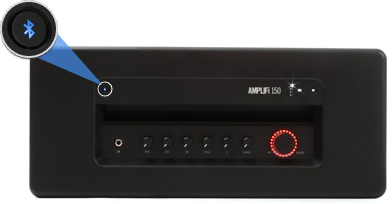 Take In-depth Control of AMPLIFi with
Your iOS or Android Device
Line 6's free AMPLIFi Remote app gives you complete, wireless control of this groundbreaking guitar amplifier. From playing music to creating amp tones, this app is the hub. You can select and load over 200 gig-worthy guitar tones and effects wirelessly from your iOS or Android device with the AMPLIFi Remote app. A cloud-based, automatic tone matching setting provides the ideal amp sound for jamming along with songs in your music library.
Massive Collection of Amps, Effects, and Pedals
AMPLIFi 150 gives you instant access to an unbelievable collection of classic guitar rigs. Take it from the Sweetwater crew — when it comes to killer amplifier and effects modeling, Line 6 is the top of the heap. Imagine the sonic possibilities of having 200 of the coolest amps, cabs, stompboxes, and studio effects at your fingertips. Line 6 loaded this amp with a ton of absolutely stunning effects, including delays, modulation effects, distortions, compressors, EQs, filters, and reverbs. And with the possibility of using up to eight effects simultaneously, you can create the guitar rig of your dreams.
Record guitar tracks direct to your computer
After you've designed your ideal guitar amp tones and effects rig, the built-in, class-compliant USB port turns your AMPLIFi into a recording interface that works with Mac, PC, and iOS devices. Just fire up your favorite recording software and start laying down tracks. And with AMPLIFi's massive tone library you can create any tone you might need for your next album. Create and record great sounds with the Line 6 AMPLIFi XXX.
Take the guess work out of finding the
perfect tone
Everyone loves jamming along with their favorite songs and albums. But sometimes finding the perfect tone to use can be a real chore. Line 6 and the AMPLIFi Remote app eliminated this hassle with an ultra-cool and easy-to-use tone matching function. When you select a song to play from your library, you'll see a list of user-generated tones tailored to that song or to that artist. Simply select a tone and start rocking out. Not exactly the sound you're looking for? Tweak it, upload it to the cloud, and share your version. This cool, crowd-sourced function is constantly growing and being updated. Jamming has never been this easy.
Line 6 AMPLIFi 150 Features:
An all-in-one guitar amplifier and Bluetooth audio player
High-quality, stereo Bluetooth speaker
Innovative 5-speaker design
Take control of the amp with Line 6's free AMPLIFi Remote app for iOS and Android
200 amps, cabinets, stompboxes, and studio effects
1 x 12" speaker, 2 mid-frequency drivers, 2 high-frequency drivers
Speaker design provides lush-sounding wet/dry stereo effects
USB output for direct recording to your computer
Jam along to your favorite tunes using crowd-sourced tone matches pulled from the cloud
Sleek, modern look that is "living room approved"
Headphone output for silent playing
Compatible with Line 6 FBV MkII foot controller for expanded functionality
Compatible with iPod touch (5th generation), iPhone 5s, iPhone 5c, iPhone 5, iPhone 4S, iPhone 4, iPad (3rd and 4th generation), iPad 2 and iPad mini; Samsung Galaxy S 5, Galaxy S 4, Galaxy S III, Galaxy Note Pro, Galaxy Note II; HTC One M8 and M7; Motorola Moto X; Google Nexus 7; Amazon Kindle Fire HDX; ASUS MeMO Pad 8, Fonepad 7 Dual SIM, PadFone Infinity; LG G2, Optimus L70, F7 (AS780), and Nexus 4 LGE960 running Android 4.2-4.4
All the Tools You Need
to Create Awesome Tones
70+ guitar amplifiers
100+ effects
20+ speaker cabinets
Use up to 8 effects at once
Access thousands of tones online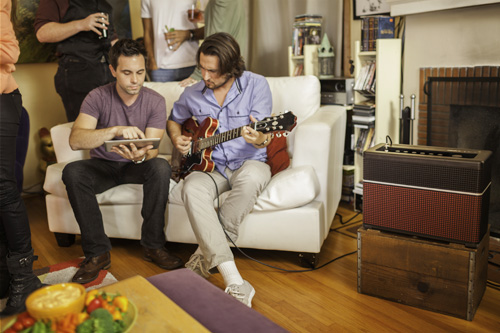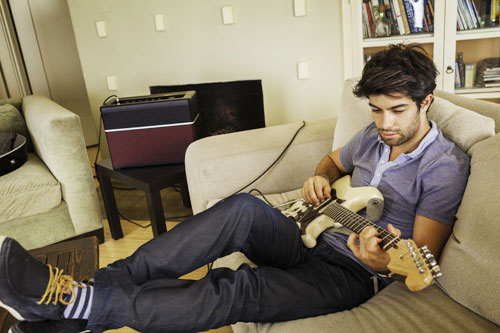 Amplify your life with the Line 6 AMPLIFi 150 guitar amp and Bluetooth speaker system!