The Authentic Vistatone Sound Returns
Based on Supro's vintage res-o-glass guitar designs, the Supro Americana Series Coronado II semi-hollow electric guitar combines the best of vintage appeal with modern craftsmanship. The semi-hollow mahogany back is topped with Acousti-glass, creating a swampy tone that loves distortion. Dual Vistatone pickups with independent volume and tone controls, and '50s wiring deliver the iconic sound that put Supro on the map. Whether you've always wanted a vintage Supro guitar, or are simply looking for an alternative to typical guitar designs, the Coronado II will exceed your expectations.
Vistatone pickups for growling, explosive tone
Originally designed for Valco by Ralph Keller in the 1950s, Supro's Visatone single-coil pickups can be found in vintage Supro, National and Airline guitars. They pack plenty of midrange punch, with detail and clarity that remains when you roll your volume back (thanks to the '50s-style wiring scheme). And Supro paid special attention to the Coronado II's tone circuit, tuning it for maximum usable range whether clean or overdriven.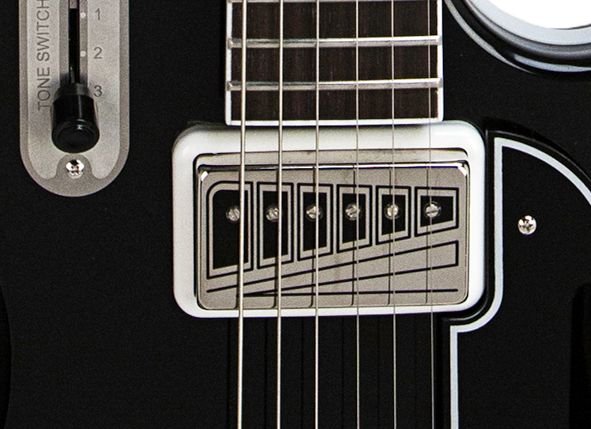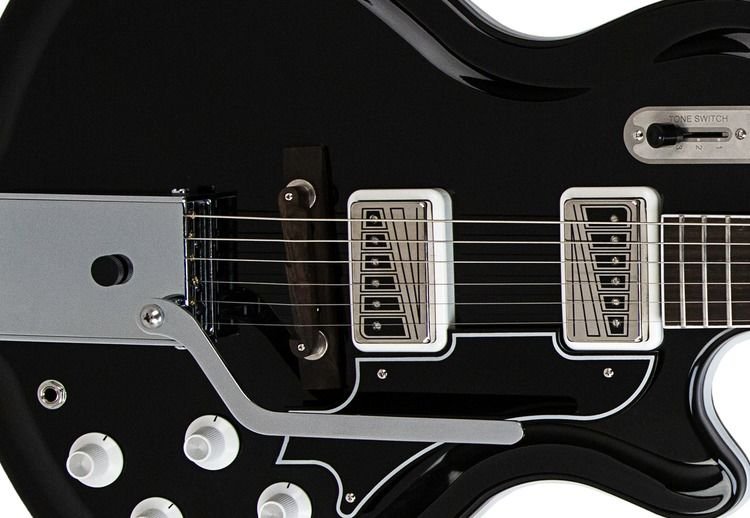 '50s wiring for a clear, detailed volume sweep
A common mod for modern guitarists, '50s-style wiring essentially retains treble as you roll your guitar's volume knob back. You can drop your volume and clean up your amplifier without losing sonic clarity and note definition. This makes the Supro Coronado II the perfect match for a tube amplifier set right at its breakup point, allowing you range from clean to overdriven without compromising your core tone.
Modern construction techniques and materials
What sets these Supro Americana Series Coronado II guitars apart from their ancestors are the modern-day construction techniques that are deployed in their creation. For example, the mahogany neck is attached to the body with a redesigned two-bolt neck joint that maximizes contact and vibrational transfer, with minimal hardware. Vintage enthusiasts at Sweetwater have dreamed of the day that Supro guitars would return, and we can confirm the Americana Series Coronado II was well worth the wait.
Supro Americana Series Coronado II Semi-hollowbody Electric Guitar Features:
Classic Supro guitar design with two Vistatone single-coil pickups
Acousti-glass top helps create a swampy tone that's perfect for blues and indie rock
Individual volume and tone controls allow for a wide range of tonal exploration
'50s wiring scheme maintains treble as you roll the volume knob back
Redesigned two-bolt neck joint forms an ultra-tight connection with a minimum of hardware
Vibrato tailpiece and rosewood bridge