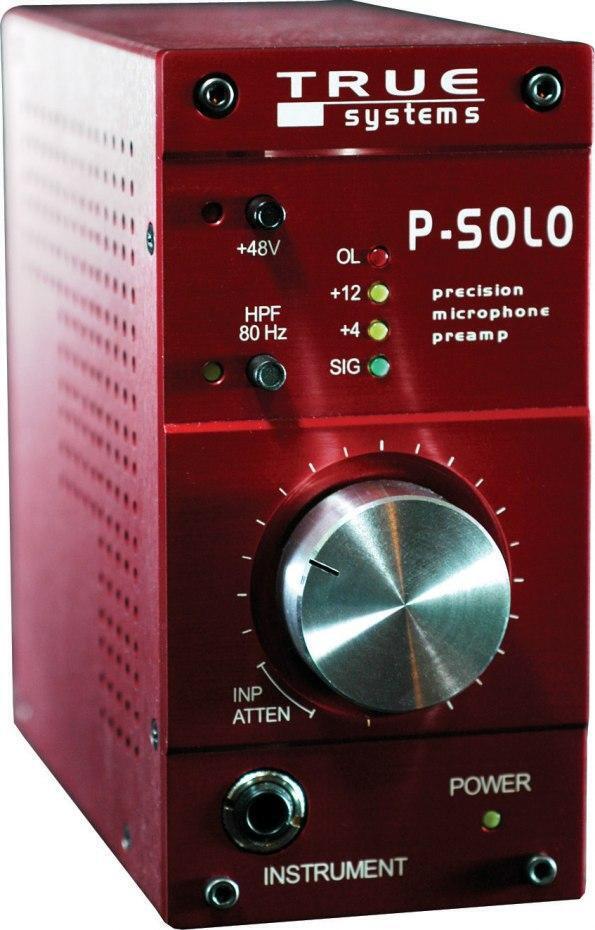 I have a very successful friend in the voiceover industry who swears by the TRUE Systems P-Solo. So when I brought one home, high hopes came with it. Having worked with this friend on a professional level for quite some time, I had some idea of what to expect…His recordings are consistently clean, full and detailed. But this guy has the type of voice that can make a Mr. Microphone sound good. Still, I often wondered why he chose a preamp in this price range, while most of his colleagues are using preamps that cost three times as much or more.
Carrying the box up to my studio, I actually wondered if someone had stolen the P-Solo out of the box because it seemed much too lightweight. Unpacking the box was equally as interesting when I discovered that the P-Solo was, in fact, in the box. Pulling it from the box, I had immediate mixed feelings. First, the bright red faceplate is stunning. It's a pretty, shiny piece that anyone would be glad to display in their studio. But it didn't feel right…I'm used to preamps being heavy, awkward pieces. I've even come to a point where I associate weight with quality. While the P-Solo seemed sturdy, at no more than five pounds, it felt too light to have any quality components (or any components at all) inside the chassis. It also bears one giant gain knob dominating the front panel, giving it a unique, but straightforward appearance. TRUE could've gone for a modern look with lots of knobs, dials, switches and lights. Conversely, they could have followed the modern trend and created something that appeared to be made 50 years ago. But they took a different approach and met in the middle with vintage simplicity, married to modern design.
In use, the P-Solo connects via a single TRS cable. I started out as I always do, which is by connecting my trusty Audio-Technica AT4040. I know the mic well, which gives me a good basis for comparison between preamps. For recording, I ran TRS into my Soundcraft M4 mixer, which has onboard A/D and S/Pdif out. I monitor with a set of Alesis M1Active 620 monitors and Beyerdynamic DT770 Pro headphones. The headphones, which I've been using exclusively for over five years, are great for listening to the subtle nuances of preamps.
I immediately had to back off the gain, as the P-Solo is much hotter than I expected it to be. While there is a ribbon mic version of the P-Solo available, I suspect there's enough gain in the original version to get adequate gain from a ribbon mic or dynamic with a low output level. Once the levels were adjusted, I started recording and monitoring through my headphones, simply reading a basic script into the microphone and recording. The first thing I noticed was a darker sound than I'm used to. Initially, I thought this was a problem, but as I listened more and my ears adjusted, I realized that I'm used to listening to preamps that have some color in the upper midrange and near the top. The P-Solo is essentially colorless, so it isn't that it's a dark preamp, it's just more neutral than what I'm used to hearing. Once I had that realization, I started to comprehend the possibilities for the P-Solo. I typically run everything through a slightly colored preamp. Everything that passes through it (likewise with many other pres I've tested) has that "signature sound" stamped on it. The P-Solo is so transparent, it is not limited by a "signature sound". Think of it like a painter, his paints and his canvas: If a painter always paints on a blue canvas, everything he paints will have a blue tint to it. If that canvas is blank, however, he will have many more options with his color choices (microphones). The P-Solo doesn't dilute the sound of the mic that it amplifies. You can really hear the differences between mics, as I found by plugging in a Shure KSM 44 for comparison.
As I used it more, I became more and more fond of the preamp. Nothing about it sounded bad, no matter what I threw at it. In my experience, most preamps have a weakness or two, but from almost whisper soft speaking, to a full scream, to sounds (like the jingle of keys), everything sounded right. The P-Solo is much more flat than flattering, which certainly left me with a lot of freedom for working inside the box. It's an ideal choice for a digital front-end, where color can be added through the use of plug-ins to-taste.
I only spent a short amount of time testing the DI. As a DI, it was clean, just as the preamp was clean. On my bass, for instance, a quick A/B with my normal preamp, as well as running direct to a channel on my Soundcraft console proved that, once again, the P-Solo was an improvement over the alternatives. You can use both the preamp and DI, which simply amounts to an added value.
The ultimate verdict is that the P-Solo is a rock solid piece of gear. I can't think of a single studio that would not benefit from having a transparent preamp like this on-board. If you're only looking for one good preamp, the P-Solo should be a top contender. If you've got a rack full of colorful preamps, you would be wise to consider adding the P-Solo to your arsenal to handle those "colorless" needs! This is a purchase you'd never regret.