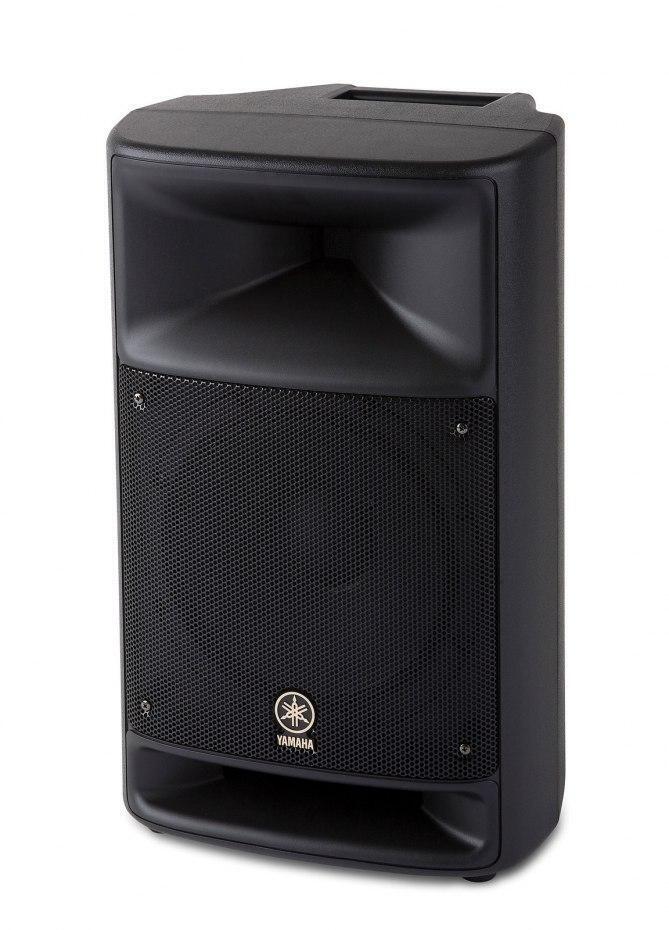 Yamaha MSR250 – This active PA speaker gives you plenty of power for your investment, not to mention great sound and a host of innovative features. The 250-watt MSR250 features a 10″ woofer, 1″ high-frequency compression driver, plus onboard Level and 2-band EQ controls. Its lightweight enclosure is built road-tough, and can be placed where it will be heard best, thanks to its integrated pole-mount bracket. With its versatile inputs and outputs, this speaker can even accept inputs from two sources. Sound bouncing around inside a speaker cabinet can have a significant effect on overall sound quality. So Yamaha has gone the extra mile, employing a unique configuration that eliminates parallel interior surfaces and therefore a root cause of poor sound, standing waves.
Samson Resound RS10M HD – These are excellent choices for club installs, rehearsal spaces, or mobile DJs who want to build a great-sounding portable PA system. Each Resound Speaker features 2-way passive design, a heavy-duty steel grille that's built last, and dual 1/4″ and Speakon connections. The unit has 300-watt program power handling at 8 ohms through a custom-designed 10-inch low frequency driver and 1-inch compression driver with 1.5″ titanium diaphragm. The rigid, carpet-covered trapezoidal enclosure is designed to deliver optimal sound quality and the ability to handle real-world stage conditions.
M-Audio MIDISport 2×2 Anniversary Edition – This reliable MIDI interface now has a sleeker, darker look! The MIDISPORT 2×2 Anniversary Edition celebrates M-Audio's 20th anniversary of providing reliable, affordable audio recording solutions! This compact MIDI interface can save you a lot of headaches, because no computer surgery or technological voodoo is required. The USB 1.1 port makes computer connection incredibly easy and MIDI transfer fast and reliable. The MIDISPORT 2×2 Anniversary Edition works cross-platform, provides 32 MIDI channels for both input and output, and is easily expandable – just plug in additional MIDISPORT units!