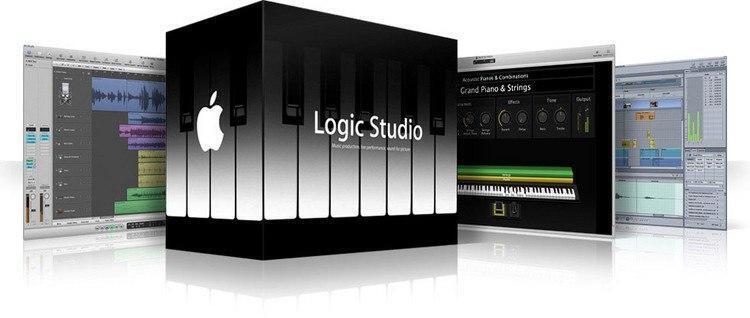 – Announced just last week, here's your all-in-one software solution for creating, performing, and recording your music on a Macintosh. Inside you'll find Logic Pro 8, the centerpiece and main recording and editing interface. There's also a huge number of virtual instruments and sound effects included to trigger your creativity. Main Stage is a new application designed to let you take your virtual instruments and effects to the stage. Soundtrack Pro 2 is geared toward cinematic sound and post-production. To round out the bundle, there's a slew of effects and instruments with professionally designed presets to maximize your music-making experience. Logic Studio is the natural progression of Apple's premier DAW software and a Logic-al choice for anyone making music on a Mac! Oh, and Apple cut the price of Logic in half, to just $499! Ask your Sweetwater Sales Engineer about upgrades from previous versions or updates from Logic Express!

Apple Logic Express 8 – Don't want or need Apple's flagship Logic Pro 8? No problem, because Logic Express 8 delivers the power and streamlined interface of Logic Pro 8 with innovative production tools and over 100 instruments and effects from Logic Studio that let you record, edit, and mix with unmatched quality, speed, and ease. A redesigned, single-window interface eliminates clutter and lets you focus on your music. Logic Express 8 comes with Guitar Amp Pro, the acclaimed guitar amp plug-in from Logic Studio featuring 11 amp models, 15 speaker cabinets, microphone controls, and a dedicated effects section. Get started making music on your Mac today with Logic Express 8.

Apple iPod shuffle – At just $79, the Apple iPod shuffle is the most affordable iPod ever. It even lets you wear your inspiration on your sleeve, literally! You can store up to 240 songs on this tiny wonder, and it clips handily to your clothing. The 1GB iPod shuffle comes in an array of colors to suit your style (Green and Silver have just arrived with others on the way), and its easy-to-use circular control pad gives you full play/pause, skip forward, move back, and volume control. An easy-to-see battery indicator always lets you know your Shuffle's status, and you can easily switch between playing your saved songs in the order you originally synced them, or shuffling them around. It's got easy-to-use controls, a battery indicator, built-in clip, shuffle switch and a headphone jack.

Audient Mico – This 2-channel microphone preamp packs major sound quality and great analog-to-digital converters into a very compact package that's perfect for desktops. Mico features one channel of the unique HMX harmonic sculpting technology from the Audient Black Pre, making the creation of vintage style character and complexity as simple as turning one knob. For recording a single source with twin mics or mic + DI, the Variphase control on Mico's second channel allows precise phase alignment (or creative mis-alignment) of the two signal paths. Audient's renowned Class A design is used in the Mico, giving it great transparency. Switchable high-pass filters, phase invert, a 10dB pad, front panel DI input, and more are also included on the versatile little Mico!