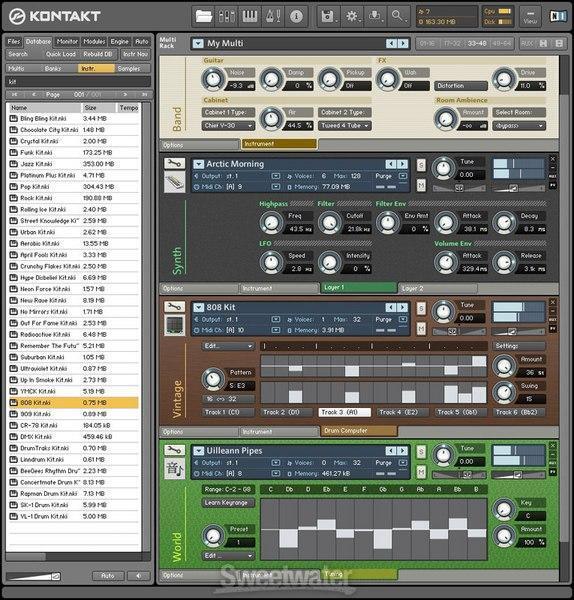 – Having already established its place in studios and stages all over the world, the next generation of this state-of-the-art sampler supports almost every single professional hard and software sample format, making it an essential part of any computer-based audio system. Of course, everyone will love the huge, high-quality 32GB library that is included with KONTAKT 3. This latest version includes a redesigned interface, plus the great features you already love about KONTAKT: a built-in wave editor, universal import, and script processor. More than just a sampler, KONTAKT frees you up to be more creative thanks to its modular architecture, surround sound capability, and intelligent MIDI processing.
– When you need access to an incredible number of perfectly modeled classic amps, cabinets, mics, and effects, all arranged in an amazingly simple drag-and-drop rack format, you need the GUITAR RIG 3 Software Edition. It provides 12 supreme-sounding guitar and bass amps, all emulated in stunning detail with a total of 18 new matched guitar and bass cabinets that provide tried and true classic sounds. Then there's the 44 effects, which include modeled stompboxes, distortion, and volume pedals plus other essential tools such as an integrated tuner, metronome, and two tapedeck modules for easy recording, a loop machine, LFOs, step sequencers, envelope followers, and more!
– Now you can have the power and legendary sound quality of a Roland hardware synthesizer right on your desktop. With its dual SRX expansion bay, built-in USB audio interface, and the ability to play SMFs and WAV/AIFF/MP3 files, SonicCell is a dream come true for computer-based musicians and live performers who want a compact, integrated pro sound module, and USB audio interface solution. Equipped with a state-of-the-art sound engine, SonicCell delivers the pristine sound quality of a dedicated Roland hardware synth with a remarkable new waveform set that includes a world-class collection of acoustic instruments, drums, and percussion, all programmed to perfection. SonicCell is ideal for musicians who use a PC as the core of their writing, recording, and performing universe.