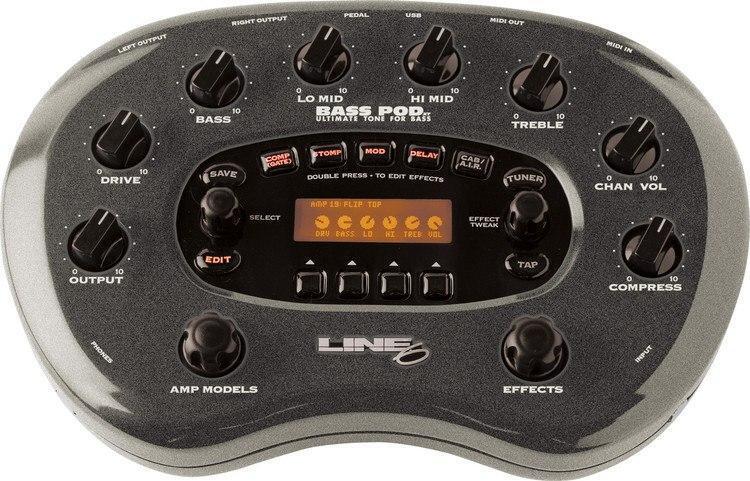 I may be predisposed to liking the Line 6 Bass PODxt Pro because I own the previous version the Bass POD Pro. However, I was skeptical at first of whether there would be a significant improvement from the original. If you use effects currently or want to add them to your sound arsenal this is a wise choice because Line 6 has done it again and made another product that sounds amazing from top to bottom. If there is a sound from your favorite Bass player, it's probably in the presets!
If you are playing in a place where an amp is not needed or wanted this would be a great choice. For any Bass player in a band where there are many styles to cover, or if you play in several different groups this bad daddy is perfect for easily changing up your sound fast without hauling a truckload of gear to the gig. This unit would be right at home in any studio for recording Bass dry and "re-amping" it to get the desired sound for the track during mix-down at the touch of a button.
It's easy to use, and even though they took away the cool red LEDs from the front panel to make room for the new large display, it was worth it. The new display has a graphical picture of the knobs on entry into edit mode with a reference mark if you get far from the original settings and want to go back just turn the knobs back to the reference marker. Once you save the settings the reference points are reset to the new positions.
The Bass PODxt Pro improves over the original with the amount of effects available at once and with many more choices. There are some minor changes in the inputs there are a couple of extra digital inputs, but it is the digital outputs that give it real power to connect into your digital recording system. Got ProTools? Hook it up and capture that groove!
The amp & effects models sound fantastic, the unit is easy to use, and packs a lot of sounds into two rack spaces. If you own a Bass Pod Pro already and you have no need or desire for effects, then the updates are purely in the ease of use the Bass PODxt Pro will give you because the original just sounds so darn good too. If you upgrade remember to replace your old Floorboard because the Bass PODxt Pro doesn't talk to them.