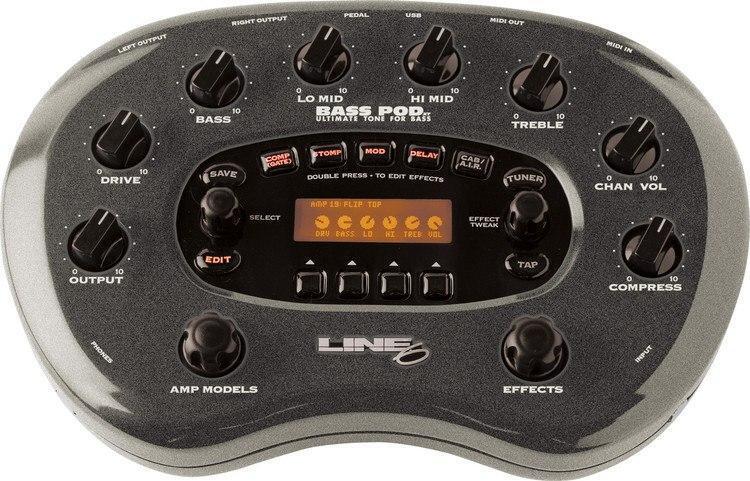 I recently got my hands on the Bass PODxt by Line 6. I have to admit, I didn't really think I would get into an amp modeler – the idea is great, but I had bad luck with unrealistic modelers in the past. Even with my prejudices the Bass PODxt is AWESOME! I hate cracking any manual, so I plugged my bass up and just started going through the presets. With 29 amps and 23 cabinets based on classic and modern designs the presets gave me great tones right out of the box! I spent a few hours just having fun playing my bass through presets. My wife was feeling pretty neglected at this point, so against my own will, I packed it up for awhile.
The next day I decided to get over myself and crack the manual open. As far as manuals go, it was easy to navigate and read. Through the manual I stumbled onto some of the Bass PODxt's more "expert" (slightly more advanced, but a beginner could do these) functions. My favorite function is Line 6's A.I.R. II technology, this allows you to not only choose your amp and pair it with any of the cabinets, it also lets you choose from four classic microphones and decide at what distance you would like to place the mic from the cabinet. I choose one of my dream amps (which Line 6 calls the "Flip Top"), used a 8 x 10 cabinet, miked it with a D112 and then placed the room percentage at 50% (how much of the room's reflections are picked up by the mic – usually depends on mic placement). It sounded incredible! I was actually convinced by the sound that came out.
One of the best compressors to run a bass through in a recording session is the LA-2A. I have only heard other engineers use the LA-2A on bass, but it always sounds good, which is why Line 6 decided to model the onboard compressor of the Bass PODxt after the LA-2A. This modeled compressor sounds very good – there wasn't a time where I could make it sound bad (I tried really hard).
In my opinion, every studio, home studio, and bass player should own a Bass PODxt. At just under $300 it's a steal. Any tone you're looking for, this piece has it!