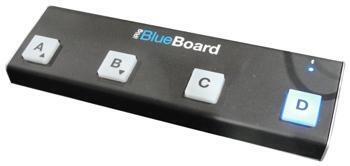 The iK Multimedia iRig BlueBoard uses a newer version of Bluetooth called "Bluetooth LE" (low energy) found in newer computers and iOS devices. According to iK:
iOS: iRig BlueBoard is compatible with iPhone 5s, iPhone 5c, iPhone 5, iPhone 4s, iPod touch 5th generation, iPad 4th generation, iPad 3rd generation and iPad mini. iOS 6.1 or later is required.
Macintosh: iRig BlueBoard is compatible with any Mac that supports Bluetooth 4.0/Bluetooth Low Energy. Models: iMac, Mac Mini, MacBook Air, MacBook Pro (all models from June 2012 on).