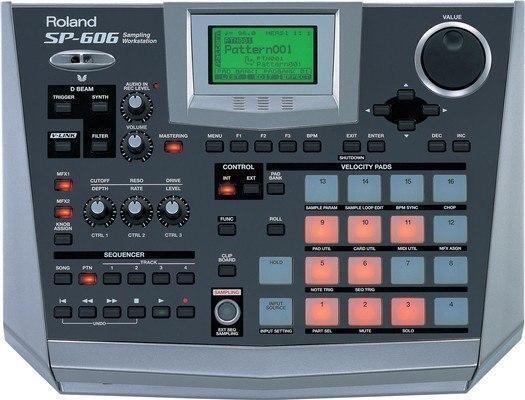 Simply put, the Roland SP606 is a deceptively amazing product!
At first glance the SP606 seems like a toy, and perhaps it is: a very powerful toy teeming with features that make it a stand-alone force. A bizarre hybrid of a drum machine, MIDI sequencer, sampler, and controller, the SP606 endows its user with the ability to compose and perform loop-based music with relative ease. Aimed at the DJ and producers, the SP606 excels in creating rap, hip-hop, techno, and dance styles.
The tactile control is remarkable. 16 velocity sensitive pads, a D-Beam, and control pots, make the workstation an efficient instrument with numerous possibilities for expression not found on other workstations. For example, the D-Beam can control filters, trigger events, and play synth sounds like a theremin with a variety of scale tunings. The SP606 boasts a four track sequencer capable of loop based recording in real or step time. The ability to mute tracks on the fly helps in real time performance control. Chaining sequenced patterns together can create complete songs. A V-Link is also included for those working with video.
The heart of the workstation is the sampler. Imported samples can be assigned to the pads, D-Beam, or programmed into the sequencer via analog, memory cards, USB, or S/PDIF. Powerful editing tools allow the user to alter sample parameters, chop, and loop samples. The large LCD allows the user to see the waveform and engage in detailed editing. Once in the internal memory samples can be programmed into songs or triggered live.
Simply put, the Roland SP606 is a deceptively amazing product!