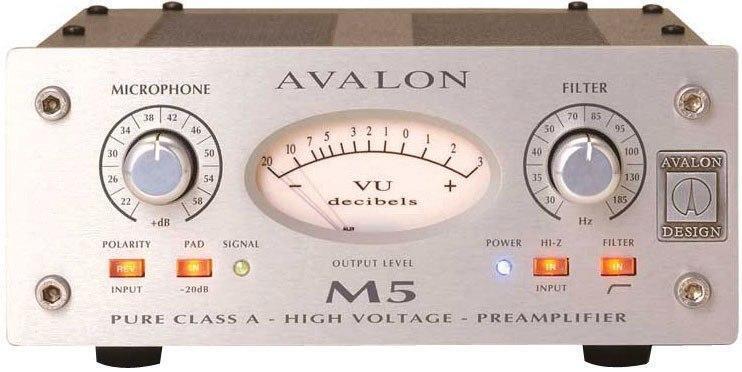 This is a fantastic item for anybody who wants to use an Avalon, but capture a pure tone. The M5 is a solid state preamplifier unlike the VT-737, which features tubes. Another important thing to mention is that this is just a preamp and not a compressor or EQ. That said, this preamp is fantastic at capturing the essence of your recording in a true way.
I recorded some acoustic guitar with a Neumann TLM127 microphone and ran it into the M5 and then into my digital audio workstation (DAW). It really captured the essence of the original recording. It was full of body and had a lush atmosphere that really put the tonal highlights of the room into perspective.
Next, I tested the direct input capabilities with an electric guitar. I ran an electric guitar into the M5 and then into a Boss GT-8. From there I went into my DAW. It sounded absolutely fantastic! The guitars really stood out in the mix with minimal mixing and processing and sounded amazingly rich and complex. The lead electric guitar had some soaring high parts and the distortion on the rhythm was full of body and texture on the bottom end.
The Avalon M5 has a great amount headroom and an extremely low noise floor so you won't have to worry about hitting that threshold as much as you might with other gear. Like other great Avalon products the M5 is built like a tank so it's comfortable in a studio rack, or on the road in a touring environment. It's an all around winner!