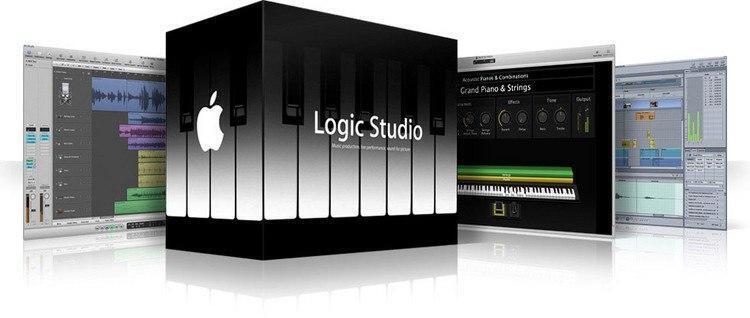 With Logic, I am no longer held back by technological limitations.
Since the advent of the digital audio workstation (DAW), software manufacturers have raced to try to come up with the ultimate music and audio production tool. As technology and hardware get faster and faster, so must its accompanying software. DAWs have to do a lot: they typically record, mix, and edit audio, host instruments and effects, record and edit MIDI, arrange music, score videos, print notation, slice and stretch sound loops, and even provide programmable drum machines, acoustic simulators, and surround sound (Whew!). Not to mention that hobbyists and professionals alike don't want to sell their cars in order to afford such a powerhouse.
Enter Apple. With Logic Studio, Apple has transformed Logic from a deep and difficult program into one the the most streamlined and elegant music environments of its kind. Packed with an extensive lineup of audio effects and sound tools, Logic Studio proves to be a powerful program the likes of which the music world has never seen.
As a veteran recording engineer, I have successfully made the switch to Logic Pro 8, and what a no-brainer. What is it that turns me on to it? The plug-ins, oh the plug-ins! I have invested thousands of dollars in professional plug-in software over the years. Never before have I seen such an amazing array of bundled plug-ins for a DAW that come right in the box. Logic's Space Designer, for example, comes with a built-in impulse response designer so that you can create your own reverb from a simple recording. Simply amazing. The 40 plus professional instruments, too, still amaze me. If you haven't heard the robust sounds that come from the EXS24 sampler, then you are really missing one of the most advanced professional samplers in the industry. Did I mention that it comes with Logic? Again, amazing.
I use Logic to record massive rock sessions, cool jazz tracks, powerful choral movements, and even expressive string quartets. It is truly a versatile weapon in my production arsenal. But you can use this program for any aspect of production from recording to MIDI sequencing to score notation and playback. There really isn't one main application for Logic as it blankets the entire field of music production.
I am forever in debt to Apple for creating such a diverse and powerful DAW. With Logic, I am no longer held back by technological limitations. Now I can focus on my creative and musical endeavors and know that Logic will be behind me every step of the way.