How do I redeem my iLok activation code using the iLok License Manager?
Article #1719970
Updated on Feb 8, 2017 at 6:34 PM
In order to download your licenses to your iLok, follow the instructions below:
If you have not already done so, go to www.ilok.com and create an account. 
If you haven't already downloaded the iLok License Manager, you'll need to do that as well. At the top of the iLok.com website, click on iLok License Manager. On the right side of the next page, click on the installer appropriate for your operating system. 

Once you've downloaded and installed iLok License Manager, launch it.
Within the License Manager application, click Sign In at the top left and enter your iLok account information. 
Connect your iLok to a USB port on your computer. If this is the first time you've used your iLok, you'll see a pop-up asking if you want to register it. Click Yes, and your iLok will be registered to your account.
Now you're ready to transfer your licenses to your iLok. If you have an activation code, click the Redeem Activation Code button at the top right corner of the window. 
Enter your activation code. 
Your license(s) will now appear in your account when you click on your account name on the left side of the window. If the manufacturer directly deposited your license to your account, they will automatically show up there.
At the top of the window, click on the Available tab. This will show all of your licenses that are ready to be transferred to an iLok. 
Simply drag the license(s) to your iLok. When prompted, confirm the activation. You will see a progress bar underneath your iLok ID. It is important that you wait for the transfer to be 100% complete before removing your iLok or quitting iLok License Manager. When it's done, you'll be notified that the activation was successful.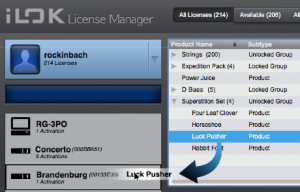 Click here to search 28,000 other solutions on our knowledge base.