AVB and USB Interface for Stage and Studio
As a stage box or audio interface for your DAW, the MOTU Stage-B16 combines ample I/O with ultra-low latency and networking capabilities via AVB Ethernet connectivity. Built-in DSP means you can add modeled analog EQ, vintage compression, and outstanding reverb to inputs and outputs while mixing up to 48 channels and 12 stereo buses. You get 16 stellar mic preamps, and you can link multiple Stage-B16s via Ethernet if you need more I/O. For studio recording on your Mac or with your iOS device, connect via USB 2.0 for high-quality audio recording up to 192kHz. While live and studio both present their own unique sets of needs, Sweetwater can confirm that the MOTU Stage-B16 AVB interface will excel in either application.
What is AVB?
Audio Video Bridging over Ethernet (AVB) is a way to transmit digital audio and video over an Ethernet cable and allows you to network devices together for better system management and higher capacity. You can connect the MOTU Stage-B16 directly to the Ethernet port on your Mac computer, or you can connect it to a network switch like MOTU's AVB Switch so that any device on the network can access it. Basically, AVB allows for high channel counts, ultra-low latency, and network audio over a simple Ethernet cable.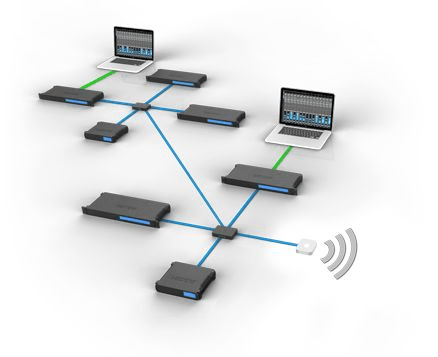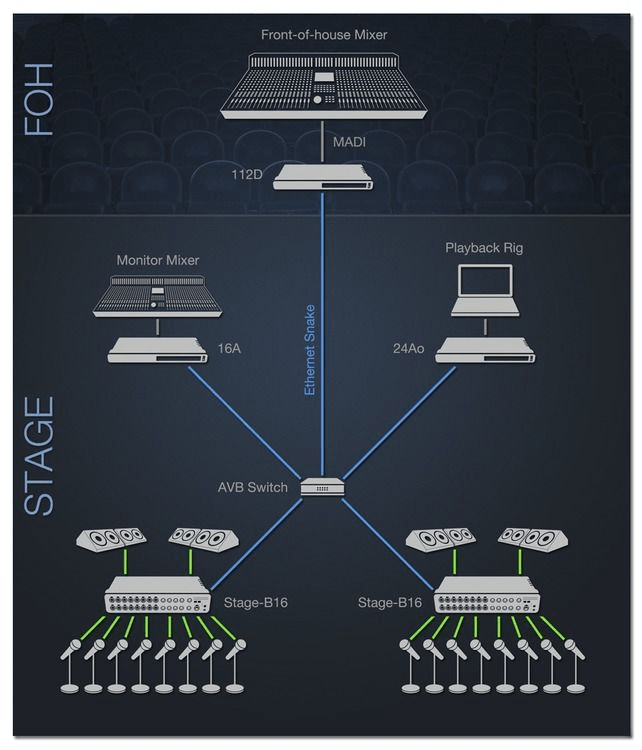 A rugged 16 x 8 stage box with Ethernet networking
Like all MOTU equipment, the Stage-B16 is reassuringly rugged for reliable performance on the road. Connect your mics and stage monitors, then run a single Ethernet cable to your Mac or your MOTU AVB Switch. You'll have control over all functionality from any computer, iOS, or Android device that can access the network, no matter where you are in the venue.
A capable AVB and USB interface for your studio
Whether you're running a home studio or a multi-room facility, the MOTU Stage-B16 is a smart audio interface. You get 16 channels of mic inputs, eight line outputs, and four channels of AES output. The built-in DSP lets you add EQ, compression, and reverb to inputs and outputs, perfect for sweetening tracks during recording or enhancing headphone mixes for artists. Best of all, you get ultra-low latency over AVB Ethernet, even if you're hundreds of feet away from your computer. You can even create an AVB network with multiple Stage-B16 interfaces, and control any of them from a computer connected to the network. In addition, you can use the Stage-B16 as a USB 2.0 audio interface with your Mac or iOS device.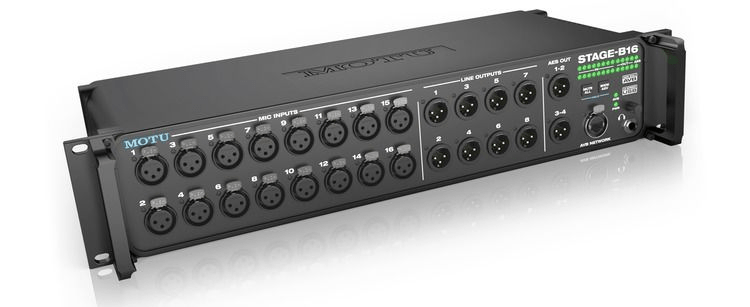 Add more channels by daisy-chaining multiple Stage-B16s
One of the best things about AVB network audio is that you can daisy-chain units together to expand your channel count. When you need more inputs or outputs, just chain Stage-B16s together via short Ethernet cables, and the additional I/O will be accessible anywhere on the AVB network.
Control from anywhere on the network
Connect the MOTU Stage-B16 to your AVB network, and you can manage all of its functions via any web browser on any device that can connect to the network. Because the AVB control software is a web-based app, you can use any type of web browser on any type of device to access it once you're connected to the AVB network.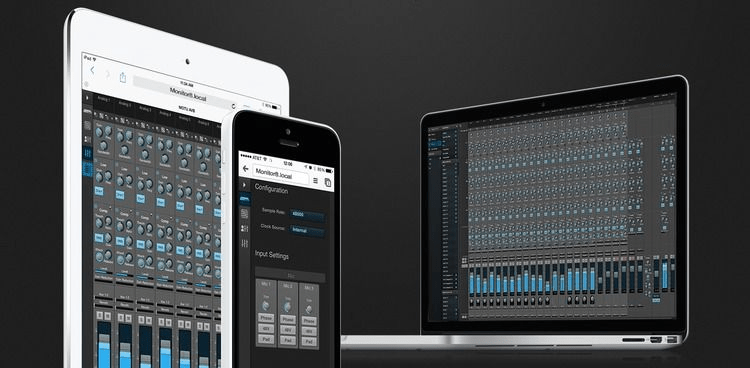 MOTU Stage-B16 AVB/USB Audio Interface Features:
16 x 8 digital mixer, stage box, and AVB/USB audio interface
Built-in DSP for EQ, compression, and reverb on all inputs and outputs
Ethernet connectivity offers ultra-low latency, even with 100m cable runs
A smart way to add more audio channels to your AVB network
Multiple units can be daisy-chained for higher channel counts
Stellar sound quality with up to 192kHz resolution
Powerful mixer with up to 48 channels and 12 stereo buses
Can be used as an iOS audio interface via USB (requires Camera Connection Kit)
Built ruggedly to withstand stage use
Control all functionality with the web-based app from any computer or device connected to the network