Versatile Digital Mixer with Powerful Recording Capabilities
The PreSonus StudioLive 32 digital mixing console/recorder represents the third generation of the acclaimed StudioLive series, and it's just as capable in the studio as it is for live sound. The revamped signal processing workflow provides vintage-style EQ and compression for every channel. You've got 32 PreSonus XMAX recallable preamps onboard, 33 touch-sensitive motorized faders, and a built-in SD card slot for multitrack recording and virtual soundchecks. Artists have full control over their own monitor mixes via the free QMix app, and the included UC Surface 2 touch-control software, Capture recording software, and Studio One Professional DAW software equip you for recording, mixing and mastering. For live sound and studio recording, the PreSonus StudioLive 32 stands out in its class.
Three options for multitrack recording
The PreSonus StudioLive 32 gives you three efficient options for multitrack recording. A built-in SD card recorder allows you to record all inputs simultaneously, and you can also play back from the SD card to do virtual soundchecks without a computer. You can also connect to a computer via USB for 38 channels of recording and playback. And the StudioLive 32 supports AVB over Ethernet too, allowing for 55 channels of recording and playback.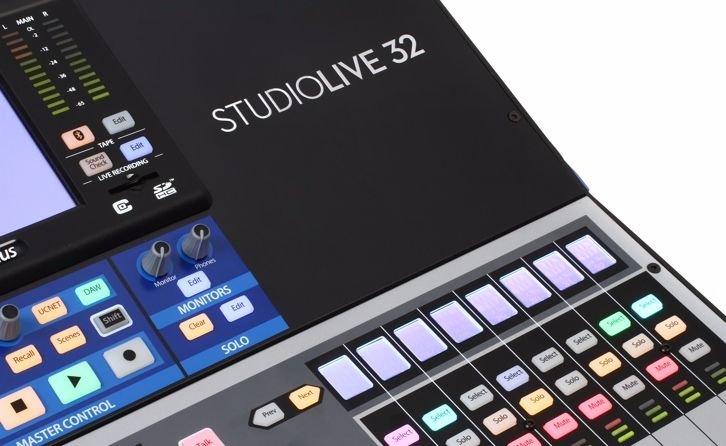 Pristine XMAX preamps for sound reinforcement and recording
Simply put, the 32 Class A XMAX preamps onboard the StudioLive 32 sound like they belong in the studio. Their high headroom and low noise floor deliver extremely clean and clear sound you simply wouldn't expect from a live console. And mic preamp settings are fully recallable, which is a huge time saver when you mix or record the same band or show on a regular basis.
Flex Mixes offer a ton of freedom for any mixing application
At Sweetwater, we know it can be frustrating trying to use the same mixer for many different tasks. That's why we're excited about the 16 Flex Mixes offered on the PreSonus StudioLive 32. Flex Mixes can be set up as Aux mixes, Subgroups, or Matrix mixes, depending on what your show demands. Need a ton of different monitor mixes for a large group of musicians? No problem, you can create up to 16 aux sends if you need to. Same with Subgroups and Matrix mixes — perfect for theater productions and multi-zone venues, respectively. Basically, the StudioLive 32's Flex Mixes allow you to adapt your mixer to the mixing task at hand, instead of adapting your workflow to the limitations of your mixer.


LAN port provides convenient monitoring options, live and in the studio
The PreSonus StudioLive 32's native LAN port lets you connect with Apple iOS devices for incredible remote-control convenience. In addition to being able to walk the venue and tweak your mix from the palm of your hand, this gives musicians remote access to the StudioLive 32's QMix function. That means each performer can potentially tweak his or her own monitor mix onstage, without requiring a separate personal monitoring system.
Advanced processing for EQ, compression, and effects
The StudioLive series of consoles has always been known for outstanding effects and processing capabilities, and the StudioLive 32 takes it even further. Four internal effects buses allow you to combine reverbs, delays, and other effects for processing monitor mixes, groups, or individual channels. You can use effects as inserts on up to four channels too, and on top of that, Fat Channel processing offers vintage EQ and compressor models on every channel.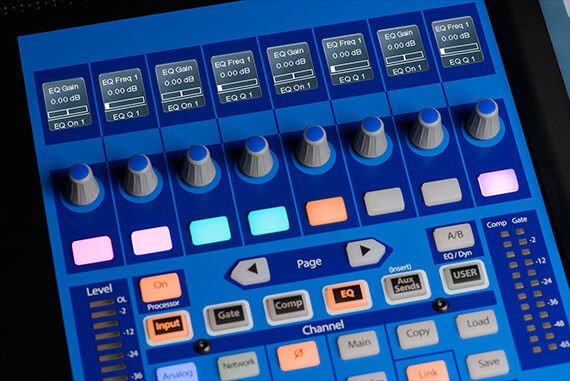 Includes a full version of Studio One Professional DAW software
PreSonus Studio One 3 Professional raises the bar. Sporting an elegant single-window workspace with robust drag-and-drop functionality and multi-touch support, version 3 of this powerhouse DAW gives you more smart features aimed at making you a total creative beast. These include an on-the-fly Arranger Track with Scratch Pads that let you freely experiment with musical or sonic ideas; an upgraded browser that lets you find, preview, and drag and drop tempo-matched backing tracks, samples, effects, instruments, presets, and more; and the Mai Tai analog modeling polysynth with character morph, mod matrix, and zero-feedback filters.
FREE plug-in suite for your favorite DAW
PreSonus delivers more value than ever with their mixers and interfaces, thanks to the Studio Magic Plug-in Suite. This extensive collection of seven popular plug-ins covers models of top studio gear from manufacturers such as Maag Audio, Lexicon, and Arturia, adding up to hundreds of dollars of extra value. Punch up your mix bus with Brainworx's bx-opto, add ambience with Eventide's SP2016-inspired Stereo Room reverb, fire up transients with SPL's Attacker, and much more. And since these plug-ins are available in AAX, VST, and AU formats, they're compatible with any DAW you choose.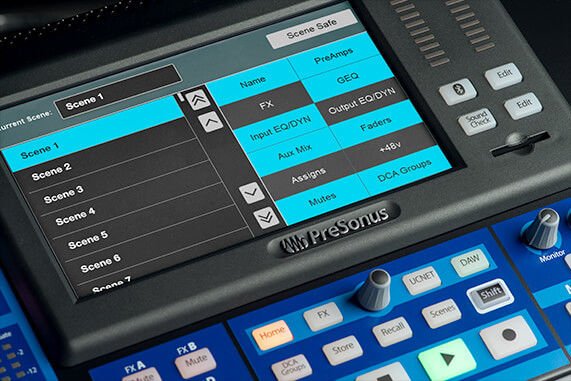 PreSonus StudioLive 32 Digital Mixing Console/Recorder Features:
32-channel digital mixing console with built-in SD card recorder
Record and play back up to 38 channels via USB, or up to 55 channels via AVB Ethernet
Built-in SD card support for multitrack recording and virtual soundchecks
Fully recallable XMAX preamps with ultra-low noise floor
33 touch-sensitive motorized faders allow you to mix with precision
24 DCA groups help you manage complex productions with high channel counts
4 internal effects buses
Support for insert effects on up to 4 channels
Fat Channel processing provides vintage EQ and compression options for each channel
Better visual feedback than ever, with full-color touchscreen and channel scribble strips
Advanced scene management helps you manage complex mixing tasks more efficiently
16 Flex Mixes can be used as Aux mixes, Subgroups, or Matrix mixes
Bluetooth wireless streaming makes it easy to play music from a smartphone or tablet
Software package includes UC Surface 2 touch-control software (Mac/PC/iOS), Capture recording software (Mac/PC), Studio One Professional DAW software (Mac/PC), QMix personal monitoring app (iOS/Android)