AVB Delivers the Outputs You Need
Like the rest of MOTU's popular AVB-equipped audio interfaces, the 24Ao lets you send a ton of audio across a standard network and get low latency, high quality, and powerful DSP mixing options. This 24Ao was designed with line-level output in mind, and it's 24 channels of analog output are ideal if you need to send audio to your front-of-house mixer, your studio processing rig, or your analog summing amplifier. The internal mixer includes all kinds of DSP processing, summing, and routing options too, and between its high-speed USB 2.0 connectivity and additional 24 channels of ADAT optical I/O, the MOTU 24Ao fits into any kind of audio rig.
Tons of high-quality connections packed into a single-rackspace audio interface
It doesn't matter if you prefer DB-25 D-subs or Phoenix plugs, the MOTU 24Ao makes connecting up to 24 analog line channels a piece of cake. Capable of 123dB of dynamic range, the 24Ao is the perfect last step in the digital signal path before your analog summing mixer, live mixing console, studio racks, or any number of other audio destinations. What's more, there are three pairs of ADAT optical ports onboard, offering an additional 24 channels of digital I/O via USB 2.0 or AVB network.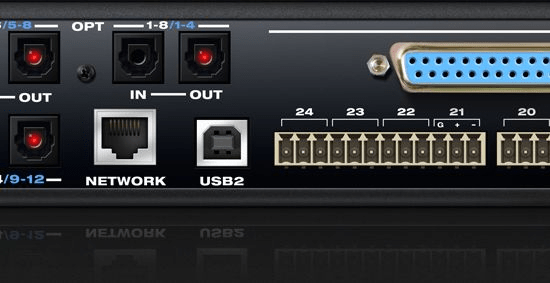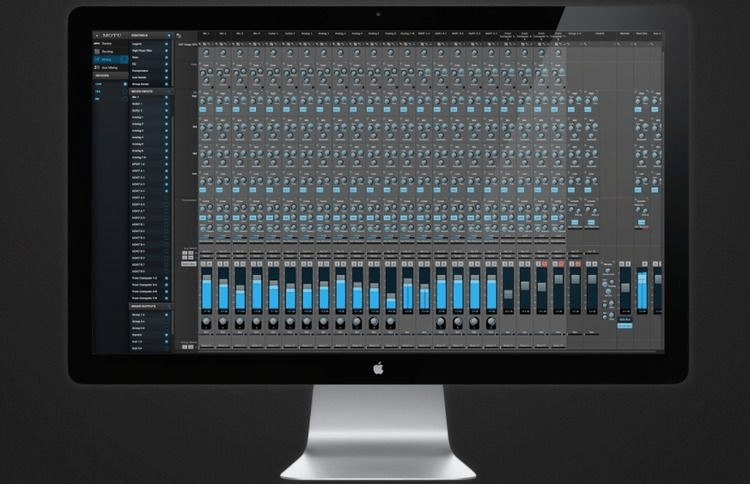 DSP-fueled mixer onboard gives you the added benefit of EQ, compression, and effects
The MOTU 24Ao's onboard DSP mixer offers a number of advantages you'll find useful in a variety of settings. For starters, this digital mixer supports up to 48 inputs and 12 stereo busses, allowing you to set up extremely complex routing schemes completely independent of your computer. In fact, if you connect a wireless router to your 24Ao, you can access all of its internal mixing functions, including effects and processing, via an app on your iOS device, turning this powerful audio interface into a fully capable standalone mixer. Speaking of onboard processing and effects, whether you're in the studio or onstage with your 24Ao, you'll find a ton of uses for its DSP EQ, compression, gate, and reverb.
Expand your production system with additional AVB networkable audio interfaces
Another extremely cool use of the 24Ao's Ethernet connection is the ability to link more MOTU AVB equipped audio interfaces to it. You can do this in one of two ways: directly via a simple Ethernet cable or as part of an audio network via one or more MOTU AVB Switch. If you go with just a single Ethernet cable, you can easily link a second 24Ao or other AVB ready device directly to your first one. With MOTU AVB Switches, you can create an audio network of up to five units, potentially linking hundreds of channels of I/O across multiple rooms. And since it's all over standard Cat-5e Ethernet cable, latency or cable runs aren't an issue.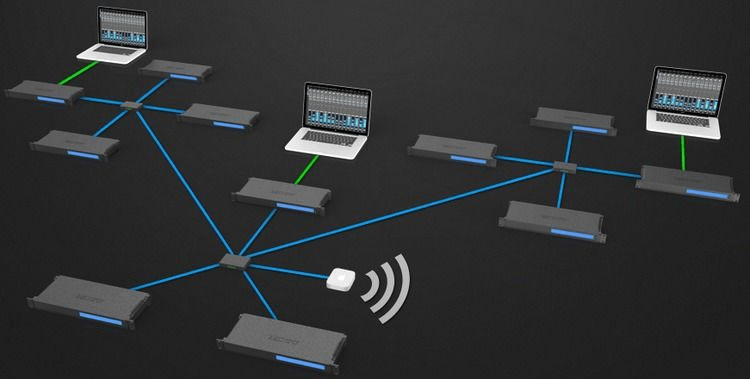 MOTU 24Ao AVB Network/USB 2.0 Audio Interface Features:
A versatile 24-in/48-out network audio interface for studio and live sound applications
Choose from ultra-low-latency Thunderbolt, high-speed USB 2.0, or iPad/iOS (w/ Camera Connection Kit) connectivity
24 high-quality analog outputs are available on both DB-25 D-sub connectors and Phoenix connectors
24-channels of ADAT optical digital I/O lets you expand your system with additional gear
Onboard 32-bit floating point DSP-driven digital mixer with EQ, dynamics, and effects provides latency-free routing
Hook up a wireless router and take complete control of the onboard mixer from your iOS device - no computer needed!
AVB audio networking lets you easily expand your system and additional AVB equipped audio interfaces
Create an AVB network via optional AVB Switches for support for up to five compatible interfaces