How to Choose Live Sound Monitors
The ability to hear yourself while performing onstage is imperative to a good performance. It doesn't matter if you're the drummer or the lead singer, when you can hear yourself and other musicians clearly, you're more likely to deliver a better performance. This Sweetwater Buying Guide will introduce you to the various types of live sound monitors and help you decide the best approach for your particular needs. If you have questions, give us a call at (800) 222-4700. We'll be glad to help!
Monitor Types Explained
In-ear Monitoring
Benefits of In-ear Monitoring
Reduced Stage Volume Equals Clean Mix
Hands-on Monitor Mix Control
What to Look For…
---
Monitor Types Explained
The first thing you need to do is determine which type of monitor system is best suited to your individual performing needs and comfort as well as the individual requirements of your group members and your FOH (Front of House) mixer.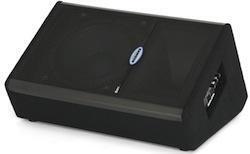 Stage Wedges
A wedge can be thought of as a regular speaker cabinet with its back cut off at an angle and placed on the stage floor. The angle has two benefits. First, the sound points up at the performer's head for increased intelligibility, and second, the low profile doesn't block the audience's view of the performers.
Side-fill Systems
In stage monitoring applications, side-fills are generally large, full-range speaker systems that are placed off to the side of the stage. The purpose of side-fills is to provide a more enveloping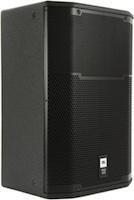 and well-balanced sound. This allows all of the performers to hear a good rough mix of the whole band, while wedge monitors still provide individual mixes to each performer.
It is widely believed that a fuller stage mix inspires better and more coherent performances among musicians. In recent years, technology has made it possible to achieve a pretty full-sounding mix at each performer's position on the stage with relatively small wedge monitors. As a result, side-fills have begun to be used less.
Stand-mounted Monitors
As the title implies, these much smaller, unobtrusive monitor cabinets can be mounted on a mic stand and placed closer to the performer's ear for better intelligibility and less overall sound pressure onstage. Keyboard/synth players might benefit from a stand-mounted monitor to better hear themselves cut through the mix.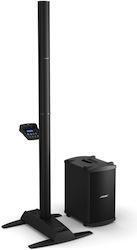 All-in-one Line-array PA/Monitor Systems
Many manufacturers have introduced complete, portable line-array PA systems that are designed to be positioned behind you onstage, letting you hear what your audience hears. This is ideal for smaller venues, acoustic performers, public speakers, and bands who don't use loud instrument amplifiers. These systems are lightweight, easy to setup and transport, and can eliminate the need for a separate monitoring system.
---
In-ear Monitoring
The concept of in-ear monitoring is actually quite simple. Introduce a high-quality signal to the musician's ear that allows them to clearly hear the mix at any chosen volume. In-ear monitoring has been around since the mid-1980s and was originally only used by top touring professionals because of the costs involved. However, technological advances in recent years have put in-ears within reach of musicians on a budget.
---
Benefits of In-ear Monitoring
The benefits of in-ear monitors to the musician and engineer are immediately apparent: better sound, improved stereo imaging, less vocal strain, protection against hearing damage, portability, increased gain before feedback, and lowered onstage volume. In-ear monitoring works best with relatively low stage volumes, so it's ideal for acoustic performers and electric ensembles who use low-powered instrument amps. If your sound is reliant on massive guitar amp stacks, in-ear monitoring is probably not the way to go.
---
Reduced Stage Volume Equals Cleaner Mix
In-ear monitoring systems are best known for their ability to reduce stage volume. When each band member hears vocals or instruments through wedges and instrument amplifiers, competitive monitoring (individual band members turning up to hear themselves better) often results in a loud, cacophonous stage. This has the effect of muddying the house mix and causes excessive overall volume as the sound engineer is forced to turn up the mains to compensate for stage levels.
---
Hands-on Monitor Mix Control
When used in conjunction with personal mixer systems, such as those by Aviom and Hear Technologies, in-ear monitors give musicians absolute control of their own monitor mix onstage. Artists can have any mix they desire at any volume. Singers can independently increase their voice's volume separate from the band's mix, reducing voice fatigue and the risk of hearing damage. This also gives the engineer better isolation, because loud stage monitors bleed into adjacent microphones, which can muddy the overall mix. For smaller venues and bands without the luxury of a separate monitor engineer and console, it frees up the FOH mixer from having to send a number of separate cue mixes.
---
What to Look For…
Low-volume performers: Look to in-ear monitors or all-in-one line-array PA/monitor systems.
Performers with loud instrument amps: Rely on stage wedges and side-fill systems.
Keyboard players: Consider stand-mounted monitors.
Personal mixer system users: In-ear monitors are the best choice.
Good monitors are essential to a good performance. If you are unsure about which monitoring system or combination of systems will best serve your music, call us at (800) 222-4700 and ask your Sweetwater Sales Engineer, who's experienced in configuring live sound systems.