Behringer XR12
A whole new way to mix. A better way.
Behringer's cutting-edge X Air digital mixers integrate with your iPad or Android tablet for unprecedented mixing power and mobility. Plug in your mic and line level sources and mix from anywhere in the venue or studio via the free remote control app. The XR12 is a 12-input, rackmountable stage box unit with four gain-programmable Midas-designed microphone preamps, Behringer's renowned X32 effects rack, a 100-band Real Time Analyzer on all channels, and bus EQs, a stereo USB recorder, and integrated Wi-Fi, all in a convenient rackmount chassis. Just add mics, and you have everything you need to mix a live show and record a stereo mix straight to your device. The Behringer XR12 gives you a whole new way to mix.
Behringer XR12 at a Glance:
Built-in Wi-Fi module
Convenient stage box/rackmount chassis
Includes rack ears and protection bumpers
Midas-designed preamps
40-bit floating-point DSP
Full-featured channel processing
FX Rack delivers studio-quality effects
100-band RTA for all channel and bus EQs
Hover over features below for a detailed description
Ethernet connection for wired networks and external routers
Selects between Ethernet port and internal Wi-Fi
MIDI In and Out DIN ports
Position-adjustable Wi-Fi antenna
Mic/Line inputs on Combo connectors
Line inputs on TRS connectors
TRS stereo headphones output with Level control
Line inputs on TRS connectors
TRS outputs for Aux buses 1 and 2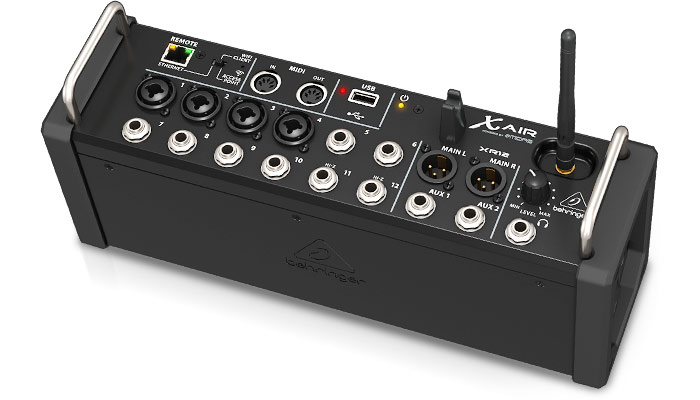 Mix From Anywhere in the House
Built-in Wi-Fi and tablet integration for unprecedented mixing mobility
Behringer's XR12 gives you the ultimate in mixing mobility. Imagine always being able to mix from the most advantageous spot in the house! The XR12 acknowledges the reality of modern live mixing — that you don't want to be tied down to a fixed front-of-house mix location. Integrated Wi-Fi gives you remote control over the mixer's functions from your tablet or laptop without needing to set up and configure an external router. Now you can focus on your mix, moving around the venue to experience what your audience is hearing at anyplace in the auditorium. Tweak the mix from the balcony. Adjust the monitors from the performers' perspective. This is live mixing the way it should be — natural and intuitive. The result will be better-sounding shows!
Mix from anywhere in the venue
Instant wireless for your tablet or laptop
Complete remote control over mix functions
No need to set up and configure an external router
You're Connected
Ethernet port gives you networking options
The XR12's built-in Wi-Fi has you covered for most venues, but if you've got big stadium gigs booked, you'll be glad to know that you can easily integrate the XR12 into a larger setup using its Ethernet port to connect to a wired network or a monster router.
Ethernet port for networking options
Connect to a wired network
Set up an industrial router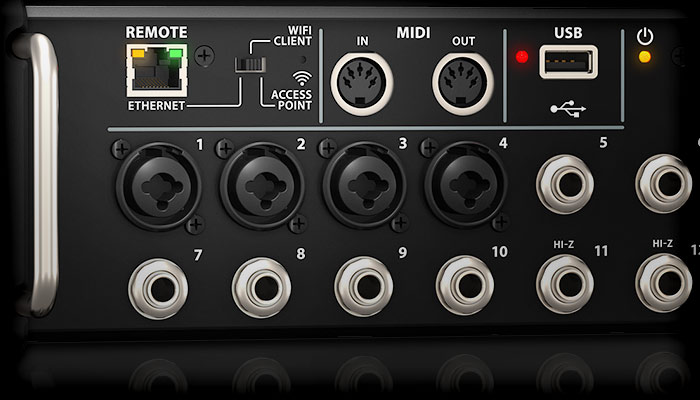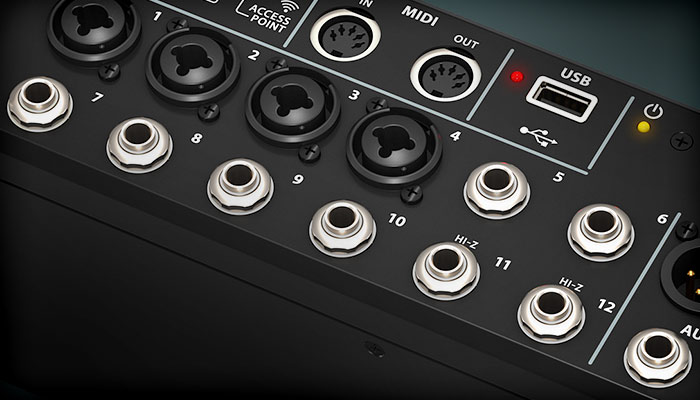 Great-sounding Mixes Start Here
Pristine preamps, ultra-wide dynamic range, and more
With four Midas-designed mic preamps and 40-bit floating-point DSP that delivers virtually unlimited dynamic range with no internal overload and vanishingly low latency, the XR12 delivers impeccable sound quality — the same as Behringer's acclaimed X32 digital mixer. The XR12's preamps are fully gain-programmable and remote-controllable from your iOS or Android tablet, for nearly unlimited flexibility in a live show situation. And because applications are loaded to the specific device, you can, for instance, prepare your channel layout offline while sitting in the tour bus before a show.
Acclaimed X32 technology for impeccable sound quality
Fully gain-programmable, remote-controllable preamps
Applications loaded to specific device
Facilitates offline pre-production
Comprehensive Channel Processing and Routing
Features that will make you a sound-mixing hero
With so many variables beyond a mixer's control, Sweetwater knows just how challenging mixing a live show can be. That's why Behringer designed the XR12 with smart features that can make you a sound-mixing hero. The XR12's channels are fully loaded, with per-channel low-cut filters, gates, full dynamics (including compression, limiting, expansion, ducking, sidechaining, and more), fully parametric 4-band EQ, and routing to the two aux outputs. When it comes to EQ, the XR12 lets you analyze the frequency content of your tracks to perfection, courtesy of its 100-band Real Time Analyzer, built into every input channel and then sculpt them with the bus equalizer. With visual feedback built right into the control app, you can see exactly what you need to do, and make fast, surgical adjustments to frequencies that need a boost or cut.
Smart features make mixing easier
Extensive per-channel processing
100-band Real Time Analyzer
Visual feedback simplifies EQ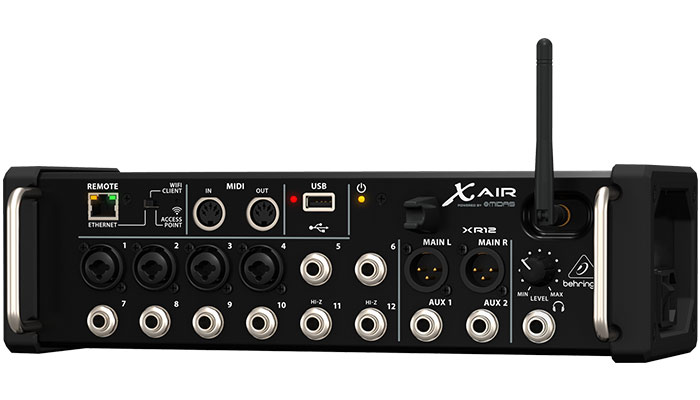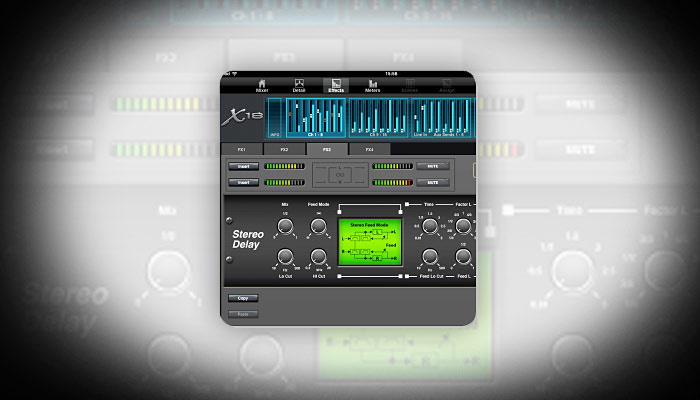 Studio-quality Effects
Virtual FX Rack with four true-stereo multi-effects processors
The XR12 has an entire arsenal of effects under the hood. The virtual FX Rack gives you four true-stereo (8 mono) multi-effects processors, including delay, chorus, and dynamics. This engine is beefy enough to simultaneously run high-quality, true-stereo reverbs and 31-band EQ, without the need for additional hardware. Select any combination of high-end simulations of classic studio reverbs such as the Lexicon 480L and PCM70, the EMT250, or Quantec QRS. The XR12's onboard processing means your computer won't be tasked with additional heavy lifting during a mixdown session with numerous plug ins.
Four stereo multi-effects processors
Simulations of legendary studio reverbs
Robust FX engine
Lightens the load on your computer

Four Models to Serve Your Needs
Behringer X Air digital mixers are available in four models. Three are rackmount units; the X18 is the desktop unit with an integrated tablet tray, while the XR units are rackmountable. The XR18 offers near-identical specs, but as it can be used as a stage box, it offers a few connectivity upgrades for more secure connections onstage. The XR16 and XR12 are more affordable rackmountable options with scaled-back feature sets.
| Model | Wi-Fi | Form Factor | Inputs | Aux Buses | Ultranet | USB | hi-Z Inputs |
| --- | --- | --- | --- | --- | --- | --- | --- |
| X18 | Built-in | Desktop | 18 (16 mic) | 6 TRS | Yes | 16-ch | 2 |
| XR18 | Built-in | Rackmount | 18 (16 mic) | 6 XLR | Yes | 16-ch | 2 |
| XR16 | Built-in | Rackmount | 16 (8 mic) | 4 XLR | No | 2-ch (device) | 2 |
| XR12 | Built-in | Rackmount | 12 (4 mic) | 2 TRS | No | 2-ch (device) | 2 |
Behringer X Air Digital Mixers
On the leading edge of the mobile mixing revolution
The Behringer X32 digital mixer has been a massive hit, a Sweetwater best seller that sees constant use in busy studios and on the world's biggest stages. The X Air series continues the revolution, maintaining the same uncompromising level of audio quality, while offering you even more smart features aimed at the way you mix music today. We're impressed with Behringer's X Air mixers, and we think you will be, too!