64-channels of 192kHz Conversion in a Single Rackspace
The Antelope Audio Orion32+ ups the ante, packing all the punch of the original Orion32 — plus improved dynamic range and a bevy of new features. Antelope's Thunderbolt circuit for the Orion32+ delivers vanishingly low latency without defeating Mac OS power management, which keeps your computer fan noise quieter for recording sessions. There's also onboard DSP that powers an arsenal of effects such as AuraVerb, the killer hardware-grade reverb. Fitted with mastering-grade monitor outputs and 32 outputs on D-Subs, the Orion32+ is easy to integrate into your studio. You also get the latest generation of Antelope's software control panel.
Modeled Vintage EQs, Compressors, and More On-board
Hardware-based emulations of classic processors
Antelope Audio's FPGA technology allows Orion 32+ near-zero latency performance and also powers the FPGA effects suite with digital re-creations of classic hardware processors. FPGA effects respond more like hardware compared with many other plug-ins thanks to this powerful processing platform.
Authentic vintage models
Antelope's included FPGA suite delivers spot-on emulations of vintage processors. Sweeten tracks with Pultec EQ emulations, make vocals shine with the 1073 EQ model designed in partnership with BAE, add life to drums and guitars with the VEQ-55A plug-in, and utilize vintage and contemporary guitar amp and cabinet simulations to create larger-than-life tones. All of these effects processors can be instantiated on any input, output, or DAW track, making Orion 32+ a powerful virtual effects rack.
Antelope's world-class reverb
Part of the Antelope Audio FPGA suite is AuraVerb, an original reverb processor designed by Antelope's top programmers. And because it runs in real time on Antelope's Modeling Engine, you can use it for tracking as well as mixdown with virtually no latency.
More models are on the way
The EQs, compressors, and effects in the Antelope FPGA suite are just the beginning. Antelope's engineers are continuously working on creating new models of classic vintage gear, and you'll be able to add them to your software suite as they become available.
Equalizers
VEQ-55b
VEQ-STU 089
VEQ-STU 169
VEQ-STU 900
VEQ HA32C
BAE 1023
BAE 1084
NEU-W492
NEU-W495
NEU-PEV
VEQ-4K Series
VEQ-4K Black
VEQ-4K Brown
VEQ-4K Pink
VEQ-4K Orange
BAE-1073
VEQ-HLF
VEQ – 1A
VMEQ-5
VEQ-55A
Lang PEQ2
UK-69
Parametric EQ
Compressors
X903
VCA160
Gyraf Gyratec X
Tube176
Grove Hill Liverpool
FET-A76
Antelope FeedForward Compressor
Reverb
Enough I/O to Track a Full Band
Loads of input and output options
Orion 32+ offers 32 analog outputs with a set of mastering-grade monitor outs in a single 1U chassis, giving you premium conversion in a rack-friendly unit.
Thunderbolt, USB, and more
The Antelope Audio Orion 32+ utilizes Thunderbolt or USB to connect with Mac and Windows computers. You have a ton of flexibility to connect with multiple digital formats, including MADI, ADAT, and S/PDIF.
Acclaimed clocking and conversion technology
Antelope's 64-bit Acoustically Focused Clocking (AFC) jitter-management technology, used in top mastering facilities worldwide, delivers some of the most analog-sounding audio conversion we've heard here at Sweetwater. Expect vast stereo imaging, wide and balanced frequency response, and an uncanny sense of depth and dimension.
Everything You Need for an Efficient Workflow
Seamless integration with your studio
Orion 32+ features a single monitor out for reference monitoring. Digital expansion and synchronization are offered by MADI, ADAT, S/PDIF, and Word Clock I/O.
Realistic vintage processing effects
Emulations of vintage Pultec EQs, the classic 1073 EQ model created with BAE, the VEQ-55A EQ, and the AuraVerb reverb are just some of the effects that come standard in Antelope's included FPGA suite. Apply them to any inputs or outputs you like, perfect for sweetening tracks on the way in and for providing artists stellar headphone mixes. You can even use these effects to process tracks in your DAW.
Advanced remote apps
Apps for Mac, Windows, iOS, and Android control Antelope Audio interfaces remotely from any device on your network. You'll have full control over Orion 32+'s audio routing, built-in FPGA processing, input/output metering, and more. Plus, you can run the app simultaneously on multiple devices/operating systems (PC, Mac, iOS, Android) and have them all control one interface at the same time.
Redesigned Software Panel for Improved Workflow
Master the flow of your studio
Orion 32+'s runs on both OS X and Windows, and gives you complete control of networking and signal flow. You can detach its sections to set them up where you want them to be, allowing for a completely customizable workspace.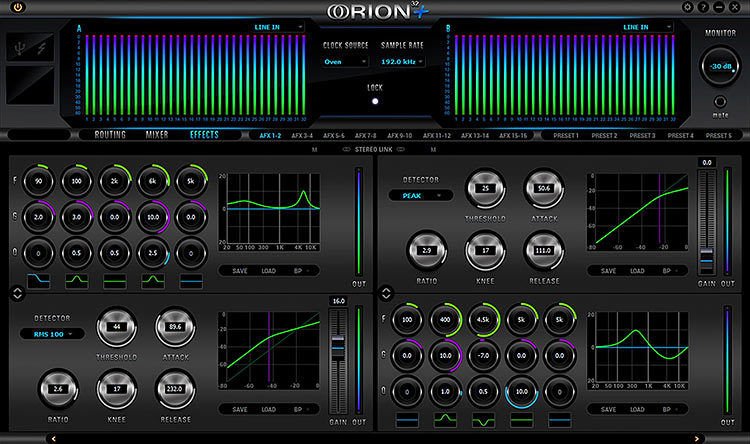 Antelope Audio Orion32+ Features:
Most Line Channels

Multiple line/DI inputs equip the Orion 32+ for many real-world recording applications: drums, full bands/orchestras, etc.

Lowest Latency

Thunderbolt's unmatched round-trip speed reduces latency to imperceptible amounts. The result is a near-analog recording experience for both the producer and the artist.

Advanced Remote Apps

Apps for Mac, Windows, iOS, and Android control Antelope Audio interfaces remotely from any device on your network.

World-class Clocking

Any product worthy of the Antelope Audio name must have exceptional clocking. Extremely low jitter gives this unit Antelope's vivid depth and three-dimensionality.

Realistic Vintage Effects

Hardware-based Pultec-style EQ and AuraVerb reverb are just some of the effects that come standard in Antelope's included FPGA suite.
Includes all features of the original Orion32
Improved dynamic range over Orion32
Mastering-grade Stereo Monitor Outputs
Onboard DSP Engine (includes AuraVerb and 14 digital vintage EQ emulations)
Antelope's superior AFC jitter-management technology
The Latest Generation of Antelope's software control panel:
Color-coded routing matrix with 4 independent mixers
Smart integration of DSP effects
I/O handled by 8 D-Sub 25 connectors and a duo of mastering-grade monitor outs
Thunderbolt, MADI, and USB connectivity