Capture Location Sound Like a Pro
Zoom's Handy Recorders set the standard for portable field recording devices. Now Zoom raises the bar again with the H4n Pro. The H4n Pro's state-of-the-art XY mics, natural-sounding preamps, and ultra-low noise floor let you record everything with stunning realism, from the roar of a rocket to the drop of a pin. With its ergonomic, grippy rubberized body and locking XLR/TRS connectors, the H4n Pro is ideal for recording film location sound, podcasts, and concerts. Flip from stereo to 4-channel mode, and you can sweeten a board feed with live room ambience in real time. And its punch-in and overdubbing capabilities and studio-grade effects turn the Zoom H4n Pro into a veritable handheld multitrack studio.
Zoom H4n Pro at a Glance:
Sonic performance for your high-profile projects
Field recording for film and video
Stereo, M-S, and 4-channel Modes
Ideal for journalism and podcasting
Handheld multitrack studio and interface

Sonic performance for your high-profile projects
Zoom spec'd the H4n Pro for high-resolution sonic performance. The H4n Pro sports the same low-noise, high-performance mic preamplifiers as in the company's renowned H5 and H6 Handy Recorders, both of which have found much use here at Sweetwater. It records and plays back at resolutions up to 24-bit/96kHz and boasts an improved noise floor that captures low-volume audio with few artifacts and vanishingly low noise.
Field recording for film and video
Zoom loaded the H4n Pro with features that make it ideal for recording film production sound and sound effects. The onboard XY microphones capture a stunning stereo image, and two combo input jacks let you use your favorite mics as well. The H4n Pro also has a headphone/line-out jack you can use to send a high-definition stereo audio signal directly to your camera.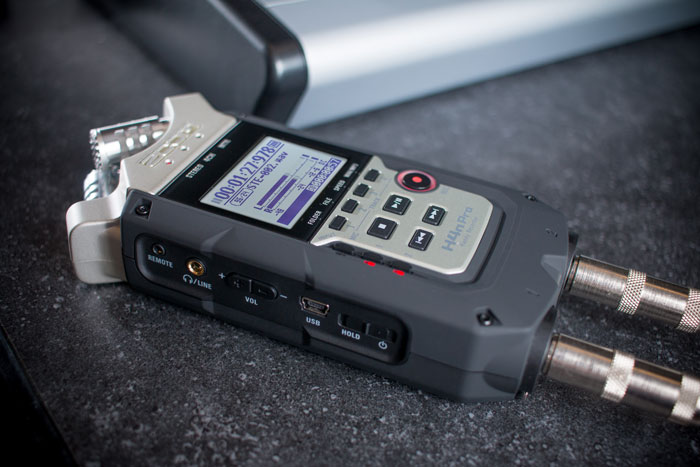 Stereo, M-S, and 4-channel modes
The H4n Pro can handle up to 140dB SPL, which makes it perfect for recording concerts, from a quiet chamber quartet to an ear-bludgeoning metal band. Using the H4n Pro's built-in XY mics (or external ones), Stereo mode is great for capturing acoustic instruments, dialogue, live performances, and more — covering a broad stereo spectrum while capturing clear, defined sound sources in the center. You can change the angle of the two unidirectional condenser mics from 120 to 90 degrees for a wider or more tightly focused image. Plus, Zoom has included an onboard M-S decoder for mid-side recording with external mics, which lets you adjust the width of the stereo image in post production. In 4-channel mode, you can record with the built-in mics and two external inputs simultaneously, adding lively room ambience to a stereo board mix.
Ideal for journalism and podcasting
For journalism and podcasting, the Zoom H4n Pro can't be beat, giving you the portability, miking versatility, and professional audio quality you need for impactful storytelling. The H4n Pro's support for plug-in power lets you easily mic the talent with a lavalier. Record time-stamped WAV files and sync the audio with video footage in post production, or embed hi-fi audio directly in your video in real time, via an 1/8" stereo feed.
Handheld multitrack studio and interface
Produce songs from start to finish with the H4n Pro, using its punch-in and overdubbing features, studio-grade effects, and instrument emulators. The H4n Pro also functions as a 2-in/2-out USB audio interface for Mac and PC, so you can launch your favorite music software (or the included Cubase LE) and start creating right out of the box. The Pro's Multitrack Mode turns it into a four-track studio, complete with overdubbing, onboard effects, and the capability of working with previously recorded sound files. The built-in studio-grade effects include dynamics processing, reverb and delay, a highpass filter, and more. You'll find dozens of killer amp models and effects for guitar and bass. You can loop playback and independently adjust speed and pitch, making the H4n Pro an effective tool for phrase training. There's even an onboard tuner and metronome, so you'll always be in tune, and in time.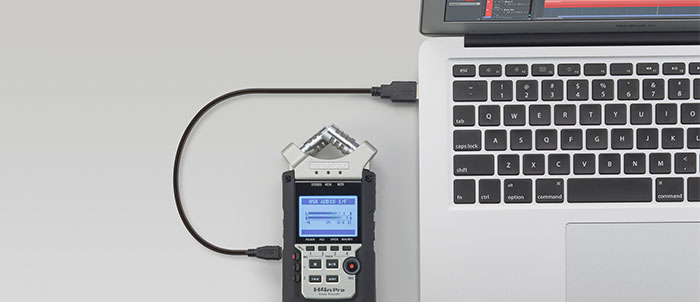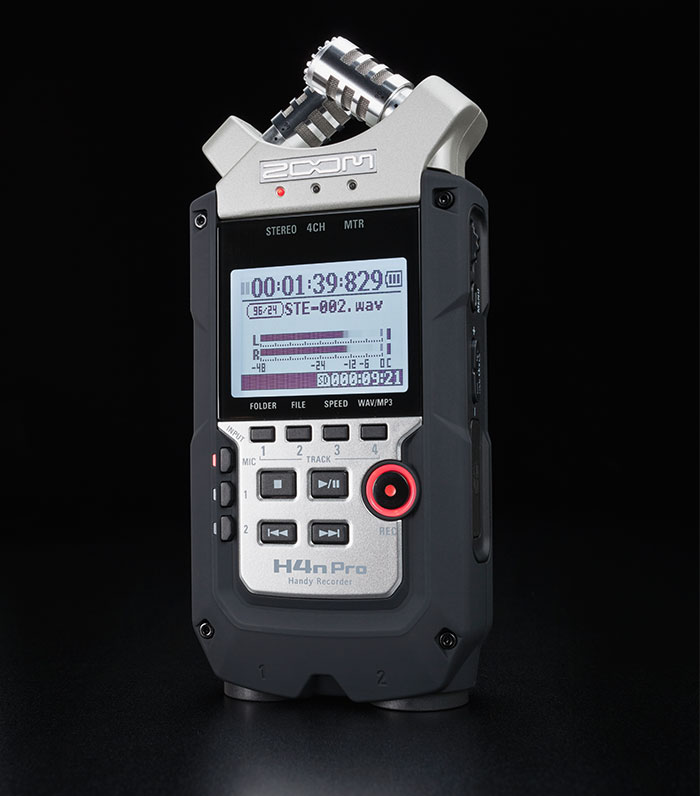 Zoom H4n Pro Features:
Simultaneous 4-track recording
High-fidelity microphone preamps
Onboard XY stereo microphones, adjustable between 90 and 120 degrees
Record up to 140dB SPL with the built-in microphones
2 Mic/Line inputs with XLR/TRS combo connectors
Stereo 1/8" Mic in 1/8" phone jack
Main inputs support +24 or +48V phantom power
Plug-in power (2.5V) via Mic/Line in 1/8" jack
Output/headphone jack with dedicated volume control
Ergonomic, rubberized body with 1.9" backlit LCD display
Built-in speaker for instant playback
Records directly to SD and SDHC cards (up to 32GB)
Supports up to 24-bit/96kHz in BWF-compliant WAV or a variety of MP3 formats
Onboard mid-side decoding lets you adjust stereo width in post production
4-track to stereo, stereo to dual mono internal mixdown
Accommodates up to 99 markers per recording
Onboard FX include compressor/limiter, highpass filter, reverb/delay, and amp models
Normalize (maximum gain) and Divide (file splitting) functions
Built-in metronome and chromatic tuner
Playback looping with user-defined start and stop points
Variable playback speed without affecting pitch (50% to 150%)
Variable pitch without affecting playback speed
USB port for file transfer to and from your computer
2-in/2-out USB audio interface for Mac/PC
Mounts to tripod or mic stand, or directly to DSLR with optional hot-shoe adapter
Remote operation with optional Zoom RC4
Runs on 2 standard AA alkaline or NiMH rechargeable batteries
Up to 6 hours of operation (up to 10 hours in Stamina mode)
Includes Cubase LE8 and Wavelab LE8 software for Mac/PC
Capture location sound like a pro with the Zoom H4n Pro!
For more information about the Zoom H4n Pro Handy Recorder, give your Sweetwater Sales Engineer a call! (800) 222-4700
Tech Specs
| | |
| --- | --- |
| Audio Interface | Yes |
| A/D Resolution | 24-bit/96kHz |
| Simultaneous Rec Tracks | 2 (stereo mode), 4 (4-channel mode) |
| Simultaneous Play Tracks | 2 (stereo mode), 4 (4-channel mode) |
| Built-in Mic(s) | X/Y Stereo unidirectional condensers |
| Analog Inputs | 2 x XLR-1/4" combo, 1 x 1/8" TRS (mic in) |
| Analog Outputs | 1 x 1/8" (headphones/line out) |
| Headphone Outputs | Yes |
| Built-in Speaker | Yes |
| Memory (removable) | SD, SDHC (up to 32GB) |
| Built-in Effects | Amp/Cabinet emulators, Guitar/Bass effects |
| USB | USB Type Mini-B |
| Power Supply | 2 x AA batteries or 5V DC zoom adapter |
| Max Battery Life | 6 hours (normal mode), 10 hours (stamina mode) |
| Stand Mountable | Mic stand or tripod, DSLR with optional Hot Shoe adapter |
| Height | 1.46" |
| Width | 2.87" |
| Depth | 6.19" |
| Weight | 0.65 lbs. |
| Media | Cubase LE8, Wavelab LE8 |
| Manufacturer Part Number | ZH4NPRO |
I was looking for some way to record live "Spare Change" concerts that I do up here in north-east Arizona, in support of the Wounded Warriors Foundation, something that would let me create CDs using Audacity software. I was trending towards a Roland product, but after talking to David at Sweetwater, I decided on a Zoom H4n Pro - and it has far exceeded my expectations. I have had virtually no experience in audio processing or recording, but this unit is so intuitive and well-documented that I was able to pick it up in just a couple of days. Last weekend I sucessfully recorded a 1 hour plus performance using a Blue Encore 100 mic, Martin 6 and 12 string acoustic guitars w/Baggs pickups, everything plugged into a TC Helicon PlayAcoustic processor. This feeds into the H4n's separate channels for voice and guitars, and I use the built-in mics to capture audience ambiance. Then I uploaded the results into Audacity on my laptop, tweaked the hell out of it where necessary (and when you're a 75 year old singer/songwriter, you do a lot of tweaking) and produced clear-as-a-bell CDs. GREAT Product, easy to use and dead reliable. The graphic display is clear enough that even I can easily read it, every function operates in an simple sequence (with excellent "undo" options) and the playback sound is just outstanding. Back in the day, you needed enough junk to fill a Volkswagen bus to record anything of this quality. Thanks Zoom and Sweetwater, for teaching this old dawg some new tricks!
My practice sessions are more productive with the Zoom H4N Pro.
What you hear is what you get. For podcasts, field recording etc you can't beat this product.
Questions about this product?
Sweetwater's Sales Engineers are regarded as the most experienced and knowledgeable professionals in the music industry, with extensive music backgrounds and intense training on the latest products and technologies. They are available to offer you personalized product advice any time you need it.
Type your question below or call us at (800) 222-4700
Close