Record with It! Play Live with It!
Avid's Eleven Rack is a revolutionary guitar recording and signal-processing system that solves many of the challenges guitarists face in the studio and onstage. Use it to record with the included Pro Tools | Software. Then, take it onstage to perfectly reproduce your custom-created guitar tones and effects!

Hover over features below for a detailed description
Easy-to-read display — even in bright light
Over 100 awesome preset sounds to get you started
Instantly access your effects to turn them on or off and to tweak parameters
Front panel controls let you scroll through and edit parameters and presets
Easy-to-use tap tempo and tuner
Plug a mic into the phantom-powered input
Control knobs make editing effects easy
Plug in headphones for silent recording or practicing
True-Z guitar input responds just like plugging into an amp
Connect your favorite pedals with the FX Loop
Balanced main outputs for live or studio mixers
AES and S/PDIF digital I/O
Line input for connecting additional gear
Use your favorite MIDI controller to change programs or as a MIDI interface for Pro Tools
Both effected and dry signals are recorded in Pro Tools
USB 2.0 I/O for fast, low-latency transmission
The Ultimate Guitar Interface!
A whole range of vintage and classic guitar amps and effects
If you play guitar or bass, then you need Avid's Pro Tools + Eleven Rack! Eleven Rack is the ultimate recording interface and multi-effects box for guitarists. Recording, re-amping, and amazing live effects — Eleven Rack does it all! Powerful onboard DSP gives you the amazing sound of Pro Tools effects and amp-simulation plug-ins, without taxing your CPU or adding the least bit of latency. That's just the beginning! You also get Pro Tools software and the bonus Eleven Rack Expansion Pack, plus extraordinary Sweetwater-exclusive artist presets. There are more reasons than ever before to pick up the Avid Pro Tools + Eleven Rack bundle!
Powerful onboard DSP
Sweetwater-exclusive presets give you a massive tone library
A Powerful USB Interface
Amazing DSP-powered Pro Tools interface
Recording guitar can be tricky, but Avid's Eleven Rack makes it easy! Although it integrates into your Pro Tools rig like a plug-in, thanks to the Eleven Rack's onboard digital signal processing, you never have to worry about audible delay ruining your timing. That's because all of the effects processing is happening right inside the Eleven Rack hardware. What's more, this means your guitar effects won't drain your computer's resources.
Onboard DSP processing frees up computer resources
Use as a standalone processor or as a plug-in
Get Real Amp Feel
True-Z impedance matching technology gives you life-like tube amp response
Avid's True-Z impedance matching circuitry makes the Eleven Rack a unique effects box and audio interface for guitar. This amazing circuit responds naturally to the dynamics of your guitar, just like a real amplifier. So the Eleven Rack doesn't just sound like a real guitar amplifier, it feels and responds like one too. This amazing technology has played a huge part in making the Eleven Rack one of the most popular guitar tools ever produced. Plug into an Eleven Rack and discover it for yourself!
Matches your guitar's impedance
Eleven Rack delivers tube-ampilike touch response
Massive Tone Anywhere
Take your favorite studio tones live onstage
Not only does the DSP in the Eleven Rack make it an exceptional recording tool, but it also features a hi-Z output, so you can hook it up directly to the input of your favorite amplifier. Set up your favorite effects conveniently in your studio, and then take them with you onstage. Need to change effects or tweak settings live? No problem! You can assign important settings to the Eleven Rack's front panel controls, access settings from the hardware, or hook up a MIDI foot pedal to control effects as you play.
Take your studio sounds onstage with ease
Hi-Z output lets you hook up to your amplifier
Front panel controls let you quickly access any function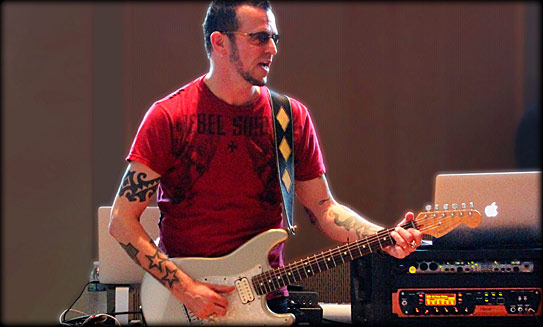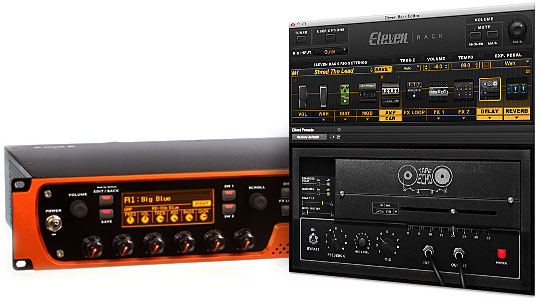 The Complete Guitar Recording Tool
All-in-one re-amping rig lets you get creative with your tone
Have you ever recorded a guitar part, and then later wanted to go back and tweak the tone? The Eleven Rack makes this easy. As you record with Avid's Pro Tools, you can lay down both a mono dry signal and a stereo effects track. Even cooler, you can embed your effects settings right into the audio track, allowing you to recall and change settings at any time. And if you want to run your dry signal through your favorite amplifier, the Eleven Rack's instrument-level output acts as a traditional re-amping box too.
Record dry and wet tracks at the same time
Re-amp dry tracks later with tweaked tones
Sweetwater-exclusive Artist Content Included
Custom tones created by some of the most celebrated guitarists ever
We get lots of cool and famous musicians through our facility at Sweetwater. And when we get a chance, we have them make custom presets for the Eleven Rack. To date, we have more content than can be stored in the Eleven Rack. We're talking content from world-famous players such as Joe Satriani, Adrian Belew, Mark Morton, Keb' Mo', John Jorgenson, Carl Verheyen, and tons more. These pro-level tones cover everything from metal to jazz to surf, country, and even acoustic guitar. This premium content is only available for Avid's Eleven Rack from Sweetwater.
Sweetwater-exclusive artist presets from top guitar players
Contributors include Satriani, Jim Root, and more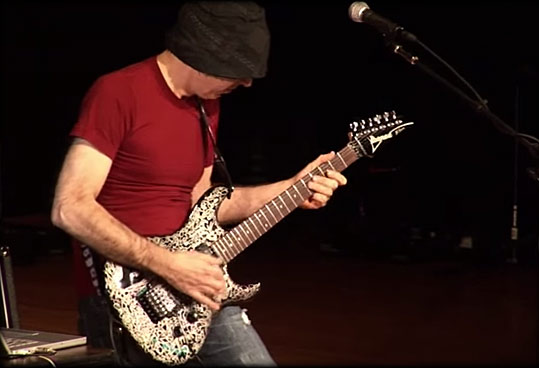 Real Amp Experience
The exact sounds of a primo collection of vintage and modern amps
Sweetwater has been one of the biggest proponents of Avid's Eleven Rack since day one. We've helped thousands of guitar players get into Eleven Rack. And we've also seen tons of feedback, reviews, and requests. Sweetwater's latest custom preset patches were created in response to the massive request for pure, unadulterated amp tones. We help you skip hours of editing with our new Real Amp Experience presets. Each preset represents a well-known amp at its original state. Each amp includes an appropriate reverb, spring for built-in reverbs or studio reverb for those without, and nothing else enabled. Of course, you can add all the effects you want, but Sweetwater's Real Amp Experience presets give you that perfect starting place to create your signature tone.
Sweetwater-exclusive amp tones that are ready to rock
Ideal starting point for creating your signature sound
Editing Tones Has Never Been Easier
Easy-to-use front panel and computer-based editing tools
Tweaking modeling amps has seemed like a chore in the past, but Avid's Eleven Rack lets you quickly and easily customize your sound from the intuitive front panel controls or via standalone editing software. These robust interfaces make swapping out amps, changing cabs, and positioning mics a simple task. Creating a custom pedalboard is super fast and easy too. Add the pedal, tweak the sound, drag it to your desired point in the signal chain, and you're ready to go.
Front panel controls let you access functions quickly
Create custom amps and pedalboards with ease
Tweak Eleven Rack from your computer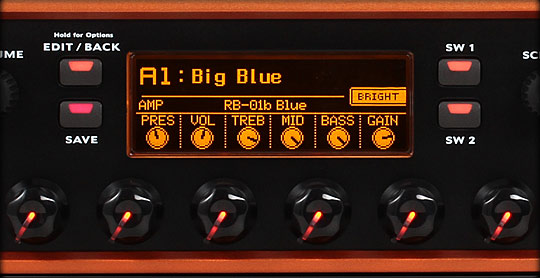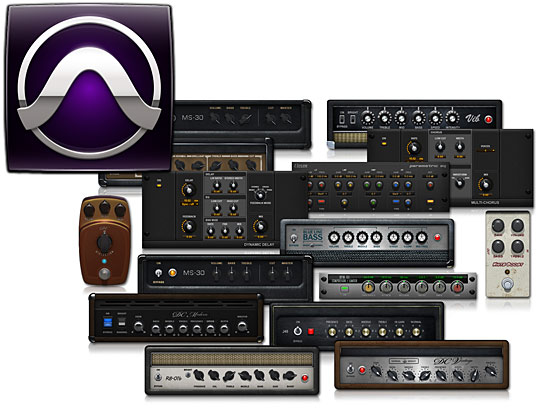 Make Eleven Rack the Center of Your Studio
A year of Pro Tools is included, plus Avid's Eleven Rack Expansion Pack
Don't have a copy of Avid's Pro Tools software yet? Don't worry, the Pro Tools + Eleven Rack bundle includes a 1-year subscription to this amazing DAW software. The subscription includes the Upgrade and Support Plan, providing you with immediate access to the latest features and capabilities. What's more, the Pro Tools + Eleven Rack bundle includes the complete Eleven Rack Expansion Pack. Highlights include the legendary Ampeg SVT bass amp and 8 x 10 cabinet, a number of new clean and sizzling amp emulations for rhythm and lead tones, and tons of amazing effects. Add that to the impressive Sweetwater-exclusive artist presets, and you're never going to run out of tones.
Includes a 1-year subscription to Pro Tools
12 months of continual software upgrades
Create recordings with incredible emulations, effects, and presets
Celebrity Testimonials

"As you probably know I have worked for a number of years with modeling amps of various kinds including plug-ins. However, I have to say that the Eleven Rack is quite extraordinary; it's absolutely my favorite!"
– Allan Holdsworth
Legendary Guitarist

"Eleven Rack, where have you been all my life? It has the response and feel of a real amp, plus it's fast and super-easy to use, well thought-out. It makes a great audio interface for my Pro Tools Native rig, and the re-amping is a godsend!"
– Gary Hoey
Surfer-rock Musician

"I use Eleven Rack and I love it a lot. I'd swear by this thing! I've been recording my entire record with it."
– Lukas Rossi
Rock Star: Supernova

"I am loving Eleven Rack, especially re-amping, it's an amazing tool to have at your disposal."
– Brian Craddock
Guitarist for Daughtry

"If I had my eyes closed I wouldn't be able to tell if I was playing through one of my vintage amps or the Eleven Rack. It's the best amp modeler I've heard yet."
– Brent Mason
12-time ACM Guitarist of the Year Winner

"Great sounds with crazy flexible routing options, all laid out logically. Stage, studio, rehearsal, wherever you need it, the Eleven Rack is the guitarist's Swiss Army Knife!"
– Don Carr
Oak Ridge Boys