The Easiest Way to Add Drums to Your Tracks
At Sweetwater, we've been using Toontrack products since they first came out, and EZdrummer 2 is by far their most impressive release yet! Toontrack EZdrummer 2 builds on a decade of providing musicians, composers, and producers like you with the software you need to add realistic drums to your music. It's three amazing tools in one: a phenomenal drum and percussion virtual instrument, an expansive library of MIDI grooves, and an environment that lets you combine these sounds and MIDI grooves to create perfect drum tracks for any style of music.
The amazing thing about EZdrummer 2 is that it lets you work the way that best fits your setup. For instance, you can generate complete drum tracks from a vast collection of templates right inside your DAW, arrange and manipulate individual grooves and fills in real time, or even connect your electronic drum kit and create your own grooves. An all-new audio engine makes EZdrummer 2 more expressive and realistic than ever, and a mix engine based on EZmix 2 lets you get the ideal sound to go with your drums. There are countless ways to put Toontrack EZdrummer 2 to use in your studio — just ask your Sweetwater Sales Engineer.
Get in the Groove
Flexible browsing options make finding perfect grooves effortless
Finding the perfect groove couldn't be any easier than Toontrack EZdrummer 2 makes it. The Groove Library itself is conveniently organized into categories that let you quickly track down the feel you're going for. With grooves broken down into ballad, halftime, mid-tempo, and up-tempo structures, as well as swing and straight variations, you'll find your jumping off point in no time, plus you can filter your grooves by library, genre, and playing style. You can also tap in a rhythm instead, using your mouse or MIDI controller, and EZdrummer 2 will pick out the groove's closest matches! The original EZdrummer browser is also onboard, and if you have an electronic kit, you can always create your own grooves.
Groove library comes organized into a variety of tempos and other useful formats
Tap in your desired rhythm and let EZdrummer 2 find similar grooves
Filter all available grooves by library, genre, playing style, or other convenient parameters
Traditional browser lets you comfortably find your original EZdrummer MIDI files
Record your own grooves with your electronic kit, complete with full hi-hat control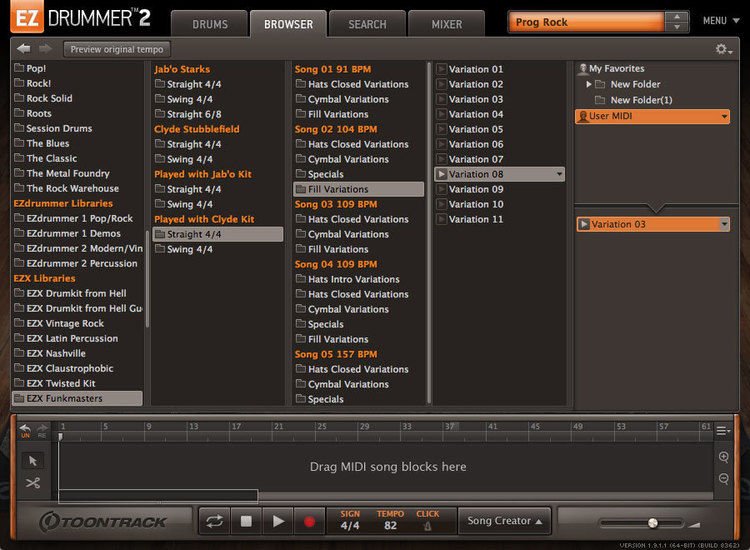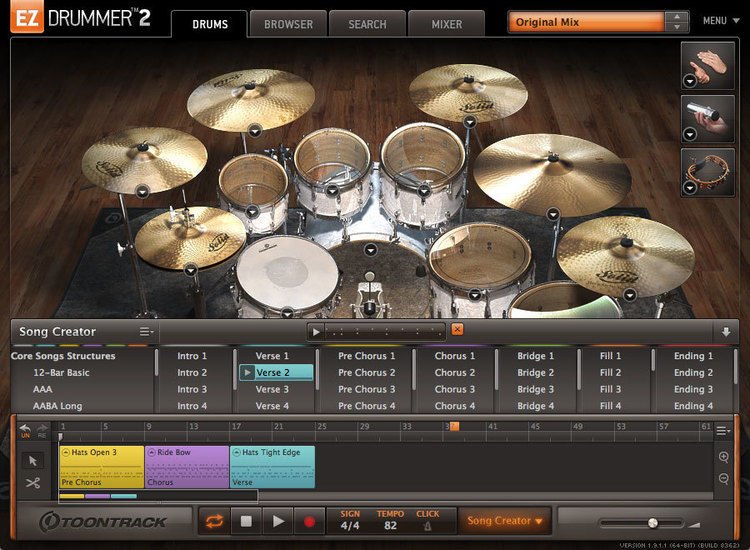 Build Up Your Tracks
Easily lay out entire songs right inside EZdrummer 2
EZdrummer 2 expands the timeline window Toontrack introduced in EZkeys, providing you with several simple ways of bringing multiple grooves together or building complete songs — without touching your DAW. To start with, there's the Song Creator. Once you've found a MIDI groove you like, just drop it into the timeline, and a list of all of the grooves and fills with a similar feel will pop up, making it easy to fill out the rest of your song! Alternatively, you can choose from EZdrummer 2's song templates to quickly pull a whole song together. You can cut, copy, paste, and rearrange MIDI blocks in the Song Track, and when you're done, just drag any selection of grooves or an entire song to your desktop or DAW to export it.
Simple graphic environment lets you comfortably create whole songs in EZdrummer 2
Groove suggestion list lets you find similar MIDI files when you find a groove you like
Templates based on the grooves you select let you instantly create entire songs
Cut, copy, and paste MIDI blocks in the graphic timeline to build your song piece by piece
Exporting is as easy as dragging grooves or your entire song to your desktop or DAW
Total Real-time Control
Communicate with your virtual drummer to switch up your grooves
Real drummers tend to change up their grooves a bit as they play, adding the kind of nuance and spontaneity that standard drum loops simply can't provide. That's why Toontrack added a set of innovative controls to EZdrummer 2 that let you alter your virtual drummer's behavior in real time. You can completely switch up which drum or cymbal acts as the leading instrument by simply dragging the Power Hand control around the graphic display! There's also an Amount control and a Velocity control for each drum and the entire kit, which lets you dynamically vary how frequently and how loudly they're played. Both of these controls use a smart algorithm based on thousands of real performances to realistically change up the groove. There's even a separate percussion control with custom-made rhythms for adding in cowbell, snaps, claps, and more.
Power Hand control lets you change any drum or cymbal to the leading instrument
Amount control lets you set the frequency of hits on any drum or the whole kit with realistic results
Add instruments that aren't part of the groove by turning up their Amount controls
Velocity control naturally sets the dynamics of individual instruments or the entire kit
Add percussion patterns in a variety of custom rhythms on top of any groove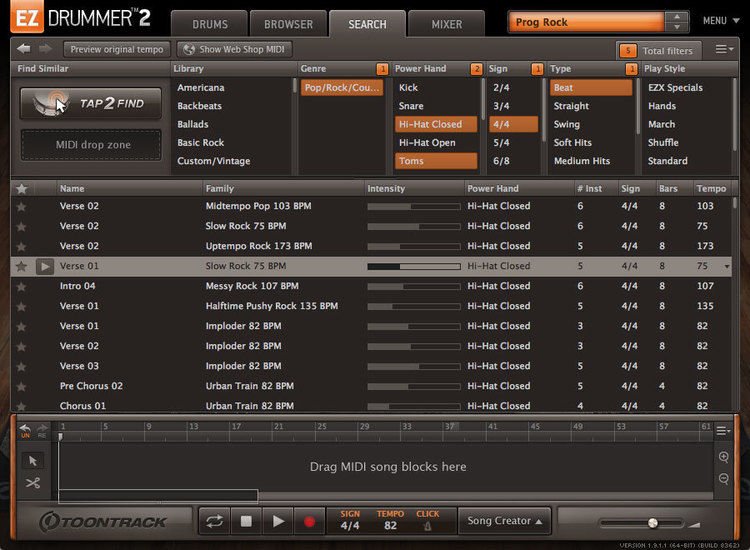 All the Right Sounds
Revolutionary sound engine and sound library fuel your creativity
The amazing sound of EZdrummer 2 starts with a completely rebuilt sound engine, which is more efficient, more flexible, and more realistic than ever. In addition to real-time sample rate conversion, this sound engine offers more individual hits per sample layer, improved hi-hat transmute, and a new Multiple Hits Emulation (MHE) for smoother repeated notes! To go with this increased capability, Toontrack brought on Grammy Award-winning engineer Chuck Ainlay (Dire Straits, Dixie Chicks) to record five new kits and many individual drums at Mark Knopfler's British Grove Studios. And as an added bonus, not only does EZdrummer 2 support original EZX expansion libraries, its new sound engine lets you get even more out of them.
All-new sound engine delivers incredibly realistic results with more flexibility than ever
Multiple Hits Emulation provides for smoother sequenced hits on the same instrument
Killer new sound library recorded by Chuck Ainlay at Mark Knopfler's British Grove Studios
Library includes five kits and an array of alternatives for snares, bass drums, and cymbals
Original EZX library support lets you get more out of the EZdrummer expansions you already own
Define Your Mix
Powerful mix presets and onboard effects for any style of music
When Toontrack reinvented EZdrummer, they tackled every detail of the software, right down to the software mixer and onboard effects. From vintage open to modern tight and everything in between, this mixer will help you achieve the exact vibe you're going for! To get you there quickly, Toontrack introduced a new preset engine based on their amazing EZmix 2 software, which lets you choose your sound based on the style of music you're producing. Each preset includes its own chain of back-end processing and effects, which you can tweak and even save as new presets for future projects.
Studio-style mixer lets you control the volume and panning of each instrument
Preset engine based on EZmix 2 lets you call up the perfect vibe for your drums
Onboard processing and effects include compressors, reverbs, delays, EQs, and more
Preset library covers musical styles ranging from classic rock to disco and modern metal
Create your own presets for easy recall by tweaking settings and effects