Unbeatable Track Record
The Tube-Tech CL 1B Compressor, introduced in 1991, is Tube-Tech founder John G. Petersen's take on classic optical compression. The CL 1B has gone on to become an industry standard found in pro studios worldwide. In fact, it's the "go-to" compressor for vocals and bass in LA and Nashville. The reason for its enduring popularity is no mystery: it delivers velvety-smooth, musical-sounding compression while preserving the clarity of the source — even when pushed hard. In operation, the CL1B is a model of simplicity, offering separate control over ratio, threshold, attack and release. Just start dialing away; you'll immediately hear what it's doing and be able to intuitively zero-in on the perfect settings. It's nearly impossible to make this compressor sound bad; beyond that, its straightforward operation is what makes the Tube-Tech CL 1B a favorite here at Sweetwater.
Under the hood
The CL 1B features a gain-reduction element positioned immediately after the input transformer. It is controlled by a sidechain amplifier, which also offers the ability to use a fixed time control (Attack/Release), manual (variable) time control, or fixed/manual. This circuit contains semiconductor op-amps for the entire control. The gain-reduction element is followed by a tube-based push-pull amplifier with up to 30dB of variable gain. A dedicated Bus selector with three positions (Off, Bus 1, and Bus 2) is used to link multiple compressors. Input and output transformers have a static screen between the primary and secondary wirings. Both Input and Output are balanced as well as fully floating.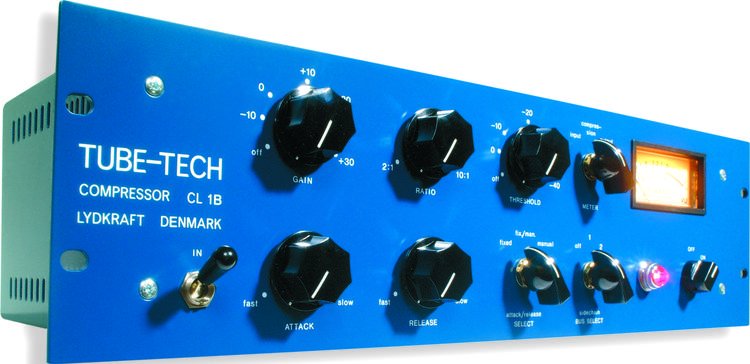 Smooth, warm, and transparent
The CL 1B is not a piece of character gear. The sound is smooth and warm, but transparency is the name of the game: you can dial in tons of compression with virtually no audible artifacts. The CL 1B can be heard — or more accurately not heard— on countless hits. Engineers, producers, and artists favor it for its ability to make a track sit pretty in a mix without losing its clarity, even at extreme settings. It's no secret that it's the go-to compressor for many top rap and hip hop vocalists, but it works wonders in the context of any musical setting. It's fabulous on vocals, and you'll love it on guitars, bass, keys, or just about anything else you care to feed it.
Tube-Tech CL 1B Features:
Unique low distortion gain-reduction element
All tube-based push-pull amplifier
Multiple interconnection of several compressors via two busses
VU meter for monitoring input, compression, and output
Continuously variable attack and release time
Gain range (off to +30dB)
Variable Threshold (off to -40dBu)
Frequency response @ -3dB: 5Hz-25kHz
Low noise: < -75dBu @30dB gain
Clickless bypass switch