Next-gen Compact Wireless Page-turning Pedal
If your device is equipped for Bluetooth and your app responds to common key commands, then you can control it with the compact PageFlip Butterfly wireless foot controller. It's the perfect way to navigate sheet music, chord charts, or lyric sheets, all without taking your hands off your instrument. Its impressive efficiency provides you with 200 hours (approximately 200,000 page turns) of continuous use on just two AA batteries. In other words, it's unlikely your batteries will die mid-set. At the same time, the Butterfly borrows the totally silent pedal mechanism from its big brother, the Firefly, so it's as discreet as it gets.
Near-universal platform and app compatibility
Chances are, if you use keyboard-compatible music sheet apps, then the PageFlip Butterfly will work for you. You get the choice of three different control modes, PageUp/PageDown, Up/Down arrow, and Left/Right arrow, which provide compatibility with the best-loved music display apps out there. What's more, Bluetooth wireless connectivity makes the Butterfly universally compatible, allowing it to control software on Mac, Windows, and Linux computers, as well as iOS and Android devices. While the sheer flexibility of computer platforms makes the desktop applications too numerous to list, here are lists for compatible mobile apps.
Compatible iOS apps include:
forScore
OnSong
unrealBook
Deepdish GigBook
MusicReader
Music Podium
Newzik
NextPage
PowerMusic
Avid Scorch
Sheet Music Direct
Scorecerer
Set List Maker
Steinway Etude
Virtual Sheet Music
Planning Center Online
Teleprompt+
Kindle
iBooks
Compatible Android apps include:
MobileSheets
SongBook
Fakebook
Lyrics Flipper+
Moon+ Reader
EBookDroid
Cool Reader
ezPDF Reader
EP45 Pro
Built to satisfy customer demands
Sweetwater's unique relationship with our manufacturers gives us a behind-the-curtain view of many of our manufacturers. One of the things we appreciate most about a company is when they listen to their customers and implement user-requested features. The Butterfly, which is the successor of the popular PageFlip Cicada, is an excellent example of this. Cicada users asked for a more substantial controller, so PageFlip added some heft to the Butterfly and made the housing even more rugged than before. It also features an extended inactivity period (30 minutes) before entering sleep mode.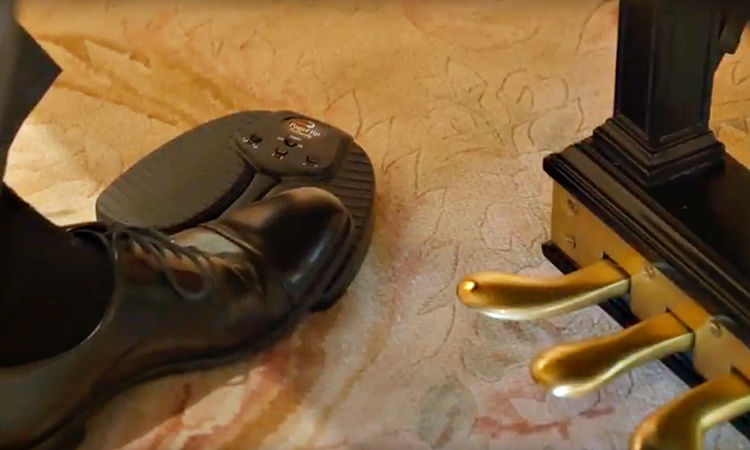 PageFlip Butterfly Bluetooth Page Controller Features:
Compact and reliable Bluetooth controller for music display apps
Ideal for digital sheet music, lyric sheets, and chord charts
Dual-pedal design lets you easily advance and back up pages
PageUp/Down, Up/Down arrow, and Left/Right arrow modes available
2 AA batteries provide 200 hours of continuous use
Includes user-requested 30-minute inactivity sleep mode
Firefly pedal mechanisms deliver perfectly silent operation
Heftier and more robustly built than the original Cicada