How to Choose an Acoustic Guitar Amp
Choosing the right acoustic guitar amplifier is important, and there are a lot of options to consider. Sweetwater has a huge selection of amplifiers, so, this buying guide may be a good place to start before you make that commitment. If there are still some questions or concerns regarding acoustic guitar amplifiers, don't hesitate to call a Sweetwater expert at (800) 222-4700.
Why Do I Need an Acoustic Guitar Amp?
Features Typical for Acoustic Guitar Amps
Does Power Matter?
Why Choose a Stereo Amp?
What to Look For…
---
Why Do I Need an Acoustic Guitar Amp?
The answer to this really depends on what your playing style is and where you would typically need amplification. Although we all love the natural sound of an acoustic guitar, they sometimes need some more volume. An acoustic guitar amp, with its flat frequency response and uncolored sound, is the ideal solution.
---
Features Typical for Acoustic Guitar Amps
Feedback control
Because the signal sent from an acoustic guitar is generally produced from either a transducer pickup or microphone, there is a possibility of feedback. To reduce the risk of feedback, acoustic guitar amplifiers are usually equipped with some sort of feedback suppression.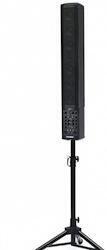 Built-in effects
Built-in effects could be anything from a simple compressor to a loop function. It's important to consider what effects are going to be an essential part of your performance. Built-in reverb provides a bigger, more robust sound. For solo performers, the built-in loop function may be a great way to lay down a rhythm track and solo over it. What you need is really up to the individual and how you intend to utilize the effects offered.
Dual channels for guitar and microphone
Quite possibly the most important feature of acoustic guitar amplifiers, is the mic/line input feature. This usually includes an XLR input and possibly an option for phantom power. Balancing your vocals with your guitar using this XLR input turns your acoustic guitar amp into a self-contained PA system, allowing you to play gigs without a full-blown PA system.
---
Does Power Matter?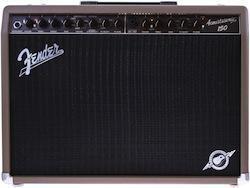 If you are just going to be using your amplifier around the house for practicing, 20 to 30 watts may be all you need. But, if you're looking to entertain some folks at the coffeehouse down the street, you may want to think about something with a little more projection. An amplifier that pushes around 50 or 60 watts should be enough to fill most coffeehouses or smaller venues. Some of the more powerful 100-watt amplifiers may be your best choice if you plan on playing with a full band and have a drummer to contend with.
---
Why Choose a Stereo Amp?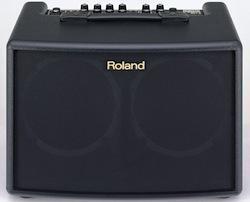 Choosing whether you want an acoustic guitar amp that is stereo or mono really depends on the sound you're looking for and to what extent you plan on using effects. If you plan on using a ping-pong delay, a mono amplifier is not going to deliver, but, if you just want an amp that will represent a good acoustic guitar tone, there's nothing wrong with a single speaker combo amp.
---
What to Look For…
Types of amplifiers
There are two common types of acoustic guitar amplifiers: solid-state and tube.
Solid-state amps: These use transistors for their preamp and power sections. They are very reliable and tend to amplify a clean representation of the signal.
Tube amps: These provide warm, fat, and "organic" tone. Tube amps do have a small amount of maintenance involved, as tubes will need replaced over time.
Dual-channel amplifiers
If you are like most acoustic players, you probably want to sing along while you play. If that's important, be sure to look for an amp that offers an XLR input. If you plan on using a condensor microphone, be sure that the amplifier provides phantom power.
Power
Smaller spaces require less wattage, so if you're planning on serenading bigger venues or practicing with a full band, go for an amp that will allow you to be heard.
Mono vs. stereo
If you want to run your signal through stereo effects, then a stereo amplifier is definitely the answer. Otherwise, stick with mono
Onboard effects
Whatever effect you're looking for: reverb, chorus, flange, delay, or looping ability, there is probably an amp that comes equipped with it.
Mini PA
You can literally be ready for a gig with just your guitar, a microphone, cords, and an acoustic guitar amp that comes equipped with an XLR input.
Feedback control
Because of the types of onboard pickup systems used to amplify an acoustic guitar, feedback can be an issue. Most acoustic guitar amplifiers have a built-in system function to deal with this.
---
Hopefully this buying guide presented some insight into acoustic guitar amps. Don't forget that your Sweetwater Sales Engineer is one of your best resources when you're amp-shopping. Give us a call at (800) 222-4700!