The Sweetwater Guitar Gallery:

Issue #17
August 6 , 2004
Guitar Viewer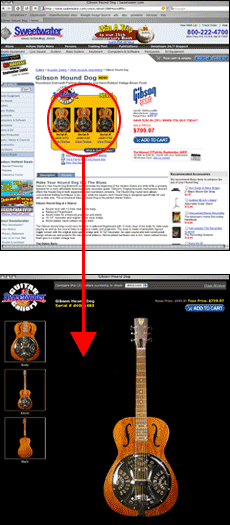 It's where to go to see your new guitar!
With keyboards, mics, mixers or pretty much any modern electronic gear, one unit looks just like the next. The first Korg Extreme off the assembly line today looks just like the last one, or even the one that will be built a month - or a year - from now.
Conversely, when a company like Gibson, Fender or Paul Reed Smith builds guitars, it's a sure thing that the first instrument of the day won't be just like the last one. Mostly that's because the woods used to build specific guitars are just as individual as the guitarist that's buying one. There may also be special colors produced in limited quantities, as well as any number of hardware upgrades. It's all part of the allure of the instrument and each player will have his or her particular favorite.
In past columns, I have confessed a fondness for the guitars being built by Paul Reed Smith. I just happen to feel the premium woods, stains and finishes, along with the sound and playability of these particular instruments resonates with me. Though that's not to say that I won't own a Fender, for instance (and I do, just in case you're wondering).
Though Sweetwater has indeed been selling guitars for many years, and despite the fact that many of the Sales Engineers are guitar players themselves, the marketing department was not geared up to give guitars a big push. After all, the company was selling almost every guitar that arrived in the warehouse - sometimes the same day as an instrument arrived, it was off to a new owner!
From my own perspective, I thought it was smart to not call attention to a particular product line until we had the resources to do it right. I just began my 13th year with Sweetwater, and if there's one thing I have learned, it's that nothing is done unless it can be done exactly the right way! It's a pretty bold philosophy, but one that has truly paid off over the years.
THE TURNING OF THE TIDE
In April of this year, after considerable discussion I'm sure, the decision was made to begin marketing guitars in earnest. And once that decision was reached, all the company's resources were put into play. And so it was that I arrived in Fort Wayne on April 8th for a marathon photo session that would eventually result in over 3,000 individual images being shot! I have to say right here that the number of guitars I shot, got to handle and in a few instances, play, was mind-numbing!
We knew right up front that by the time all the images were processed, a certain percentage of the instruments we'd be photographing would be sold. Still, that's the kind of risk you have to be willing to take on a project of this magnitude. The good news was that the company had a huge inventory at that point, so at least a good percentage of the guitars shot would remain in stock when we rached our goal, which was the unveiling of the Sweetwater Guitar Gallery!
In the past, we ran stock images of each instrument, so despite the fact that might be a Paul Reed Smith Custom 22 available in vintage yellow, the image we had available might have been of a cherry sunburst Custom 22. But now all that is changing, and the fruits of our labors are appearing on the Sweetwater Web site right now!
What does that mean to you? It's pretty simple, really: The guitar you see is the guitar you're going to get! So if you happened to want a Gibson ES-335 in antique natural, you can browse through the guitars currently in inventory and once you see the ES-335, you can click on the small image that takes you into the Guitar Gallery where you can see a large, detailed image of the specific instrument and decide if it's what you're looking for. The same is true for whatever guitar you might be looking for - acoustics, electrics, basses and even the new modeling guitars.
A WORK IN PROGRESS!
As with any undertaking of this magnitude, it will take a while for all the photos to be posted, but rest assured that our talented Webmeisters are hard at work every single day getting the correct images up so you can ultimately browse our entire stock at your leisure.
New guitars are arriving at Sweetwater every day, and as they come in, they are carefully inspected, then moved back to our in house photo studio to have their pictures taken. After that, they are lovingly returned to their cases and returned to inventory, just waiting to be sent off to their new homes.
I'm really proud of the fact that I was there at the start. I shot thousands of images in the span of five short days, and now I'm pleased to see those images on our Web site. It feels good to know that the job got done, and done right, and that the hard work we put in at the start will pay off in a big way. Once I had done my job, I returned home while other Sweetwater marketing department staff are continuing to photograph each and every guitar as they arrive, and the shots are every bit as good as those I took! Way to go, team!!
Of course, you know the old saying, "Rome wasn't built in a day." So I will personally ask all you guitar-o-holics out there to be patient. There are hundreds of guitars that have arrived in the months since I left, and while our Web specialists are adding images every day, they also have to keep on top of all the other Web site details.
It may eventually take a few more weeks before you really start to see the Sweetwater Guitar Gallery up and running and fully operational with photos of just about all the instruments Sweetwater has in stock. But once the Guitar Gallery is complete, you can bet it will be the first place I go to when I want to look for a particular instrument. I'm sure you'll feel the same.
So check out the instruments already posted - after all, August is Guitar Month at Sweetwater, so what better time to introduce the Guitar Gallery. As for me, I'm putting the finishing touches on a bunch of guitar-oriented features for my Tech Notes Online Column. Enjoy!
Questions? Comments? Discuss this article in Jim Miller's Forum
Questions, comments, rants, suggestions, unwanted '62 Stratocasters and any other form of correspondence can be addressed to jim_miller@mindspring.com.