The Roland TR Series: Sound for a Whole New Generation!
There's no question about it: the day the Roland TR-808 hit the street marked one of the biggest turning points in modern music. The jaw-dropping punch of the 808 kick established multiple genres of electronic dance music and upped the ante for pop and even rock beats. And a couple years later, when the TR-909 came into the mix, the crack of the snare and hiss of the hats sparked an even greater musical tide. Roland's AIRA TR-8 Rhythm Performer doesn't simply capture the sound and style of these iconic beat machines in all their glory; it offers modern electronic musicians like you a whole new range of tones, textures, and performance possibilities. If you're a high-tech music producer with a love of classic drum machines, this is the groove box for you!
Roland AIRA TR-8 Drum Machine Features:
Two legendary TR series drum machines — the TR-808 and TR-909 — in one... and much more!
Analog Circuit Behavior technology provides component-to-component modeling for unrivaled authenticity
Includes 16 stunning kits made up of 11 instrument types, or you can build kits made of sounds from the TR-808 and TR-909
Control the intensity of the Accent function as well as per-step gated reverb and delay effects in real time with dedicated knobs
Built-in Side Chain function lets you create rhythmic ducking effects on external inputs with per-step control
Two assignable analog outputs plus full parallel outputs via USB offer total mixing flexibility
Enter steps manually or record your drums in real time to create grooves on the fly
Original TR-REC behavior provides an authentic TR series programming experience
Quickly mute and unmute individual instrument to rearrange your beat in real time
Perform rolls in 4 different styles to get the rhythmical effects you desire
16 backlit per-step pads make pattern creation easy (supports up to 32-step patterns)
Traditional A/B pattern arrangement provides easy switching for maximum flexibility
Change Step Count during playback to create different length phrases
No separate record and play modes (as found on the originals) lets you seamlessly switch between pattern creation and performance
Dedicated Tempo controls and TR-909 Shuffle control lets you create beats that pulse and groove naturally
7-segment/4-character LED display shows the current tempo and gives you easy access to the Tap Tempo function
Random pattern generation lets you discover new grooves and get creatively spontaneous during live performance
Scatter function with 10 styles and variable intensity lets you inject chaos and excitement into your patterns
USB connection provides audio and MIDI communication to your computer
Solid MIDI clock sync provides tight timing with external gear, such as the rest of the AIRA series
The Sound of Two Iconic Roland Drum Machines in One
Few sounds revolutionized the world of electronic music like the earthshaking boom of the 808 kick or the staccato build of the classic 909 snare roll. Thanks to Roland's Analog Circuit Behavior technology, the AIRA TR-8 drum machine not only delivers all of the authentic TR series sounds you know, it gives you a level of control and flexibility never before possible. For starters, every instrument on the TR-8 includes Tune and Decay knobs, giving you a massive range of tone and dynamics. What's more, the Bass and Snare instruments feature dedicated Attack and Comp controls, allowing you add impact and punch to your sound, without relying on outboard gear. Add gated reverb and delay into the mix, and you're golden. A collection of 16 kits utilizing 11 classic TR instrument sounds gets you up and running right away, and there's plenty of room to create your own kits as well.
Analog Circuit Behavior technology delivers the authentic sound of 11 TR-808 and TR-909 instruments in 16 kits
Shape your sounds with Tune, Decay, Attack, and Comp controls to get the dynamics and tones you need
Built-in gated reverb and delay effects let you add depth and dimension to your sounds, without outboard gear
" My $4000 antique 808 can now stay at home in the studio."
- Carson McClain, Sweetwater Sales Engineer
A TR-style Drum Machine
You Can Really Play
The original TR-808 was, beyond a doubt, a revolutionary development in the music-production world. It was not, however, a musical instrument in any conventional sense of the term. So, when Roland's AIRA division set out to create the TR-8, they spent as much effort to make it as playable as possible while preserving as much of the style and sound of the TR-808 and TR-909 as they could. The result is amazing! Between RGB backlit buttons, numerous lighted knobs, and delightfully robust faders, every hands-on control on the TR-8's surface gives you something you can tweak or manipulate in real time. And with MIDI I/O onboard, you can connect your keyboard, electronic drums, or any number of other gadgets to the TR-8 and make it even more playable.
16 RGB-backlit pads provide instant visual feedback as you play drum sounds
A full set of grippy knobs and smooth faders let you tweak nearly every parameter on the fly
MIDI I/O coupled with sophisticated MIDI implementation lets you play the TR-8 as an instrument
Old-school Step Sequencing Updated
for the Twenty-first Century

Modern step sequencing would never have come about if it weren't for the original TR-808 drum machine, and the AIRA TR-8's rank of 16 backlit, per-step pads instantly conjure up images of this beloved analog classic. While this iconic look was one of the first things about the TR-8 that turned heads here at Sweetwater, we quickly realized that this updated groove box has a lot more to offer. In addition to the old-school TR-REC recording method that set the stage for many drum machines to follow, the TR-8 includes intuitive hands-on controls for programming each step with its own accent, gated reverb, and delay settings. Choose pattern sizes up to 32 steps long, with A and B parts and simple chaining to create longer progressions. What's more, thanks to its flexible architecture, you can seamlessly switch back and forth between performing and sequencing to create and tweak your grooves on the fly.
Full step sequencing capability for up to 32 steps with A and B parts and sequence chaining
Traditional TR-REC recording method gives you the feel and recording workflow of the iconic TR-808
Record individual accent, gated reverb, and delay settings for each step to create wildly dynamic grooves
Meet the Roland AIRA Family!
Flexible, affordable, and built for today's electronic musician, Roland's AIRA series delivers old-school simplicity and hands-on playability to a range of instruments designed to integrate in your high-tech live or studio rig. The AIRA series kicks off with four amazing instruments: the System-1 Plug-out synthesizer keyboard, the VT-3 Voice Transformer effects processor, the TB-3 Touch Bassline synth, and the TR-8 Rhythm Performer drum machine.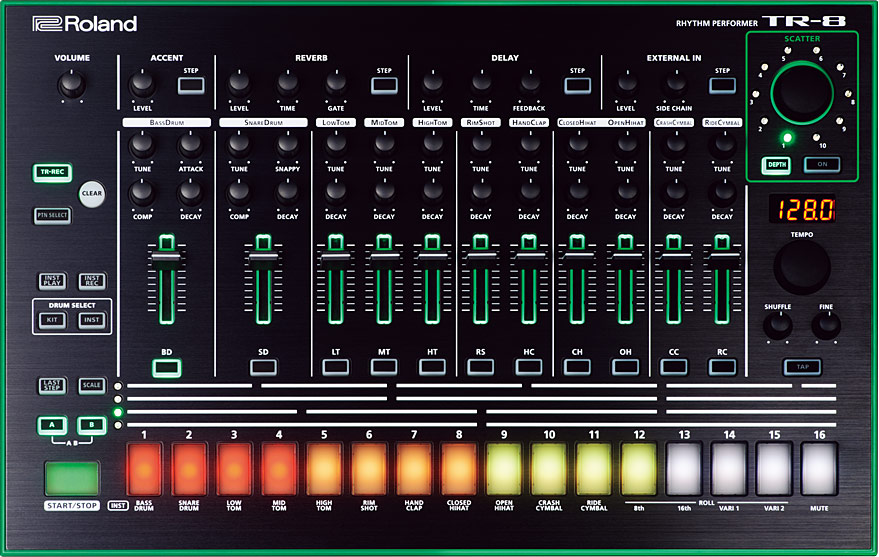 The Perfect Dose of Random to
Spice Up Your Groove

Now that we've covered all of the great ways you can make the AIRA TR-8 do exactly what you want it to do, let's explore the totally unexpected things you can get it to do. You can kick things off on a super-creative note by simply engaging the TR-8's pattern randomization function. This lets you inject a bit of spontaneity into your groove, and it's an excellent way to find a starting point when you're stuck for ideas. Cooler still is the TR-8's Scatter function. With 10 different types of real-time randomization and a fully adjustable depth control to set the intensity, Scatter lets you add anything from a touch of randomness to full-on glitchy meltdown effects.
Random pattern function lets you create cool and unique grooves that spark your creativity
Fire up Scatter mode to spontaneously shake up your groove in real time with a dose of randomness
10 types of Scatter modes and a variable Scatter Depth control knob provide a wide range of results
Old-school Drum Machine for
Your Modern Music Rig
Don't let its throwback style fool you — when it comes to integrating with the rest of your rig, the TR-8 is every bit as sophisticated as any other modern Roland creation. For starters, the TR-8 integrates entirely into your computer-based rig via USB, transferring both audio and MIDI via a single cable. You can even run analog audio out of the external outputs as you send audio over USB. And Roland didn't forget about those of us who like to cut our computers out of the equation, so they also outfitted the TR-8 with traditional 5-pin MIDI I/O as well, plus rock-solid MIDI clock sync that lets it play well with other AIRA instruments and the rest of your MIDI hardware.
USB provides both audio and MIDI communication to your computer-based system
Traditional 5-pin MIDI I/O lets you connect to your other hardware synths and keyboards
Rock-solid MIDI sync keeps your groove locked in time with the rest of your gear


Analog Circuit Behavior technology provides component-to-component modeling for realistic sound and feel.


Roland's AIRA instruments bring back the sound of four classic electronic-music tools... and a whole lot more!