Rolling Convenience, Absolute Stability, Epic Versatility
Whether you're recording in your studio or trying to figure out how to gracefully fit dozens of mic stands onstage, you'll wonder how you ever got along without the Triad-Orbit Triad T3C tall tripod mic stand. We appreciate these stands at Sweetwater because they're incredibly rugged and secure; they set up fast and they give you more positioning options than you'd ever expect. Thanks to a set of three industrial-grade locking casters, it's easy to get your mics in the perfect spot, and the Quick-Change Couplers make it effortless to swap out mics. For maximum versatility, get the Triad-Orbit Triad T3C tall tripod stand.
Solid tripod legs provide phenomenal stability
The stability alone makes these stands pay for themselves. Unlike lightweight metal tube legs, Triad Stand bases feature solid metal legs. These legs are heavy and hard to move, making up for the added weight with heroic stability. Sweetwater recording engineers love the way you can attach your heaviest microphones to these stands, without worrying about them tipping. Our live sound techs also appreciate being able to place our Triad Stands center stage without worrying about over-exuberant performers knocking them over.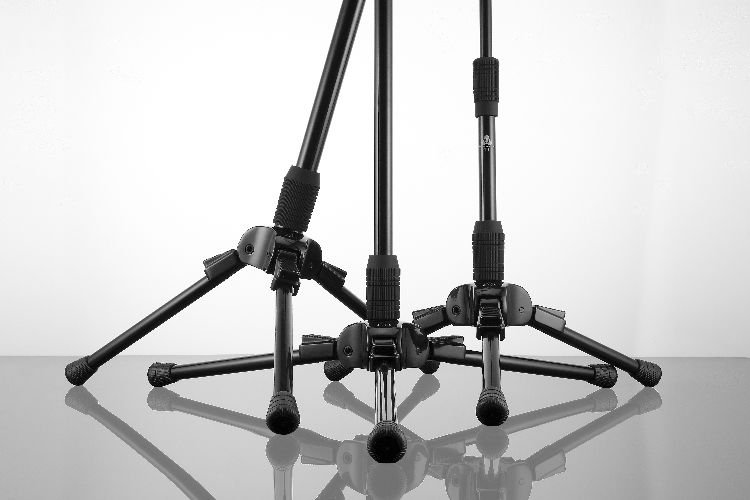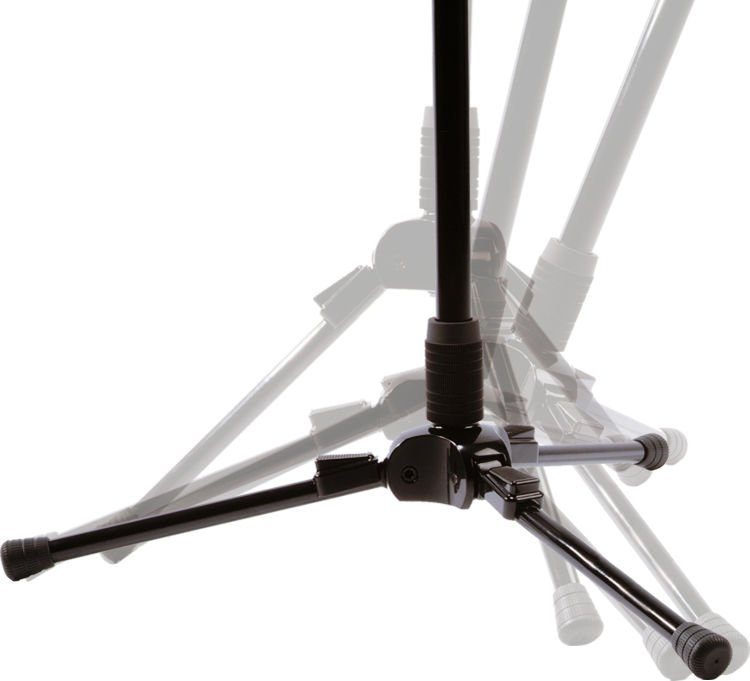 Individually adjustable leg angles for flexible positioning
Set each leg independently to one of four angles via foot-actuated ratcheting mechanisms. By ratcheting all three legs to the same height, you can comfortably overlap bases to get your stands right next to one another. That's something anyone who's had to mic up a tight drum kit can appreciate. Also, by ratcheting up only one leg, you can tilt your stand up to 65 degrees. This often eliminates the need for a boom. And since the base is weighted, you'll still get greater stability at a full 65-degree tilt than you'd get from a typical stand.
IO Quick-Change Coupler for fast mic swaps and more
All Triad stands feature the IO Quick-Change Coupler that lets you quickly and effortlessly swap out mics, booms, and other Triad-Orbit IO Components. It's made to interface with any Triad-Orbit IO Components that include hex mounting heads, but you can pick up additional IO-H Mounting Heads to outfit the rest of your standard 5/8"-thread booms, mic clips, and other mic-stand attachments. The minutes you save setting up will add up to hours before you know it, helping you spend more time recording in your studio and less time screwing and unscrewing mic stand adapters.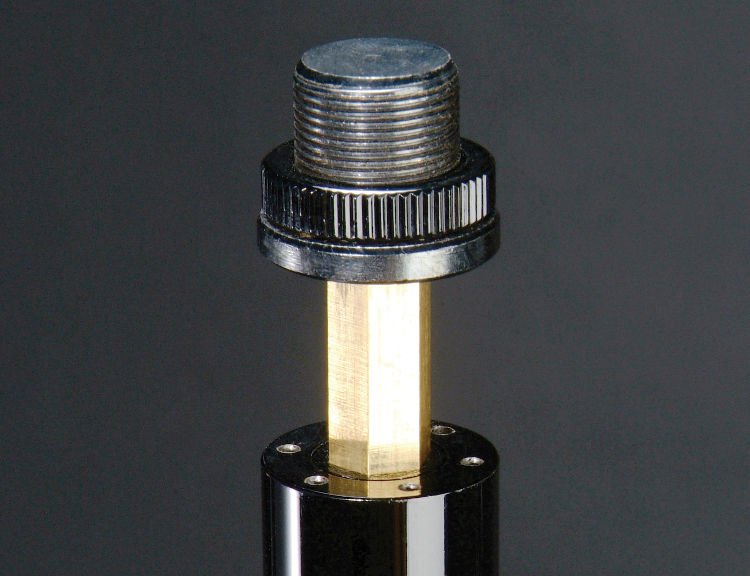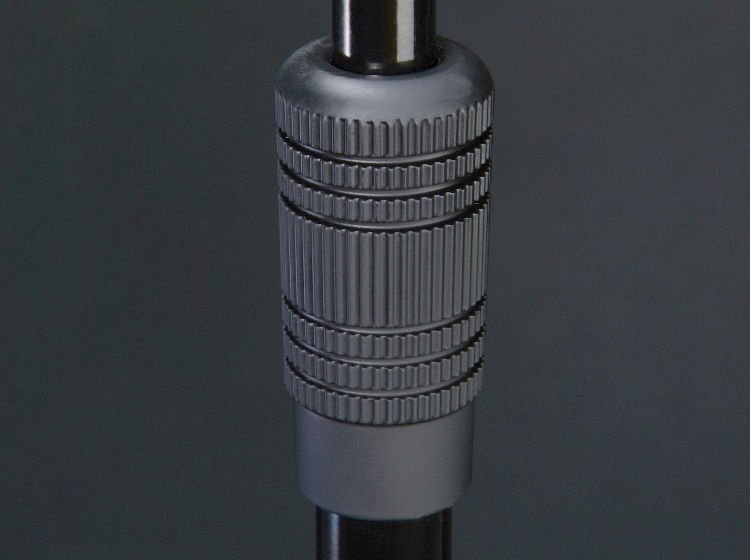 Industrial-grade clutches for secure height adjustment
No more drooping mics! With industrial-grade clutches on all their telescoping shafts, Triad Stands won't slip or fail on you. Once tightened, these clutches aren't going to move, even under loads that would cripple ordinary stands. At the same time, knurled metal clutch barrels make Triad Stands easy to adjust, so you never have to worry about locked up grip clutches or over-tightened thumb screws.
Included Triad TC Casters make mic positioning easy
While extremely stable, the Triad T3's solid base can make it a bit tricky to position for some studio applications, especially if it's carrying a heavy condenser or two. To make this easier, the Triad T3 comes with a set of Triad TC Casters. This trio of industrial-grade casters makes repositioning your stand easy. Triad Casters are designed to work at any leg angle, so you still get the full benefit of your stand's adjustable legs. The wheels are made of soft plastic, which allows them to easily roll over both hard floors and dense carpet. Each Triad TC Caster comes equipped with an easy-access friction lock, allowing you to secure your stand in place, without bending over.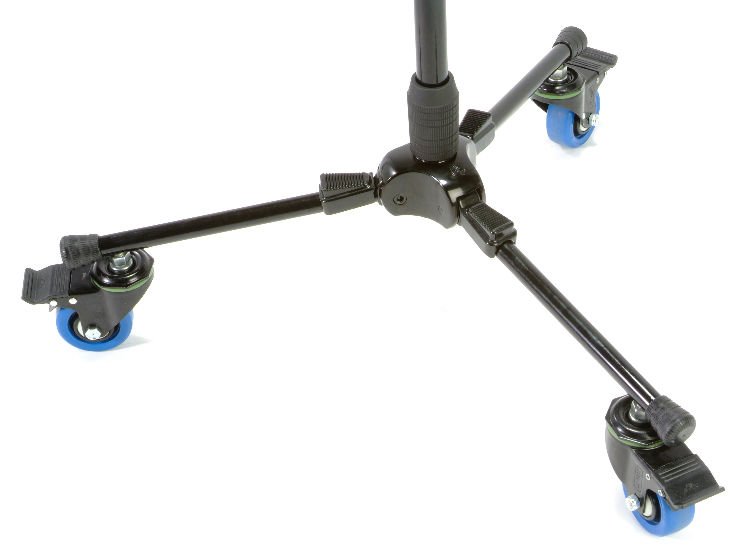 Triad-Orbit Triad T3C Tall Tripod Stand with Casters Features:
Rugged, flexible, and extremely stable mic stand for stage or studio use
The perfect height for drum overheads, choir mics, and ambient room mics
Solid metal tripod base delivers extreme stability — ideal for heavy mics
Each leg has 4 ratcheted positions for up to a 65-degree pitch
Easily adjust legs with ratcheting foot-actuated latches
Included soft plastic casters roll smoothly on carpet or wood floors
Dual-locking mechanism on each caster prevents unwanted motion
Industrial-grade clutch with knurled metal barrel for rock-solid grip
IO Quick-Change Coupler lets you easily swap out mics and IO Components
Buy additional IO-H Mounting Heads for your 5/8"-thread mic gear