Next-gen Scarlett for the Singer/Songwriter
It's so easy to make music with Focusrite's Scarlett Solo USB audio interface! Ideal for the singer/songwriter, the Scarlett Solo sports the legendary Focusrite preamp as well as a crystal-clear DI for your guitar, bass, or keys. Focusrite's unique gain halos make it easy to control your levels, while the headphone jack, Direct Monitor switch, and large volume dial make monitoring a breeze. For this second-generation Scarlett Solo, Focusrite seriously raised the bar with vanishingly low latency, 192kHz sample rates, optimized preamp gain structure, and an instrument input that handles scorching hot pickups. The Scarlett Solo delivers the pro-quality sound you need — at a price you'll love. Plug in, fire up the bundled software, and you're ready to rock.
Optimized second-generation technology
The 2nd-generation Focusrite Scarlett Solo's exterior has undergone a sleek makeover. Under the hood, though, it's been tweaked and upgraded to deliver better sonics, lower latency, and enhanced ease of use. With sample rates up to 192kHz, you've got studio-grade sound you can take anywhere. And Focusrite has evened out the gain structure of the natural-sounding Scarlett mic preamp, letting you set levels more accurately. The instrument input has also been re-engineered to handle the hottest active pickups. Lastly, Focusrite has wired analog protection circuitry across the Scarlett Solo's inputs and outputs, safeguarding your interface from damaging power surges.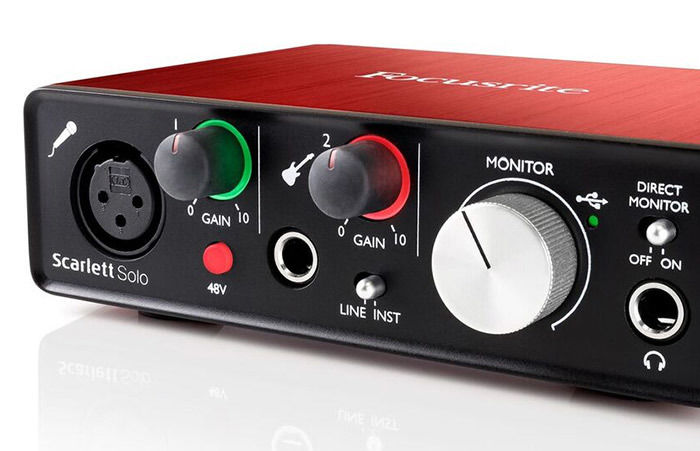 Super-low latency for better performances
You know you perform better when you've got a great-sounding monitor mix with everything you need to hear to be inspired — for example, reverb and delay on a guitar solo. The Scarlett Solo's super-low latency lets you monitor with native plug-in effects in real time, so you can hear your parts as you envision them and record better performances. At Sweetwater, we know you can't put a price on that.
Award-winning Focusrite preamp captures great audio
The Focusrite Scarlett Solo is equipped with a vibrant and pristine Focusrite preamp. For over 25 years, Focusrite's award-winning pres have proven their mettle in pro studios around the world. Focusrite ports their considerable design savvy into the transparent, low-noise, low-distortion preamp in the Scarlett Solo. This is the same technology found in Focusrite's flagship products, giving you gobs of available headroom to accommodate your dynamic, condenser, and ribbon mics on any source, no matter how boisterous. Of course, you also get phantom power for your mics that require it.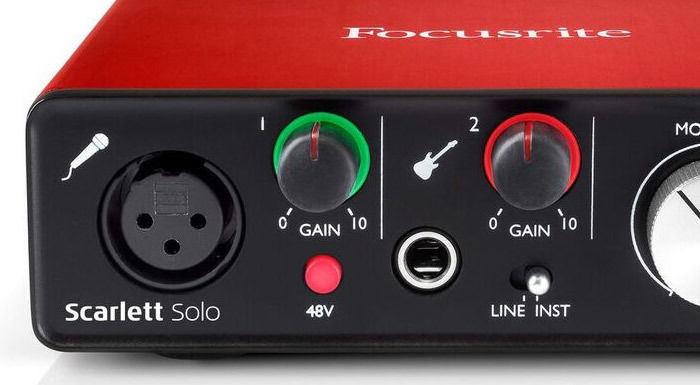 Keep an eye on your levels with front-panel indicators
Your mom always said to watch your levels. Well, perhaps she didn't, but you know you should — and the Focusrite Scarlett Solo makes it easy. The Solo's innovative halo indicators always let you know when you've got a healthy signal level for recording. If the halo is red, your signal is clipping, and you should back down your gain. The halo will momentarily turn amber as the level returns to a happy level — at which point it will turn green. Simple and intuitive, isn't it?
Exclusive software bundle gets you up and running fast
The Focusrite Scarlett Solo ships with a killer software bundle headlined by the exclusive Pro Tools | First Focusrite Creative Pack, which features a 16-track version of the DAW with 12 additional plug-ins, including Eleven Lite guitar amp emulation. You also get Ableton Live Lite, Softube's Time and Tone Bundle, the Focusrite Red Plug-in Suite, 2GB of Loopmasters samples, and more. Focusrite has included everything you need to get up and running fast:
Red 2 and Red 3 Plug-in Suite
Softube Time and Tone Pack
Exclusive Pro Tools | First Focusrite Creative Pack
Ableton Live Lite DAW software
Loopmasters sounds and samples (2GB)
Novation Bass Station VST and AU plug-in synth
XLN Addictive Keys
Focusrite Control iOS remote control software
Focusrite Scarlett Solo Features:
Optimized second-generation technology
1 award-winning Scarlett mic preamp with generous even gain
1 re-engineered instrument input accommodates the hottest pickups
Class-leading converters, sample rates up to 24-bit/192kHz
Headphone output
Vanishingly low latency lets you monitor with plug-ins, no DSP required
2 unbalanced RCA outputs
Compact, roadworthy chassis goes where you go
USB bus powered — one cable does it all
Exclusive software bundle gets you up and running fast